Petrenko's Sharper Boris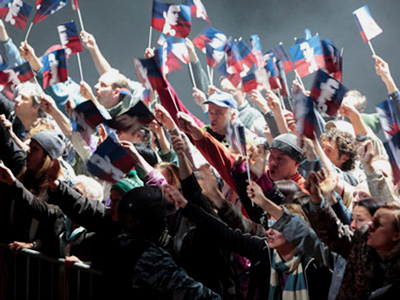 By ANDREW POWELL
Published: March 19, 2014
MUNICH — Bavarian State Opera's flag-waving, Putin-skewering production of Boris Godunov had extra resonance in a revival on Sunday afternoon (March 16) as Crimeans engaged in their foregone conclusion of a referendum. Musically, too, all emerged tougher and more urgent than at last year's premiere.
Kirill Petrenko sharpened the orchestral colors and summoned thrilling, even frightening, contributions from the chorus (trained by Sören Eckhoff), a welcome shift from the norm here. Mussorgsky's opera found its climax under this conductor in Scene VI, before what should be St Basil's Cathedral, the Holy Fool (Kevin Conners) intoning sweetly around the people's acerbic cry for bread: Хлеба, хлеба! Дай голодным хлеба, хлеба!
Anatoli Kotcherga re-graduated from Pimen last February to a title role he owned twenty years ago, his voice undiminished but for some missing support in soft passages, while Ain Anger brought virile ardor to the chronicler. Vladimir Matorin railed and whimpered definitively (again) as a drunken Varlaam. Dmytro Popov introduced a sonorous Grigory, and Gerhard Siegel and Markus Eiche repeated their effective Shuisky and Shchelkalov.
Although lamely led by Kent Nagano, BelAir Classiques' just-released DVD from the 2013 run preserves Alexander Tsymbalyuk's magnetic, gloriously sung Boris as well as Matorin's perfect Varlaam. Stage director Calixto Bieito uses the 1869 score, so seven scenes and no Marina or Rangoni.
Photo © Wilfried Hösl
Related posts:
Petrenko's Rosenkavalier
Brahms Days in Tutzing
Bieito Hijacks Boris
Mastersingers' Depression
Poulenc DVD Back On Market
Tags: Ain Anger, Alexander Tsymbalyuk, Anatoli Kotcherga, Bavarian State Opera, Bavarian State Orchestra, Bayerische Staatsoper, Bayerisches Staatsorchester, BelAir Classiques, Bieito, Boris Godunov, Dmytro Popov, Gerhard Siegel, Kent Nagano, Kevin Conners, Kirill Petrenko, Markus Eiche, München, Munich, Review, Sören Eckhoff, Vladimir Matorin