Petrenko to Extend in Munich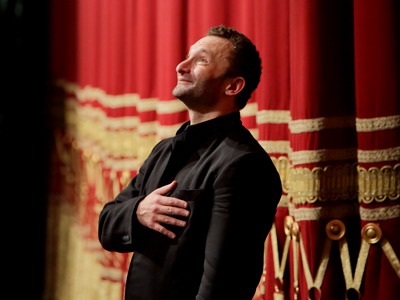 By ANDREW POWELL
Published: July 24, 2015
MUNICH — Bavarian State Opera has confirmed by phone it will announce a contract extension for Kirill Petrenko before the start of next season, in September. With the month of August being a house holiday, the news could come as early as next week when the company's annual Munich Opera Festival winds down.
Petrenko, 43, became Generalmusikdirektor less than two years ago but has quickly earned respect with his musical dedication, technical gifts and impassioned manner. His present contract expires in August 2018.
Although talks to retain the Russian-Austrian's services longer into the future have been underway for some time, as company Intendant Nikolaus Bachler noted last month, the announcement will be coming at an awkward juncture given Petrenko's June 21 acceptance of a surprise invitation to serve as Chefdirigent of the Berlin Philharmonic, albeit with no firm start date.
His move from Carlos Kleiber's orchestra to Herbert von Karajan's will likely mean a briefer extension than would otherwise have been the case and a phasing in of Berlin commitments that works around his long-range Munich opera plans. Hopes are dashed anyway of a full Petrenko "era" at Bavarian State Opera like that of Wolfgang Sawallisch, who led the company for twenty-one years.
The new contract will have three parties: the conductor, who is currently preparing cycles of Der Ring des Nibelungen in Bayreuth; Bachler; and Ludwig Spaenle, Bavaria's Kultusminister.
A perfectionist if ever there was one, Petrenko operates with specific capacity. Strain takes its toll. In 2007 he suffered "exhaustion," leading to cancellations. He pulled out of a 2011 Fidelio in London due to back problems. Last December he was "indisposed" for his fourth planned Berlin Philharmonic program, and in March he cited strenuousness of assignment as a reason for withdrawing from the Bayreuth Festival in 2016 and 2017. He has just begun to relax in the saddle with the Bavarian State Orchestra.
What separates him somewhat from his nominal peers is his not being good at everything. Instead he brings ideas and expressive depth to scores he identifies with. Mussorgsky and Strauss and Berg are strengths.
Petrenko debuted at Bavarian State Opera with Pikovaya dama in October 2003. He returned five seasons later for a new Jenůfa, receiving personal acclaim. In July 2010 it was leaked that Kent Nagano's contract as GMD would not be renewed, and immediately, before Nagano "quit," Petrenko's and Fabio Luisi's names were publicly mooted. Bachler's choice, Petrenko won out on Oct. 5, 2010 (to start Sept. 1, 2013). Luisi withdrew piecemeal from several later staged-opera commitments with the company.
As GMD, Petrenko has led premieres of Die Frau ohne Schatten, La clemenza di Tito, Die Soldaten, Lucia di Lammermoor and Lulu as well as a revival of Wagner's Ring in Andreas Kriegenburg's hopeless realization (Siegfried's encounter with Brünnhilde reduced to bedroom farce).
Next season his commitments here include South Pole (Miroslav Srnka), a new Die Meistersinger von Nürnberg and, not least, Die Fledermaus. The Bavarian State Orchestra's six yearly concert programs, or Akademiekonzerte, will feature Petrenko in music of Mendelssohn, Tchaikovsky, Strauss, Mahler, Elgar and Sibelius.
Photo © Wilfried Hösl
Related posts:
Bretz's Dutchman, Alas Miked
Petrenko Hosts Petrenko
Berlin's Dark Horse
Mélisande as Hotel Clerk
Flitting Thru Prokofiev
Tags: Bavarian State Opera, Bavarian State Orchestra, Bayerische Staatsoper, Bayerisches Staatsorchester, Berlin Philharmonic, Commentary, Kent Nagano, Kirill Petrenko, Ludwig Spaenle, Luisi, München, Munich, News, Nikolaus Bachler, Wolfgang Sawallisch