Carydis Woos Bamberg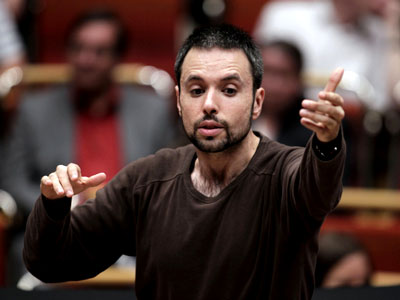 By ANDREW POWELL
Published: January 4, 2015
BAMBERG — When the Bamberger Symphoniker replaces its Chefdirigent next year, it could do worse than hiring Constantinos Carydis. The intense but discreet Athenian secured creative and technically superb playing in a Nordic and Impressionist program Nov. 29 here at the Joseph-Keilberth-Saal, confirming skills he has shown in Munich.
Choosing won't be easy, and there is a preliminary question for this conservative north Bavarian town. Artistry or stability? Bamberg has enjoyed plenty of the latter in incumbent Jonathan Nott, who began in 2000. But unique interpretive approaches are another matter. The Lamborghini-driving British conductor has not forged a strong international profile for the orchestra — Edinburgh performances in 2011, for instance, lacked insight and vigor — and the claim of an "audible leap in quality" under his leadership versus the standards of predecessors Keilberth, Eugen Jochum and Horst Stein is hard to accept.
The job has attractions, not least the direct backing of the orchestra by the Free State of Bavaria, which encourages its deep tradition of touring. (Formed by German musicians expelled from Czechoslovakia, the Bamberger Symphoniker has given 6,500 concerts in 500 cities and still performs mostly away from home.) State broadcaster BR records the ensemble's work and a few years ago the state helped pay for sound tweaks by Yasuhisa Toyota to its 1,380-seat hall. Built in 1993 with cheap materials and named after Bamberg's grumpy first Chefdirigent, who held the post from 1950 to 1968, the Joseph-Keilberth-Saal sits on the Regnitz River below a onetime monastery. It probably is "Bavaria's best concert hall" (another claim) if only because Nuremberg and Munich are so deficient in this regard. The sound is warm, balanced and natural, though high frequencies project relatively feebly.
Carydis, 40, definitely not to be confused with his vain compatriot Teodor Currentzis, 42, will be unlike anyone else the orchestra is considering and may or may not fit Bamberg's concept of "maestro." He is selective in the projects he takes on, i.e. not known for a heavy workload. For this debut he was without a jacket and looked disheveled. When in 2011 he was somewhat distressingly handed the Carlos Kleiber Prize — established on Kleiber's 80th birthday and awarded only once to date, to Carydis — he disappeared for a year's sabbatical. Not surprisingly he has never held a major music directorship and it is unclear whether he could commit to the scope of such a job. On the other hand, all that he does turns to musical gold. He is highly imaginative and perceptive, meticulous in preparation, equally accomplished in opera and symphonic music, adept in scores by such dissimilar composers as Shostakovich, Falla, Rimsky-Korsakov, Mozart and Offenbach. He is admired where he is best known, in Munich: tomorrow he will conduct a Brahms and Debussy concert, later this month a run of Don Giovanni, and during this summer's Opernfestspiele a new staging of Pelléas et Mélisande.
This Bamberg concert followed runouts of the same program the previous two evenings in nearby Erlangen and Schweinfurt, part of the orchestra's duty as a state ensemble. Refinement in the playing, no doubt lifted by repetition, came across immediately in Sibelius's brute tone poem Tapiola (1926). The conductor reveled in its mostly quiet dynamics, lavishing attention on the woodwinds and propelling its long lines. Loud passages had considerable impact and the sense of purpose never flagged, though tension at times gave way to deathly stillness. In Prélude à l'après-midi d'un faune (1894), which followed, Carydis appeared to let flutist Daniela Koch pace and shape the music. She practiced the virtue of playing gently all through the concert, so that her instrument always sounded exquisite; in the Debussy she was guilefully supported by her woodwind colleagues and flattered by the satiny strings, but at its end it was the conductor's collaboration she went out of her way to acknowledge.
Nielsen's brooding nine-minute pastorale for orchestra Pan og Syrinx (1918) opened the second half of the concert as a preamble to Ravel's Daphnis et Chloé Suites 1 and 2 (1911 and 1913). Like the Ravel, it relies on a sensuous string sound but places the interest in the woodwinds (clarinet and cor anglais personify the protagonists); agitated outbursts prop up the longer ruminative material. The Bamberg musicians achieved delicacy and much expressive character here, and in the Ravel, always with attention to mood. Carydis permitted no applause before Ravel's opening Nocturne and looked irked that the Danse guerrière — brilliantly controlled, indeed electrifying — caused an eruption of applause before he could proceed into the Second Suite.
No decision date has been publicly set for the Bamberg appointment (in contrast to the Berlin Philharmonic job, for which a successor to a different Briton will be named in May, to start in 2018 after an equal 16-year tenure). If the new chief on the Regnitz can artistically stretch the musicians, as Carydis did on this visit, he or she will have been better chosen than any long-staying routinier.
Photo © Thomas Brill
Related posts:
Mélisande as Hotel Clerk
Wagner, Duke of Erl
Nézet-Séguin: Hit, Miss
Widmann's Opera Babylon
Tutzing Returns to Brahms
Tags: Bamberg, Bamberg Symphony Orchestra, Bamberger Symphoniker, Commentary, Constantinos Carydis, Daniela Koch, Daphnis et Chloé, Debussy, Jonathan Nott, Joseph Keilberth, Nielsen, Pan og Syrinx, Prélude à l'après-midi d'un faune, Ravel, Review, Sibelius, Tapiola