New Hall for Munich?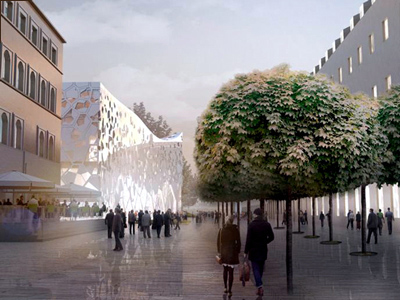 By ANDREW POWELL
Published: December 11, 2014
MUNICH — Could leaders here finally be moving ahead with a sorely needed new concert hall? Plans and sketches released this morning indicate progress on what has been an excruciatingly slow drive to supplement, or really supplant, the small Herkulessaal and hideous Gasteig venues.
As presented by chief advocate Konzertsaal München e.V., the intention now is to abandon consideration of redeveloping part of Munich's Museumsinsel and instead opt for a more practicable project on land just north of the Hofgarten, across the quiet cul-de-sac Galeriestraße. Designs show an airy, curvacious white structure with below-ground parking.
The working name is "Neues Odeon," a reference to the city's fabled former Odeon concert hall a block away from the site. Galeriestraße would be pedestrianized, robbing visitors to the Altstadt of a somewhat hidden and cheap place to park, and the new hall would consume half of the somber and scarcely frequented Finanzgarten. That said, this latest location will feel right to many concertgoers here.
Visualization © Markus Krempels
Related posts:
Concert Hall Design Chosen
MPhil Bosses Want Continuity
Nézet-Séguin: Hit, Miss
Nazi Document Center Opens
Meccore: Polish Precision
Tags: Gasteig, Herkulessaal, Konzertsaal München, München, Münchner Konzerthaus, Munich, Neues Odeon, News