Widmann's Opera Babylon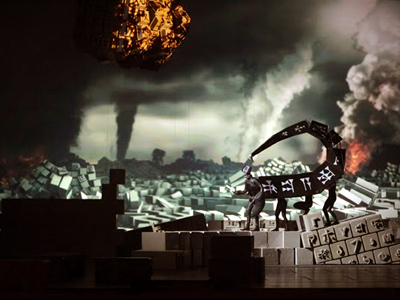 By ANDREW POWELL
Published: November 23, 2012
MUNICH — Scorpion-Man prowls the rubble of an unnamed flattened city at the start of Babylon, Jörg Widmann's new opera, wailing as he moves. We should care.
Seven scenes, a Hanging Garden interlude, and three costly theater hours later, he is back, doing his thing over the same debris, also multiplying himself, and alas we have not cared or even learned what he represents. Perhaps he is us sad cityites, predatory and detached from our souls.
Widmann's librettist for this Bavarian State Opera commission (heard and seen Oct. 31) is the post-humanist philosopher Peter Sloterdijk, whose worries, intra-urban and intra-galactic, drive Babylon in one big circle against the backdrop of the 6th-century-BC Jewish exile.
Sloterdijk's narrative feebly pivots on a love-interest, in the persons of exile Tammu and local priestess Inanna. The character Soul is catalyst in a progression of these two that ends, before the circle has closed, in a concordance of Heaven and Earth (cue sweet music).
Along the way, Tammu gets drugged, laid, sacrificed, resurrected, and flown away with his gal in a spaceship. After administering the drug and enjoying her man, Inanna's one job is to descend post-sacrifice into the Underworld and retrieve him, being sure not to lose sight of him as they make their way out together.
If this suggests a too-rich stew of Isolde or Norma and Euridice with Tamino, it is. But we are in Babylon, and your bowl arrives as the Euphrates overflows, the New Year rings in at the Tower of Babel, and Ezekiel dictates the Word of God, not to list the antics of seven Sloterdijk planets and fourteen Poulenc-ish sex organs.
Born here in 1973 and locally esteemed, Widmann as composer is much identified with Wolfgang Rihm, one among several teachers and influences. He is, besides, a bold and expressive clarinetist: a 2012 Salzburg Festival performance of Bartók's Contrasts with Alexander Janiczek and András Schiff all but vaulted off the Mozarteum's platform, and a 2011 Munich partnership with the Arcanto Quartet found rare vigor as well as cozy plushness in Brahms's Clarinet Quintet.
The Nabucco-era subject had taken the composer's fancy long ago. Ideas sprouted. A raucous Bavarian-Babylonian March emerged as orchestral fruit last year, bridging the millennia if not exactly the cultures. At some point came the link with Sloterdijk and the decision to plough forth with an opera, Widmann's sixth piece for music-theater.
Undaunted by the librettist's loony layers, Widmann supplies for Babylon music of chips and shards and sporadic mini-blocks. 160 minutes of it.
He savors direct quotes, splintered just past the point of identifiability. These he takes from jazz, operetta, lute song, Baroque dance, cabaret, Hollywood, symphonies, band repertory. He crafts brief, pleasingly original blocks of sound in various forms — brass swells, percussive glitter, choral refrains, woodwind banter — deploying them to varying effect. He is a gifted colorist, writing with virtuosity for all sections of the orchestra, in this case a large one, heavy on low winds and percussion.
Vocally the writing is less fluent, less confident. Abrupt ascents are a peculiarity. The tessitura of all three principal roles — Inanna, the Soul and Tammu — lies coincidentally high for each of the voice types (two sopranos and a tenor). Vocal lines are often aborted, mid-flight, again producing small blocks.
Widmann's chipboard elements are arrayed in rapid indigestible sequences some of the time (Scene III's orgy). Elsewhere, thin writing overstays its welcome or fails to develop in sync with the cosmic-Biblical scheme (Scene V) — the "prolix musical treatment" George Loomis noted in his review.
Enter Carlus Padrissa, the busy Spaniard known for constant stage movement. Hired to define and motivate the opera's characters and unite the threads in text and score, Padrissa delivers, well, movement.
The gloomy arthropod's rubble swiftly morphs into moveable letterpress type: Cuneiform, Katakana, Cyrillic, Hebrew — ah, Babel, the universal translator — to be piled up by mummers, piled down, carried off, brought on. Nearly incessantly. Flown and raised platforms support and transport sundry participants, some of them needed. Projected screen-saver lines depict the restless Waters of Babylon. Moving photographic images reveal holy verse, hell fire, a meteor (or ICBM) crashing to Earth. There is always plenty to watch.
Still, two problems dog Padrissa's circus-like approach to opera, evident in his 2007–9 Valencia Ring and 2011 Munich Turandot: movement everywhere deprives the action of focus; and physical space required for upstage activities (open wings, as in ballet) deprives the singers of sound boards (in the form of sets) to reflect and project their voices. So it is with Babylon.
In the Turandot — due by chance for Internet streaming in its revival on Sunday (Nov. 25), here, and significant for the textual decision to end where Puccini ended — the voice-projection problem is addressed by having much of the principal singing occur drably near the stage apron.
In Babylon it is addressed with amplification*, subtly on the whole, though on Oct. 31 individual vocal lines resounded unnaturally at several moments.
Generalmusikdirektor Kent Nagano brought to the new opera his dual virtues of judicious tempos and attention to balances. The orchestra played compliantly, David Schultheiß working as poised and able concertmaster. Anna Prohaska and Claron McFadden coped deftly with the vocal stratosphere as Inanna and the Soul. Gabriele Schnaut brought rolling majesty to the Euphrates personified. Countertenor Kai Wessel exuded glum fortitude as Scorpion-Man. Jussi Myllys, the Tammu, relished having more to do than in his numerous recent Jaquinos, serving Widmann's music earnestly. Willard White, as Priest-King and as Death, growled and boomed with his customary expertise.
When final blackness came, the polite Bavarian audience registered its ennui not with boos but with the barest, most ephemeral applause. Reconciling Heaven and Earth had proven easier than reaching across the proscenium.
[*Bavarian State Opera in a Nov. 26 message noted that "amplification was used for some parts" of the opera and that Widmann "actually marked the use of amplification for the scenes with heavy orchestral instrumentation in the score."]
Photo © Wilfried Hösl
Related posts:
Levit Plays Elmau
Petrenko Hosts Petrenko
Manon, Let's Go
Tonhalle Lights Up the Beyond
Mélisande as Hotel Clerk
Tags: András Schiff, Anna Prohaska, Arcanto Quartet, Babylon, Bavarian State Opera, Bavarian-Babylonian March, Bayerische Staatsoper, Carlus Padrissa, Claron McFadden, Commentary, David Schultheiß, Gabriele Schnaut, Jörg Widmann, Jussi Myllys, Kai Wessel, Kent Nagano, München, Munich, Peter Sloterdijk, Review, Rihm, Willard White