Salzburg Coda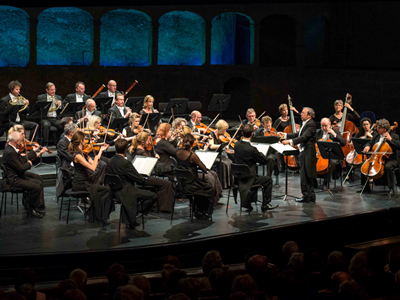 By ANDREW POWELL
Published: October 31, 2014
SALZBURG — Alexander Pereira is now gone from the main festival here, and two tenuous summers are in the offing before Markus Hinterhäuser replaces him as Intendant in 2017. His exit, under a cloud, ends a budget tempest but threatens reversals of worthy initiatives he took: lengthening the schedule to six weeks, deepening the commitment to sacred music, insisting on fresh stagings for opera. Pereira did not adapt to the old-boy (and old-girl) Salzburg bureaucracy but he restored an element of decisiveness that had been lacking since Karajan and later Mortier ran things. And despite fiscal overages and gripes about casting, his programs were a Karajanesque blend of tradition and vetted novelty, exemplified on three August days in the paired artistry of Vilde Frang and Michail Lifits; concerts by the Mozarteum-Orchester and the Academy of St Martin In the Fields; and new productions of Fierrabras and La Cenerentola.
Peter Stein, wise yet out of fashion, told Schubert's 1823 Carolingian tale straight, using monochrome flats and simple lighting tricks to paint and speed between differentiated, handsome scenes (Aug. 22, Haus für Mozart). His target: the seated theater audience, not roving DVD cameras. He stressed Christian values of compassion and peace, contrasting the vehemence of the Moors; Fierrabras was Fierrabras, destined for conversion, not an impersonation of the composer. But coarse horn playing marred the presentation of a score much dependent on that instrument, and conductor Ingo Metzmacher tended to allow the Vienna Philharmonic winds to swamp the luscious strings, the orchestra to swamp the singers. Of the six principal roles, Julia Kleiter's silvery-voiced Emma did the music fullest justice. The Vienna State Opera Chorus sang magnificently, also magically.
Taking for La Cenerentola the opposite but these days routine path, Damiano Michieletto deployed hard-surface, camera-friendly sets and updated Perrault's story (Aug. 23 matinee, same venue). His homey cafeteria, "Buffet Don Magnifico," buzzed with credible characters and tightly calibrated action; a startling scenic transformation added depth. Angelina, in her middle years, found love at first sight while busing tables, and goodness triumphed at the close through gifts to her wedding guests: rubber gloves, buckets and soap; as those guests were put to work, she blew bubbles. In a probable farewell to this signature role, Cecilia Bartoli (48) exerted feisty charm, her sound opulent, the vocal ornaments expressive and fresh as ever. Mirroring her comedic sincerity, Javier Camarena sang a stylish Ramiro and a modest one, too, until Sì, ritrovarla io giuro. This he peppered with loud highs and a long last C brightened in a timbral arc. The basso roles were contrasted: Enzo Capuano a bully of a Magnifico with lucid patter and smooth legato, Ugo Guagliardo a cupid-magician Alidoro of rich tones but somewhat graceless phrasing, and Nicola Alaimo a robust Dandini who overplayed his comic hand. Jean-Christophe Spinosi and the Brest-based Ensemble Matheus rose to the witty occasion.
Tour appearances by the 55-year-old London orchestra (same day, at the Felsenreitschule) haven't always validated the high standards of its early records. This one did. Tomo Keller's work as guest concertmaster blazed with virtuosity and seemed to ignite all desks. Although uncredited by the festival, he led Mendelssohn's D-Minor Sinfonia (1822) by himself, finding elegance and mature ideas as well as precision in the four movements. Seven winds and conductor Murray Perahia then joined the 24 strings for an exceptionally refined reading of Haydn's Symphony No. 77 (1782) filled with neat contrasts and fresh turns of phrase; the airy Andante sostenuto could have spun for an hour without losing appeal. After the break, Beethoven's Fifth Piano Concerto (1809) emerged in fluid streams of sound, the rhetoric measured, the attacks vivid. Perahia deftly balanced poetry and drama, piano and orchestra, signaling with his arms when not occupied at the keyboard.
Ivor Bolton, beloved Chefdirigent of the Mozarteum-Orchester, sandwiched ardent arias of Gluck and Mozart between G-Minor Sturm und Drang symphonies (Aug. 24 matinee, Mozarteum), packing quite a punch. Resilient rhythms, vigorous angular themes and tidy dynamic shifts enlivened Haydn's Symphony No. 39 (1765), capped by an Allegro di molto that expertly whirred along. In Mozart's Symphony No. 25, written eight years later and inspired by the Haydn, Bolton elicited equal cohesion and propulsion, favoring tautness over repose, but the volume of sound pushed the limits of the 800-seat hall. Rolando Villazón brought astounding degrees of verbal expression and ample vocal luster to his three Mozart arias — Per pietà, non ricercate (1783), Or che il dover (1766) and, as vehicle for clowning, Con ossequio, con rispetto (1775) — buoyed and gamely resisted by Bolton and the orchestra. In Gluck's Unis dès la plus tendre enfance, from Iphigénie en Tauride (1779), the tenor delivered the French words with operatic flair.
After the recital by Frang and Lifits (same day, same venue), one woman asserted aloud that Frang couldn't possibly play the violin to full potential for lack of flow in her body movements, while another attendee bemoaned pianist Lifits's gum-chewing facial mannerisms. What was certain was that two unique personalities had made music. They combined best in the pieces that opened and closed their program, Brahms's Scherzo for the Frei aber einsam Sonata (1853) and Strauss's similarly confident and classically formed E-flat Sonata (1888). Results: clear lines, passionate phrasing, ideal balances, a definite sense of structure. Lifits could be heavy in the left hand and seemed not always aware of his partner, but she proved able to enlarge her tone when she chose, adding volatility. The stylistic jump from Brahms to Mozart's Violin Sonata in E-flat, K481 (1785), had the effect of Frang receding: Tashkent-born Lifits played as if on solid ground and the Oslo violinist looked happy to let him dominate, especially in the crisply articulated Allegretto. Beethoven's A-Major Sonata, Op. 30/1 (1802), after the Pause, suffered slow tempos and a lack of drama.
Where the Salzburg Festival goes now, post Pereira, will be partly evident next month when the 2015 summer plans are announced. In all likelihood there will be cost-cutting to counter past overages, such as for 2013 when a reported $5 million went out the door beyond the approved $76 million. Once Hinterhäuser fills the Intendant void, the danger is of a well-bookkept but artistically dithering institution — a return, in effect, to qualities of the ten summers preceding Pereira's 2012 arrival; Hinterhäuser, a pianist, participated in management for some of those years and is not known as a forceful character. The compass at present is with Sven-Eric Bechtolf, grandly styled "Artistic Master Planner 2015 and 2016" (a promotion from heading just the theater programming), and the festival's indomitable Cost-Cutter-in-Chief, a.k.a. Präsidentin, Helga Rabl-Stadler.
Photo © Silvia Lelli
Related posts:
Nitrates In the Canapés
Mozartwoche: January's Peace
Christie Revisits Médée
Netrebko, Barcellona in Aida
Pintscher Conducts New Music
Tags: Academy of St Martin In the Fields, Alexander Pereira, Bartoli, Beethoven, Brahms, Commentary, Damiano Michieletto, Ensemble Matheus, Enzo Capuano, Felsenreitschule, Fierrabras, Gluck, Haus für Mozart, Haydn, Helga Rabl-Stadler, Ingo Metzmacher, Ivor Bolton, Javier Camarena, Jean-Christophe Spinosi, Julia Kleiter, La Cenerentola, Markus Hinterhäuser, Mendelssohn, Michail Lifits, Mozarteum, Mozarteumorchester, Murray Perahia, Nicola Alaimo, Peter Stein, Review, Richard Strauss, Rolando Villazón, Rossini, Salzburg, Salzburg Festival, Salzburger Festspiele, Schubert, Sven-Eric Bechtolf, Tomo Keller, Ugo Guagliardo, Vienna Philharmonic, Vienna State Opera Chorus, Vilde Frang, Wiener Philharmoniker, Wiener Staatsopernchor, Wolfgang Amadeus Mozart