Netrebko, Barcellona in Aida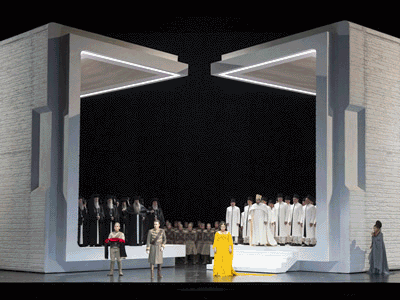 By ANDREW POWELL
Published: August 30, 2017
SALZBURG — Qualitative upticks at the main festival here have heralded Markus Hinterhäuser's installment as Intendant after a shaky two-summer void. The priority, it appears, is music itself over theater or opera, as might be expected from a boss who is also a professional pianist. Hinterhäuser is retaining the Ouverture spirituelle, a costly 2012 innovation of predecessor Alexander Pereira that ensures a big window for sacred music, and he is returning strength to the chamber-music slate. In a newly staged Aida and a fresh take on La clemenza di Tito this month, the pleasures were musical alone.
Riccardo Muti prepared and led the Verdi, heard at the Großes Festspielhaus fortuitously on Aug. 16 when Anna Netrebko and Daniela Barcellona faced off as the princesses — graduates of Donizetti and Rossini, respectively, and both rich of tone, secure, unstinting, and able to wield the Italian text to exact expressive purpose, generating sequences of actual drama.
One such occurred in the first scene. Barcellona's Amneris hurled out the imperative Ritorna vincitor! with enough power and point to spin all of Act I around these two words. Muti's forces — the Vienna State Opera Chorus and the Vienna Philharmonic — emblazoned the mandate with thunderous intensity, leaving Netrebko's Aida to wanly echo it not as some affront, as many do, but as reason to fear. Her scena rose naturally from the thought, shaped with clear words, dark rumination, ravishing high notes, wondrous floats — this was a steadier performance than for the Aug. 12 video-stream — culminating in a Numi, pietà that would have melted the heart of the stoniest deity, before she promptly vanished, ovationless, as Verdi instructs.
Barcellona's own brilliant highs and roundness of sound in the middle octave produced exciting duets and ensemble work. A tall actress, she regally commanded her scenes yet managed to convey vulnerability, and in Act IV she slid poignantly from bitterness to remorse — a woman, never the fire-eater — so that the dwindling string parts seemed to trace her fate as much as those of Aida and Radamès, closing the opera perfectly.
Probably the credit belonged with Muti for that last feat, and certainly the sensitive legato in Francesco Meli's work as Radamès suggested keen preparation, an improvement on his Manrico here two summers ago (when Gianandrea Noseda conducted). Meli sounded best after Act I, his heady metallic timbre acquiring plushness as the action progressed, but he sang with elegance of line all through.
Luca Salsi exuded fatherly authority as Amonasro, sustaining long phrases on a single breath. Dmitry Belosselsky summoned requisite thrust for Ramfis, a stern but precise capo dei sacerdoti, aptly gruff of tone. Most impressive of all, measure for measure, was the true Italian basso of Roberto Tagliavini singing the Rè d'Egitto. Tall like his Amneris, he projected clarion words and mellifluous, weighty tones, apparently without the slightest effort.
After Netrebko's plea and the brief scene investing Radamès for war — that is, after Act I — the maestro from Molfetta took a full intermission. He had paced this unit of the opera slowly on the whole, at 44 minutes, but had built into it latent strengths, enforcing piani and saying something new with each measure, even in the chanting and dancing, so that Nume, custode e vindice packed more punch than usual and the act could fully balance, not just precede, the one following. An intermission for combat felt only logical.
Out in the lobby, by Café Tomaselli's (welcome) ice-cream cart, a none-too-sanguine-looking Mariss Jansons engaged in animated chat. The whole crowd in fact seemed stirred if not shaken by the rancor in Memphis. But Aida reverts to human dimensions the moment it has proclaimed its context, and Muti in the next scene elicited the lightest, most mercurial textures for the attendants' and slaves' music, choral and orchestral, as if tracing the thoughts of Amneris — leaving Barcellona to gamely play these out on Netrebko.
The conductor supported his singers' breathing throughout, tending to encourage beauty of phrase and expression. He executed pristine shifts of tempo, tending to inject urgency and sharpen contrasts. He remembered to dance: to honor rhythmic impulses on the instant and ripely characterize them. Best of all, he erred on the side of dynamic restraint, permitting but never urging high decibels.
So this was an Aida on the composer's terms, nowhere more virtuosic than in its second Thebes scene. Muti finely shaded the women's and priests' interludes in the opening Gloria all'Egitto e ad Iside. In the marcia trionfale, what looked like the meter-long, straight, single-rotary-valve C trumpets Karajan used — in place of Verdi's trombe egiziane in A-flat and B-natural — rang out with immaculate intonation and thrilling antiphony across the gaping stage. The ballabile had infectious rhythm. Salsi's smooth, obsequious Ma tu, Rè, tu signore possente offset neatly Tagliavini's grand edicts. The tutti after the priests' rejection of clemency made its ominous impact, and the Finale's last section unfolded with tautness.
Each time he entered the pit Muti magnetized attention, and when he trod out it was with the bearing of a mortician, as people roared approval in vanity-stroking counterpoint. But he properly took the remaining three scenes without a formal break, returning in Act III to the stately speeds of the opera's first two scenes. Netrebko rose to the stipulated dolce high C to conclude O patria mia after conveying that aria's sense of reflection with exquisite tones, and she and Meli blended tidily for O terra, addio. Barcellona dominated Scene I of Act IV before injecting genuine grief at the close, as noted, to cap a proud Salzburg Festival stage* debut.
Italians in four of the lead roles in this hard-to-cast opera; expert choristers (aided by their confinement to the staging's Brutalist box structures and by stage-direction prescribing little movement); and Vienna's orchestra playing with more abandon than for opening night (Aug. 6, as broadcast by BR Klassik) or the video-stream — negating impressions of a musically stilted, dramatically aloof presentation, though these had borne out Muti's 38-year hiatus from the score and the hiring of a stage director who is really a photographer — reinforced the belief that Salzburg is the one place where ingredients of such quality can come together.
Teodor Currentzis led a vigorous, aurally colorful, not especially elegant traversal of Mozart's Roman opera Aug. 17 in the Felsenreitschule, with tight support from the Choir and Orchestra MusicAeterna of Perm Opera, or, more precisely, the Choir and Orchestra of Teodor Currentzis. His cast toiled diligently. Golden-toned Golda Schultz acted credibly but sounded overparted as Vitellia in this venue. Marianne Crebassa made a compelling but hyperactive Sesto, not especially sumptuous of voice. She was much cheered after Parto, parto, ma tu ben mio, for the obbligato to which Perm's clarinetist slunk around her on stage. Reprising a title role he sang at the Met five years ago, Russell Thomas projected his voice with focus and musical authority. The smaller roles of Annio (Jeanine de Bique), Servilia (Christina Gansch) and Publio (Willard White) were adequately sung. At curtain, Currentzis drew wild, really quite bizarre applause, louder than for any cast member.
Neither of the two stagings will be much welcomed going forward. Shirin Neshat's scheme for Aida, another essay in lens-obedient, firm, gray surfaces that bathe in any light and reflect any color but take us nowhere, features stiff, contrived action hampered and dwarfed by the box structures. Our engagement hinges on costumes, lighting, and initiatives by the singing actors. And Salzburg's safety curtain more closely evokes Pharaonic Egypt than the commissioned sets. Peter Sellars' realization of Tito, conversely, has too much fluidity and parades a number of old clichés, many of them Sellars' own. The idea of intravenous infusions for a bedridden emperor proves especially irksome.
[*She and Netrebko sang I Capuleti e i Montecchi at the festival in 2004 under Ivor Bolton, but in concert. Her career is evolving. October, for instance, brings Schumann and Brahms songs at La Scala.]
Photos © Monika Rittershaus (set; Meli with Netrebko), Marco Borrelli (Barcellona; Barcellona with Netrebko), Franz Neumayr (Muti and Netrebko at curtain call)
Related posts:
Muti the Publisher
Muti Casts His New Aida
Nitrates In the Canapés
Verdi's Lady Netrebko
Mastersingers' Depression
Tags: Aida, Christina Gansch, Daniela Barcellona, Dmitry Belosselsky, Felsenreitschule, Francesco Meli, Giuseppe Verdi, Golda Schultz, Großes Festspielhaus, Jeanine de Bique, Kritik, La clemenza di Tito, Luca Salsi, Marianne Crebassa, MusicAeterna, Netrebko, Perm, Review, Riccardo Muti, Roberto Tagliavini, Russell Thomas, Salzburg, Salzburg Festival, Salzburger Festspiele, Sellars, Shirin Neshat, Teodor Currentzis, Vienna Philharmonic, Vienna State Opera Chorus, Wiener Philharmoniker, Wiener Staatsopernchor, Willard White, Wolfgang Amadeus Mozart