All Eyes On the Maestro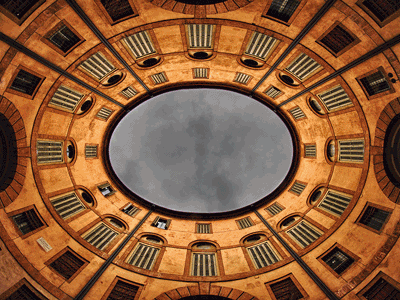 By ANDREW POWELL
Published: April 30, 2017
FERRARA — Lanky Teodor Currentzis looms over his MusicAeterna players the way Basil Fawlty loomed over Manuel, and with comparable gestures. It is anyone's guess how their 13-year relationship has survived, what with labor conditions in Russia, the quirks of period-instrument practice, their joint move from Novosibirsk (in Asia) to Perm (in Europe), and the Greek-Russian maestro's self-absorption. What is certain is that the band is prospering. It recently finished a studio cycle of Mozart's da Ponte operas for Sony (extravagantly recording Don Giovanni twice because Currentzis was unhappy with the first product). This month it wrapped up a nine-city European tour stretching musically from Berg to Pergolesi. And July will see MusicAeterna, not the Vienna Philharmonic, launch the opera schedule at the Salzburg Festival.
Currentzis himself demanded attention April 10 on a tour stop at this Renaissance city's ornate Teatro Comunale. Concert pants tight as riding breeches and a jacket that would have done everyone a favor six inches longer were a start. Then came his shaking up of the scores at hand. Mozart's Symphony No. 25 (1773) whirled along on period-design oboes and bassoons, valveless horns and gut strings (tuned to an A pitched probably at 430 Hz); fortepiano continuo; highly contrasted tone colors, the string tone slender yet refined; textures airy and clear; strongly accented rhythms; brisk tempos; and above all a nervous energy in the articulation of every idea. Startled by the sounds, apparently, everyone, even the on-duty firemen, gazed at the podium throughout.
But the limits of MusicAeterna's artistic priorities became clear. The fortepiano stayed in place where the second violins usually are, crippling the efforts of fluent soloist Alexander Melnikov in Mozart's D-Minor Piano Concerto, K466 (1785). A chamber-music partner of Isabelle Faust and Jean-Guihen Queyras who flew to Italy for this one date, Melnikov surely had more to say than came across. His instrument's positioning combined with its modest range and tone left him toiling to distinguish his part, and things soon fell into expressive deficit — dire straits in the Romanze — while the accompaniment imposed similar values as in the symphony. After the break, in Beethoven's Eroica Symphony (1803), a canvas double the size of Mozart's Kleine g-Moll and with ambitions in form and mood beyond its world, Currentzis' chronic grimness of attack and unnuanced balances grew tiresome, for all the Perm musicians' virtuosity.
An integral part of the Teatro Comunale is the Rotonda Foschini. This oval courtyard, a "stage-space of suggestions" or just a graceful place to muse during intermission, links the Corso Martiri della Libertà with the Corso della Giovecca; it draws the eye up and around in, well, dizzying ovals. After concerts, listeners exit the Comunale to face immediately the dark and massive Castle of the House of Este — rulers from here for four hundred years; reclaimers of Po Delta marshland; humanist pioneers of the "ideal city" and modern urban planning; employers of Piero della Francesca, Jacopo Bellini, Andrea Mantegna; art collectors and exemplars for the Medicis and the Vatican.
---
In a surprise, Currentzis early this month was appointed to the top conducting job in Stuttgart, capital of Baden-Württemberg. He will be Chefdirigent of the new SWR Symphonie-Orchester, the merged entity replacing the SWR Sinfonieorchester Baden-Baden und Freiburg and the Radio-Sinfonieorchester Stuttgart des SWR. This is of course a normal orchestra, a counterpart to Bavaria's lavishly funded Symphonie-Orchester des Bayerischen Rundfunks, and so it will be fascinating to see how he does, how conservative Baden-Württemberg receives him, how he splits his time with Perm, and whether he can cope with limited artistic power and a German bureaucracy. He starts in September 2018. The musicians know him from his past work with both dissolved orchestras, but SWR (Südwestrundfunk) has not clarified what led to his selection.
Photos © Andrea Parisi (rotonda), Marco Caselli Nirmal (concert)
Tags: Alexander Melnikov, Associazione Ferrara Musica, Beethoven, Ferrara, MusicAeterna, News, Perm, Recensione, Review, Südwestrundfunk, SWR, SWR Symphonieorchester, Teatro Comunale di Ferrara, Teodor Currentzis, Wolfgang Amadeus Mozart