BRSO Adopts Speedier Website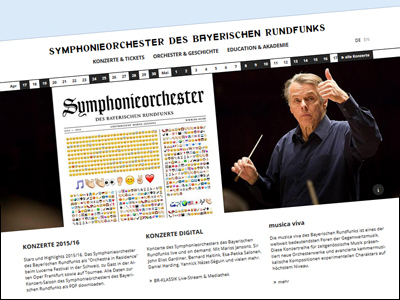 By ANDREW POWELL
Published: April 17, 2015
MUNICH — Although no news release hailed its arrival, a revamped website was launched today for the Bavarian Radio Symphony Orchestra. It is faster, navigationally flatter, and better geared to mobile platforms than the old pages, criticized here. To enable the advance, domains have been set up liberating the orchestra from the giant br.de, which until today hosted all three BR Klassik entities — the BRSO, the BR Chor and the Münchner Rundfunk-Orchester — as well as a panoply of services of parent Bavarian Broadcasting. In the bureaucratic context, this is revolutionary. Domain br-so.de will serve German readers while br-so.com is for everyone else. Simple tasks, such as finding the orchestra's managers, are now as easy as they should be. Corresponding domains br-chor.de and br-chor.com have been established for the excellent chorus but for the moment resolve elsewhere. The MRO, currently on a two-week homeland tour playing operetta behind Jonas Kaufmann, retains its present site arrangement.
Screenshot © Bayerischer Rundfunk
Related posts:
Berlin's Dark Horse
Jansons Extends at BR
BR Campaign Runs Out of Gas
Bretz's Dutchman, Alas Miked
Jansons! Petrenko! Gergiev!
Tags: Bavarian Radio Symphony Orchestra, Bayerischer Rundfunk, BR Chor, BR Klassik, Chor des Bayerischen Rundfunks, Commentary, Münchner Rundfunk-Orchester, News, Symphonie-Orchester des Bayerischen Rundfunks