Verdi's Lady Netrebko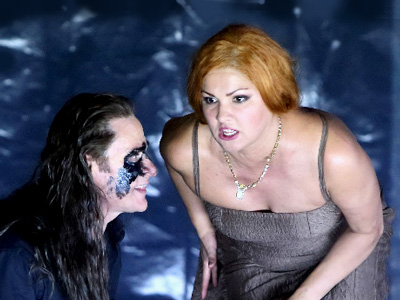 By ANDREW POWELL
Published: June 28, 2014
MUNICH — Verdi's Macbeth is back, for its eighth run in six years at Bavarian State Opera, this time to open the dressy Opernfestspiele. The production's giant chandelier, plastic sheeting, silly tent and field of skulls are now globally familiar, even if they don't exactly transport us to 11th-century Scotland. Ditto its unison cast whizz during the witches' Act III Incantation, made possible by a reverse diaper process and plastic tubes. Obsession still trumps oppression (or patriotism or tyranny), as stage director Martin Kušej in 2008 saw the tale. Mute kid supers still enact the witches. Just don't look for a heath, castle, cave or Dunsinane Hill.
The dramatic instincts and opulent tones of Anna Netrebko as Lady Macbeth ignited last evening's performance (June 27). After a 3½-month break from staged opera, the soprano brought voice to burn to this role debut and had apparently been expertly tutored for it. Her sound, often ingolato, correlated little with her 2012 Giulietta or 2011 Adina here, but power and a new exploitation of her rich chest voice riveted the ear. Stage skills found her reveling in the excesses of the character without descending to caricature.
She read the letter at the start with Italianate declamation and fresh point. Vieni! T'affretta! and both verses of Or tutti, sorgete paraded the value of a plush timbre skillfully deployed. She sailed over the orchestra and ensemble in a thrilling Act I Finale — Schiudi, inferno, la bocca, ed inghiotti nel tuo grembo l'intero creato being precisely what Hell should do with this staging — and rode other climaxes with comparable apparent ease. Act II brought contrast. After a chilling La luce langue, she mustered a series of expressive, varied trills and strong coloratura for the banquet, Salva, o rè! … Si colmi il calice, flatly defying expectations. She conveyed tameness and defeat in the Sonnambulismo, which in Kušej's concept involves no walking, and invested Verdi's last phrase with pathetic charm, touching the D-flat and then plunging with rounded certainty to "ndiam," albeit in something greater than the stipulated fil di voce.
Simon Keenlyside tried hard as Macbeth, a role he has already documented. He observed the musical values of the part and summoned as much heft and intensity, fury and volatility, as his lyric baritone would permit, preserving beauty of tone. He paired credibly, magnetically, with Netrebko and faced the Act II ghost and Act III apparitions with reasonable histrionic flair, dumb dramaturgy notwithstanding. But he never resembled a killer or hesitant dope. Wisely, he saved his best till last, finding dignity and power for Perfidi! All'anglo contro me v'unite! … Pietà, rispetto, amore. He was singing this next to and over the body of his queen when, awkwardly, the news of her death arrived.
If the misdemeanor of this Macbeth is having the cast pee on stage, its felony is forcing Verdi's witches to sing from the wings. Pushed out of focus and balance, the Bavarian State Opera Chorus toiled and failed to give the opening Che faceste? dite su! its thrilling edge. And so it was for the Incantation, the Apparizioni and the chorus Ondine e silfidi, music dear to the composer's scheme. When they weren't being witches, though, the Sören Eckhoff-trained choristers achieved precise and penetrating results. Joseph Calleja rang tenorial rafters with Macduff's Ah, la paterna mano, the dynamic details well executed. Ildar Abdrazakov's firm but agile bass delivered Banco's Come dal ciel precipita in ominous shades, before the character's swift hoisting by the ankles and exsanguination, as Kušej has it. The Bavarian State Orchestra mustered warm lyrical playing that could turn dazzlingly martial where required, under Paolo Carignani's idiomatic if measured command. His reading suggested exceptional thoroughness of preparation, as if a certain other maestro had provided background guidance.
Photo © Wilfried Hösl
Related posts:
Netrebko, Barcellona in Aida
Six Husbands in Tow
Time for Schwetzingen
U.S. Orchestras on Travel Ban
Ettinger Drives Aida
Tags: Bavarian State Opera, Bavarian State Orchestra, Bayerische Staatsoper, Bayerischer Staatsopernchor, Bayerisches Staatsorchester, Giuseppe Verdi, Ildar Abdrazakov, Joseph Calleja, Kritik, Kušej, Macbeth, München, Münchner Opernfestspiele, Munich, Munich Opera Festival, Netrebko, Paolo Carignani, Review, Simon Keenlyside, Sören Eckhoff