Written On Skin, at Length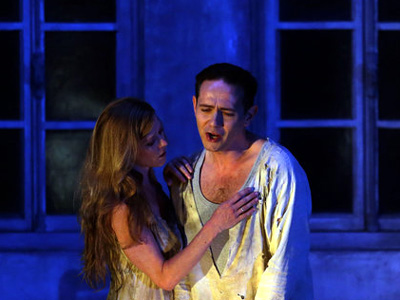 By ANDREW POWELL
Published: August 24, 2013
MUNICH — What is written on skin? Craftsmanship "as immaculate as anything … composed since the heyday of Ravel" and "glimpses of a 21st-century tonality," if you read Alex Ross in The New Yorker. And "a psychologically gripping, emotionally heart-pounding and viscerally satisfying drama," according to Corinna da Fonseca-Wollheim for The New York Times. The skin in question is parchment for an illuminated family history, the requisition of which propels a retelling of a short medieval horror story: husband serves faithless wife her (troubadour) lover's heart. Boccaccio used it in 1351. Verdi five hundred years later did not. The cited critics are praising an "opera" of the bloody tale by George Benjamin to a libretto by Martin Crimp, premiered in Aix-en-Provence last year and given its first German outing here at the Prinz-Regenten-Theater on July 23 as part of the Munich Opera Festival.
To these ears, Written On Skin with its two momentary breaks amounts to a 95-minute triptych of orchestral pieces and an applied, alien vocal overlay: concert sheep in wolf's clothing. Each piece employs constructs familiar from Benjamin's Ringed By the Flat Horizon (1980, heard at its London premiere that year) and Palimpsests (2002, played intently here 15 months ago by the Bavarian Radio Symphony Orchestra). Those 20-minute works adumbrate with their own kind of anything-but-operatic drama: discreet coloring; cautious pacing; finely splintered textures and balances; spare, crashing climaxes; and retreats of knowing modesty. They hold the attention and lodge themselves in the mind for, well, years. Craftsmanship indeed.
Laced with motifs and fuller phrases for verrophone and bass viola da gamba, the opera's scoring coyly addresses its ghoulish subject. Sandpaper blocks and a whip contribute against a brooding 8-6-6-6-4 string complement. Stretched atop and across is the Brittenish writing for voice. This is at its most expressive and stirring in several duets, especially those involving the husband, cast by Crimp as the "Protector." Often, though, the meeting of the earlier composer's techniques and Benjamin's deliberative way with structure produces drawn-out phrases — the natural counterpart to his instrumental writing and a reflection of the style and methods he settled into at Cambridge, England, more than thirty years ago. Characters then emote in similar Saran Wrap lines at various pitches. The music cannot under the circumstances shift organically, let alone spontaneously. Instead of driving the action, it merely colors it, albeit with distinction and force: drama as ornament for inescapable, purely musical shapes.
Benjamin cultivates tension right from the start, and sustains it, as he does in concert hall music, until those inevitable but seemingly casual breaks. Tension, not suspense. If some of the same could be said of Bartók's opera, it could never be said of the average Monteverdi madrigal.
Determined, apparently, to create a music-theater work of feature length after collaborating on the chamber-scale Into the Little Hill (2006), composer and librettist chose a tale with one linear thread: a hiring, a seduction, marital confrontation, murder, a juicy meal and a suicide. This Crimp spins out to the breaking point, even if his words are always fresh and concise; his dead-end subplot offers no substitute for missing theatrical counterpoint. And so the characterizations are limited: the Protector a landed, obsessive-possessive bully; the wife, called Agnès, his hapless vassal; the third principal singing role, called the Boy (and Angel 1), passive and largely inert — yet it is he who, hired at the outset, is tasked with preparing that family history and who stirs rebellion in Agnès, becoming her lover without wishing it or evolving as a result.
Katie Mitchell's clearly purposed, split-level staging (from Aix) operates supportively enough. She perhaps sensed the need for more action, but she responds with supplemental and ineffectual zombie exploits stage right, and the viewer soon tunes these out. Her principal direction, however, remains assiduously in focus.
Kent Nagano led a committed performance on opening night, taking over from the composer, who had conducted in Aix. That was Munich's loss: Benjamin, on hand for bows, is a gifted leader. But Nagano's coordination endured and the Austrian orchestra Klangforum Wien played with obvious dedication. Philipp Alexander Marguerre and Eva Reiter ably traced the vital verrophone and viola da gamba parts. Countertenor Iestyn Davies, taking over from Bejun Mehta who had sung the Boy in France, contrasted ideally with Christopher Purves's fearsome and all-too-realistic (bass-baritone) Protector. Both were persuasive musically. As the distressed Agnès, soprano Barbara Hannigan acted and sang as if her own life were under "protection." Marie Victoria Simmonds (mezzo-soprano) and John Allan Clayton (tenor) made vivid contributions as Angels 2 and 3.
Photo © Matthias Schrader for Associated Press
Related posts:
Verdi's Lady Netrebko
Kaufmann Sings Manrico
Mélisande as Hotel Clerk
Nitrates In the Canapés
Liederabend with Breslik
Tags: Barbara Hannigan, Christopher Purves, Eva Reiter, George Benjamin, Iestyn Davies, John Allan Clayton, Katie Mitchell, Kent Nagano, Klangforum Wien, Marie Victoria Simmonds, Martin Crimp, München, Münchner Opernfestspiele, Munich, Munich Opera Festival, Philipp Alexander Marguerre, Prinz-Regenten-Theater, Review, Written On Skin