Blacher Channels Maupassant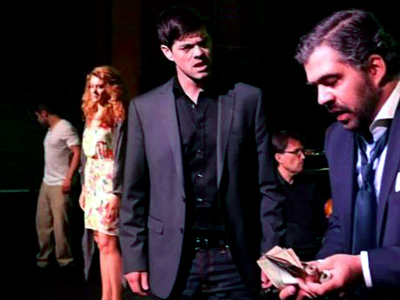 By ANDREW POWELL
Published: July 7, 2014
MUNICH — It was standing room only for Die Flut yesterday (July 6). Not only was Boris Blacher's 1946 radio opera sold out, but the audience was expected to stand or stroll through it, as directed by Aernout Mik at a former riding hall here. Improbably part of Bavarian State Opera's summer festival, the event introduced conductor Oksana Lyniv, the attractive new assistant to Kirill Petrenko.
Blacher might not normally draw a big crowd, but we live in visual times and "video-installation artist" Mik has a following. Hiring him must have seemed a safe bet: he could do whatever he wanted to enhance a work conceived for radio. Sadly he brought only distractions.
Visual cues abound in Die Flut, which reworks an 1885 nouvelle by Guy de Maupassant, L'épave (The Wreck), about an insurance appraiser who journeys from Paris to the endless sandbanks of the Île de Ré where a claimant's boat has run aground an hour's walk out from shore. The appraiser approaches the wreck:
Elle semblait sortir du sol et prenait, sur cette immense étendue plate et jaune, des proportions surprenantes. Je l'atteignis enfin, après une heure de marche. Elle gisait sur le flanc, crevée, brisée, montrant, comme les côtes d'une bête, ses os rompus, ses os de bois goudronné, percés de clous énormes. Le sable déjà l'avait envahie, entré par toutes les fentes, et il la tenait, la possédait, ne la lâcherait plus. Elle paraissait avoir pris racine en lui.
But Bay of Biscay tides, he has been warned, need rise only centimeters to cut him off. And sure enough he winds up surrounded by rising water and expecting to die as night descends — in the company of others, as it turns out, including an 18-year-old girl who is feeling cold.
Heinz von Cramer's postwar German libretto for Blacher is the shrewdest of adaptations, retaining the salty scene and perilous sandbanks while exploring through modified roles some harsher effects of the sense of imminent death.
Cramer's appraiser is a wealthy banker (Der alte Bankier, bass Miklós Sebestyén) who fatally tries offering cash to fellow tide victims (Der Fischer, baritone Tim Kuypers, and Der junge Mann, tenor Dean Power) if they would only swim ashore for help. His money, tellingly, proves irrelevant as the water rises, supreme as it recedes. And then there is the girl (Das Mädchen, soprano Iulia Maria Dan).
Mik missed it all. His contribution, trite mini-movies of rescues and rituals looping incessantly on screens over our heads, appeared canned, as if the director had merely used the occasion to showcase unrelated pre-existing work. He failed to set Maupassant's remarkable scene or exploit its potential.
The action itself proved intense, though, partly because the four protagonists were confined to a platform, along with a commenting chorus and the instrumentalists (a dozen members each from the Bavarian State Opera Chorus and Bavarian State Orchestra). This shunted slowly from one end of the 80-yard hall to the other, and back, as the story unfolded, while two dozen mimes mingled with the fluid audience, gesturing in sync with each mini-movie.
Blacher's mostly tonal 40-minute score for the singers, five wind instruments and string quintet (augmented to a septet yesterday) places passion in the voices but irony in the jaunty, blues-tinged, light-textured accompaniment. It is alas not especially original or memorable.
Lyniv secured eloquent, vivid performances. Dan, Power, Kuypers and Sebestyén projected desperation, resignation, envy, surprise or relief, as required. For reasons unclear, certain sections of the opera were played twice, to altered dramaturgy, stretching the runtime beyond an hour. A tape of the Prologue from the original 1946 broadcast lent authenticity.
Photo © Wilfried Hösl
Related posts:
Portraits For a Theater
Nitrates In the Canapés
A Complete Frau, at Last
Kušej Saps Verdi's Forza
Harteros Warms to Tosca
Tags: Aernout Mik, Bavarian State Opera, Bavarian State Orchestra, Bayerische Staatsoper, Bayerischer Staatsopernchor, Bayerisches Staatsorchester, Boris Blacher, Dean Power, Die Flut, Guy de Maupassant, Heinz von Cramer, Iulia Maria Dan, Kritik, Miklós Sebestyén, München, Münchner Opernfestspiele, Munich, Munich Opera Festival, Oksana Lyniv, Reithalle, Review, Tim Kuypers