Harteros Warms to Tosca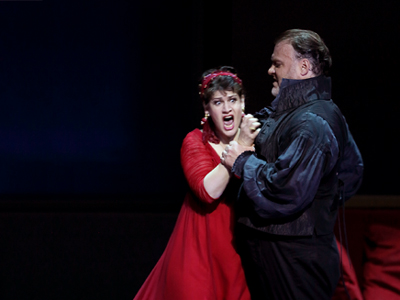 By ANDREW POWELL
Published: July 17, 2016
MUNICH — When Anja Harteros was singing her first Toscas three seasons ago, it was clear she had the vocal resources for the role, and the Mediterranean temperament. Even so, the portrayal didn't quite compute.
Enter Bryn Terfel, a Scarpia to rattle the aloofest, longest-legged of prima donnas. And Jonas Kaufmann, trusted stage buddy, sweet Cavaradossi. Now the diva's doubt, fear, passion and rage turn on the instant, her slashing knife grip extending a ferrous will.
Harteros fairly lived the part July 1 here at the National Theater, teamed as she must have wanted and apparently undeterred by Luc Bondy's clunky 2009 stage conception. Warm chest tones and creamy highs, floated or hurled, came into thrilling dramatic focus this time around. Illica and Giacosa's words made inexorable sense, the Attavanti canvas and Terfel's guts sure targets.
The tenor, too, had a great night: astutely colored phrases, gleaming top notes, a clarion but unexaggerated Vittoria! For once, E lucevan le stelle emerged as spontaneous thought, always in Kaufmann's wonderfully lucid Italian.
If the mighty Welshman sounded a smidgen less opulent of voice than in previous Munich Scarpias, his characterization was as potent as ever, and his savoring of Puccini's lines most enjoyable.
The snag, alas, was Kirill Petrenko's conducting. Forceful and weighty, it never felt rooted in the language it was supposedly driving. Still, a terrific night for the Munich Opera Festival, and nowhere more refined than during Io de' sospiri as sung by the Tölzer Knabenchor's uncredited soloist.
Photo © Wilfried Hösl
Related posts:
Manon, Let's Go
Tonhalle Lights Up the Beyond
Busy Week
Time for Schwetzingen
Schultheiß Savors the Dvořák
Tags: Anja Harteros, Bavarian State Opera, Bayerische Staatsoper, Bondy, Giacomo Puccini, Kaufmann, Kirill Petrenko, Kritik, München, Münchner Opernfestspiele, Munich, Munich Opera Festival, National Theater, Nationaltheater, Review, Terfel, Tölzer Knabenchor, Tosca