Impressions from the Green Hill: Tattoos, Rats and Embryos
By Rebecca Schmid
The Bayreuth Festival has had its share of scandal to contend with as Wagner's bicentenary approaches next season. An international investigation into exclusive ticketing practices; the publicized struggle to find the director for a new Ring cycle; administrative policies that have reportedly shortened rehearsal time; widely reviled productions; and—most recently—the last-minute withdrawal of Russian baritone Evgeny Nikitin from the title role in a new production of Der Fliegende Holländer due to an alleged swastika tattoo have marred the regime of Katharina Wagner and her half-sister Eva Pasquier-Wagner, who took the reins from their father Wolfgang in 2008. It will be a test next year when Frank Castorf, intendant of the Berliner Volksbühne and a notorious enfant terrible on the German theatre scene, stages his tetralogy, which he has revealed will center upon the "race for oil" as a turning stage revolves between a post-modern socialist vision of East Berlin and Wall Street on the other—an allegorical concept that is eerily reiminscent of Patrice Chéreau´s seminal 1976 production, commissioned by Wolfgang for the centenary of the cycle´s first performance in Bayreuth.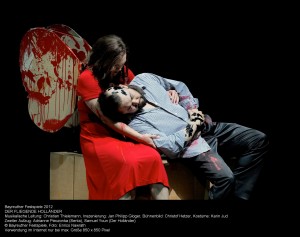 This season´s new Flying Dutchman, much like the protagonist himself, struggles to find redemption as it sails on into the final weeks of the festival. Jan Philipp Gloger, in his third opera staging, has opted for a capitalist critique that posits Daland and his sailors as Wall Street manipulators, while the Dutchman appears with his scalp branded by some kind of technological degeneration. Senta is a lowly factory worker, packaging fans until she takes a can of red paint and devises a sculptural cardboard podium on which to greet her sailor. She even holds a torch alluding to the Status of Liberty, as if we didn´t understand the references to consumerist culture. Instead of jumping overboard, she stabs herself in the final scene, and the Dutchman bleeds as she releases from the curse of eternal wandering. Mass production continues after their death as the factory churns out blinking sculptures of the couple in their final embrace—a hyperbolic, hokey, if sardonically amusing, final touch.
While Gloger generally does not stray from Wagner´s libretto, he fails to give his social commentary depth and coherence. Sets by Christof Hetzer start off promisingly, with a sleek black motherboard of sorts that flashes with stock market numbers and lights up in time with the music, but the cardboard play world of Senta and the Dutchman looks amateurish at best. Most disappointing was the lack of compelling inter-personal dynamics onstage: the romance between the two main characters was as two-dimensional and alienating as the set itself. Costumes by Karin Jud were underinspiring with the exception of the unidentifiable skin disease on the heads of the Dutchman and his crew which left viewers racking their brains to no avail.
A musically indomitable Dutchman might have saved the evening, but Samuel Youn—who stepped in last-minute to replace Nikitin—was vocally bland. Adrianne Pieczonka brought a lush, expressive voice to the role of Senta, and yet she suffered from occasional intonation problems and a slightly steely edge to her booming climaxes. Franz-Josef Selig sang the role of Daland handsomely despite a slightly husky quality, blessed with clear diction. Michael König was an appropriately menacing Erik as he struggle to pin down Senta, while Christa Mayer did not leave a strong dramatic impression as Mary, Senta´s nurse. In the role of the Steersman, Benjamin Bruns´ ringing tenor opened the opera on a pleasant note. The most redeeming aspect of the evening came from the pit as Christian Thielemann conducted the festival orchestra in a sleek, streamlined reading that was well-matched to the more elegant moments of Gloger´s production, driving the sailor´s choruses at a swift pace while allowing for expansive exchanges between Senta and the Dutchman.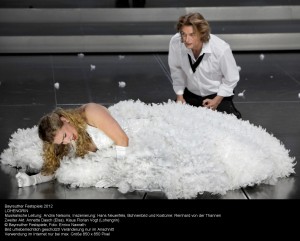 Hans Neuenfels´ Lohengrin has further confirmed the German stage director as a master of controversy, inspiring a passage in Woody Allen´s last film, To Rome with Love, while perplexing critics. The notion of the Brabantians as a pack of slowly mutating rats may sound more far-fetched than it appears within the larger context of the opera, although the staging is full of tasteless gestures—namely presenting Gottfried, Elsa´s abducted brother, as an embryo who tosses pieces of his umbilical cord when Lohengrin departs. Yet the swan knight is not just pureness and virtue. He is also a skilled manipulator, and the laboratory-like setting of Neuenfels´ production (sets and costumes by Reinhard von der Thannen) is as comical—and inane—as it is thought-provoking. One could do without the kitschy video art by Björn Verloh, cartoons which only over-saturate an already visually dense production. The only slightly meaningful moment occurred in the image of a rat skeleton running as smaller rodents fell off its ribs during the famous line "Für deutsche Land, das deutsche Schwert" (for the German land, the German sword), although the willingness of these creatures to abide by deceptively God-given precepts was more than clear at this point. The rat-tailed flower maidens in the wedding scene may not deserve profound reflection, but they were certainly amusing in a self-conscious manner that was severely lacking in Gloger´s Dutchman.
Musings on Regietheater aside, the revival of Neuenfels´ 2010 production mostly profited from having Klaus Florian Vogt in the title role. The seduction is immediate when the German tenor, who also saved Kaspar Holten´s recently unveiled Lohengrin at the Deutsche Oper, utters the opening line, "Nun sei bedankt, mein lieber Schwan" (Now you can express gratitude, my dear swan). The voice is at once angelic and virile, pleading yet authoritative. He was unfortunately not well matched by Annette Dasch, charming but underpowered in this Wagnerian role. Something of a star in Germany, the soprano nevertheless received thunderous applause. Thomas Mayer and Susan Maclean were well cast as the sinister couple Friedrich von Telramund and Ortrud, and Wilhelm Schwinghammer brought a powerful bass to the role of King Heinrich. Youn fared better as the King´s Herald than as the Dutchman the night before. Shimmering tremolo and sumptuous harmonies emerged with grace and passion under the baton of Andris Nelsons despite some minute technical imperfections, confirming Bayreuth´s tradition of superior musical standards despite a recent tendency toward wayward stagings.
Stay tuned for more on Parsifal, Tannhäuser and Tristan…
Tags: bayreuth festival, Berlin, berliner volksbühne, Christa Mayer, Christian Thielemann, Deutsche Oper, Eva Pasquier-, flying dutchman, Frank Castorf, german theatre, jan philipp, katharina wagner