Boccanegra via Tcherniakov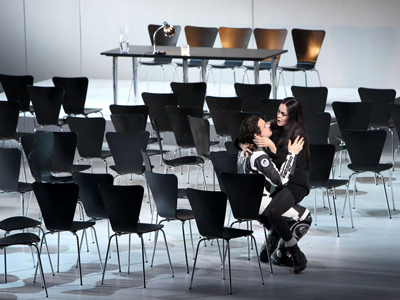 By ANDREW POWELL
Published: June 8, 2013
MUNICH — The drama of Verdi's Genovese opera Simon Boccanegra, circa 1339 and 1363, pivots on the protagonist's Solomon-like statecraft and courage, as deployed in the Council Chamber scene of Act I. Here plebeo and patrizio powers, emotional and familial woes, jostle compellingly. In his new* staging for Bavarian State Opera (heard and seen June 6), Dmitri Tcherniakov places the Council Chamber in a gray-walled seminar room, complete with rows of black chairs, circa 1990. The update and reduction necessarily focuses attention on the characters' minds, on their decision-making as it were. Problem is, Simon (Željko Lučić) has been introduced as a drunken pawn of Plebeian party politics, Amelia Grimaldi (Kristine Opolais) as a goth girl, Gabriele Adorno (Stefano Secco) as a biker.
Unsure where to go next, or bent on preserving the non-intensity, Tcherniakov stays put in that seminar room for the rest of the opera. Adorno's Act II tirade finds him knocking the chairs over, and Fiesco (Vitalij Kowaljow as a priest-confessor) spends Act III impassively parked on one of them. In a back-flash of color, a slide is projected of the set for the Prologue, outside an Edward Hopper-esque bar just like Jonathan Miller's 1982 Rigoletto. As climax, Simon's poisoning sends him into hallucination à la Boris Godunov; Amelia and Adorno show up in wedding attire, and dad's behavior, not so much his demise, fairly ruins their big day.
Conductor Bertrand de Billy must have thought he was assigned Parsifal. Nary a pulse emanated from the pit, and no symphonic arc. Forget Verdian phrasing. Still, coordination held up and the Bavarian State Orchestra played cooperatively. Opolais, a substitute for Krassimira Stoyanova, retains the lustrous girlish top she brought to Rusalka here in 2010. She sang securely after a tremulous Come in quest' ora bruna, but under-projected Italian consonants sabotaged her alert acting. (Anja Harteros sings and acts Amelia ideally on a 2010 DVD.) Secco, a substitute for Ramón Vargas, worked hard as the eager young Patrician but his sound had a pinched quality. Kowaljow essayed Fiesco with apparent indifference at this performance, and in Act III he barely contributed. Lučić by himself carried the show, if it held together at all, with warm legato, keen dramatic expression and powerful outbursts. A deftly floated high F concluded the Figlia! a tal nome palpito duet.
[*New to Munich. The production was first mounted at English National Opera in June 2011. It is the second transfer staging here this season: Richard Jones's lively Hänsel und Gretel opened in March, long after its 1998 unveiling in Cardiff.]
Photo © Wilfried Hösl
Related posts:
Kušej Saps Verdi's Forza
Verdi's Lady Netrebko
Manon, Let's Go
Kaufmann Sings Manrico
Petrenko's Sharper Boris
Tags: Bavarian State Opera, Bavarian State Orchestra, Bayerische Staatsoper, Bayerisches Staatsorchester, Bertrand de Billy, Dmitri Tcherniakov, Giuseppe Verdi, Kristine Opolais, München, Munich, Review, Simon Boccanegra, Stefano Secco, Vitalij Kowaljow, Željko Lučić