BR Chor's St Matthew Passion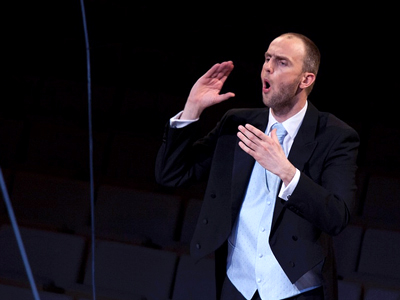 By ANDREW POWELL
Published: March 28, 2013
MUNICH — Bayerischer Rundfunk chose to film Bach's St Matthew Passion last month in the Herkulessaal, in blue light. Drafted for the mood-enhanced venture were Karina Gauvin, Gerhild Romberger, Maximilian Schmitt and Michael Nagy, the vocal quartet; Julian Prégardien and Karl-Magnus Fredriksson as the Evangelist and Jesus; the Cathedral Sparrows (actually boys) from Regensburg; and the authentically inclined orchestra Concerto Köln from Köln. The broadcaster's own estimable BR Chor anchored the proceedings under its Dutch artistic leader Peter Dijkstra. Instantly (Feb. 16) their efforts poured out over the Internet and to watchers of the Franco-German TV network Arte. No doubt a DVD will follow to match the BR Klassik label's equally azure Christmas Oratorio of 2010.
The next afternoon (Feb. 17), by dint of planning the first Sunday in Lent, all was repeated, happily without color effects or cameras, and wonders ensued anyway. Jarringly at first, Dijkstra favored leisurely speeds for the choruses yet brisk dispatch of the arias, as if he could not settle between traditional and authentic ways with the score. But this hybrid approach soon proved enlightening: choral ideas gained transparency, also grandeur, while the music for solo voice advanced in resolute dramatic units.
Romberger's graceful legato and neatly placed ornaments found the logic of her musical lines, with text emphases shifting in modest degrees; this is an imaginative, rich, true alto whose absorbing Buß und Reu and Erbarme dich alone justified attendance. Gauvin brought an agile, creamy soprano, although her phrasing did not always explain her renown as a Baroque stylist. Schmitt's high, sometimes meager-toned tenor projected well. Nagy's keen musicianship largely masked missing gravitas in the voice. A member of the Royal Opera in Stockholm, Fredriksson declaimed the protagonist's varied part in bright hues, his voice fully supported even in sudden outbursts; though listed as a baritone, he had all the low notes. Prégardien offered an equally vivid storyteller but strained in abrupt ascents.
The bisected BR Chor sang with customary discipline and impeccable text enunciation, while the sparrows opulently held aloft Bach's cantus firmus girders in framing Part I. Instrumentally the performance had great eloquence — in the extensive viola da gamba work (from Jan Freiheit for both groupings), in a nimble violin solo (from Mayumi Hirasaki in Orchestra II), and in the robust, confident sound of the divided Cologne ensemble.
Photo © Klaus Fleckenstein for BR
Related posts:
St John Passion Streams
BR's Full-Bodied Vin Herbé
Muti Crowns Charles X
BR Chor's Humorless Rossini
With Viotti, MRO Looks Back
Tags: Arte TV, Bach, Bayerischer Rundfunk, BR Chor, BR Klassik, Chor des Bayerischen Rundfunks, Concerto Köln, Gerhild Romberger, Herkulessaal, Jan Freiheit, Julian Prégardien, Karina Gauvin, Karl-Magnus Fredriksson, Lent, Matthäus-Passion, Maximilian Schmitt, Mayumi Hirasaki, Michael Nagy, München, Munich, Peter Dijkstra, Regensburger Domspatzen, Review, St Matthew Passion