St John Passion Streams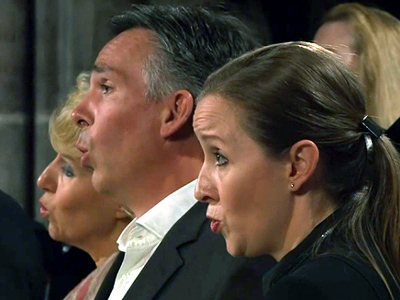 By ANDREW POWELL
Published: May 27, 2016
NUREMBERG — Tired of paying for digitized concert-hall privileges? Here is a sumptuously sung, gloriously gratis (for the moment*) St John Passion from this city's Lutheran Lorenzkirche, filmed in June 2015 as part of a drawn-out Bavarian Broadcasting project to mark "500 Years of the Reformation":
Maximilian Schmitt is the Evangelist. Tareq Nazmi sings Jesus. Christina Landshamer, Anke Vondung, Tilman Lichdi and Krešimir Stražanac make up the SATB quartet for the arias. The BR Chor and Concerto Köln are conducted by Peter Dijkstra.
The corresponding Munich performances of Bach's favorite work, from three months earlier, have merged their way onto an excellent BR Klassik CD set, but with Julian Prégardien as the Evangelist and Ulrike Malotta singing the alto arias.
[*As of May 17, 2017, this remained the case, although in early 2017 the video was issued as a BR Klassik DVD set that went on to win the Preis der deutschen Schallplattenkritik.]
Still image from video © Bayerischer Rundfunk
Related posts:
BR Chor's St Matthew Passion
BR's Full-Bodied Vin Herbé
Manon, Let's Go
Concert Hall Design Chosen
BR Chor's Humorless Rossini
Tags: Anke Vondung, Bach, Bayerischer Rundfunk, BR Chor, BR Klassik, CD, Chor des Bayerischen Rundfunks, Christina Landshamer, Concerto Köln, DVD, Johannes-Passion, Krešimir Stražanac, Lent, Lorenzkirche, Maximilian Schmitt, News, Nuremberg, Nürnberg, Peter Dijkstra, Preis der deutschen Schallplattenkritik, Tareq Nazmi, Tilman Lichdi