Roman Holiday
By Alan Gilbert
It's hard to avoid Michelangelo in Rome — his presence seems to be everywhere in this most beautiful of cities. Sunday was free from my work with the Accademia di Santa Cecilia Orchestra, and you could say that, in a way, I actually spent the day with Michelangelo (and most pleasant it was, indeed!).
I never visit Rome without stopping by St. Peter's to see Michelangelo's Pietà. His David and the Sistine Chapel may be even more well-known, but for me this sculpture is the most miraculous. How is it possible that out of solid rock he was able to fashion something so vibrant, textured, and emotionally piercing? Michelangelo famously said that every stone has a sculpture within it, and that the sculptor must merely chip away the extra parts to reveal it. This resonates powerfully for me: it doesn't explain how the artist has the eye or genius to see a pietà within a crude block of marble, but it does support the sense of inevitability and oneness with nature that imbues this masterpiece.
Hans Werner Henze attended my concert on Saturday night and kindly invited me to have lunch with him the next day, so after leaving St. Peter's I drove out to his gorgeous villa in the Lake region outside of Rome with Mauro Bucarelli, the artistic administrator of the Accademia. Mauro is a terrific orchestra manager, but I must say that he really missed his calling as a Roman tour guide. On our ride out of town I heard fascinating history and facts about the many monuments we passed. (I particularly enjoyed passing the Teatro Argentina, where I learned that the premiere of Rossini's Barber of Seville took place.)
Arriving at Maestro Henze's villa is like stepping back in time, both because of the actual Roman ruins that surround the house, and also because of the old-world elegance and way of life Henze has maintained. He is not as mobile as he once was, but he is still the most perfect and charming host. While we were served a splendid meal by his staff — a meal that began with a perfect risotto milanese and ended with "frappe," a kind of fried dough that puts carnival food to shame — we discussed music, Italian politics, wine, the New York Philharmonic: a host of topics that show how engaged and endlessly curious Henze remains.
Legend has it that the olive grove on Henze's land is the exact spot in which Michelangelo wooed Vittoria Colonna, who would become the amorous subject of his ardent sonetti. I've become extremely interested in a very recent piece by Henze, Immolation, which was written for the Accademia in Rome. It is a powerful hour-long work that poignantly and shockingly explores the subject of love and the way it is entwined with the eternal struggle between the forces of good and evil. As I was browsing Henze's library, and admiring his fantastic collection of modern art, a good portion of which he painted himself (there is also an amazing Francis Bacon on the wall), I couldn't help but think that Henze is the quintessential modern Renaissance man, a worthy successor to Michelangelo. How inspiring, and yet unsurprising, it is that the elements of life that move him are the same timeless ones that fueled Michelangelo centuries ago.
(For more information on Alan Gilbert and the New York Philharmonic, visit nyphil.org.)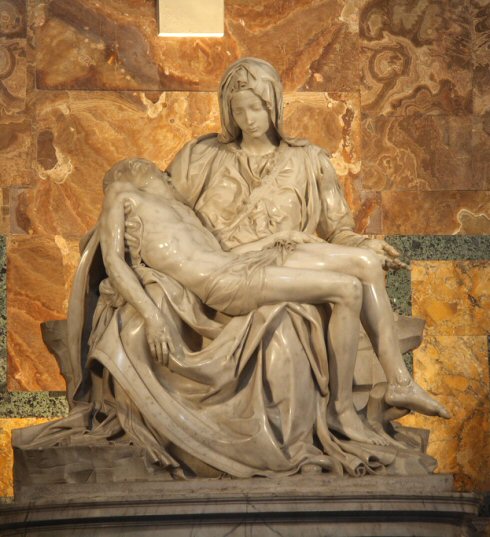 Tags: Accademia di Santa Cecilia, Alan Gilbert, Henze, Michelangelo, Pieta, Rome