Bayreuth Parsifal Due Online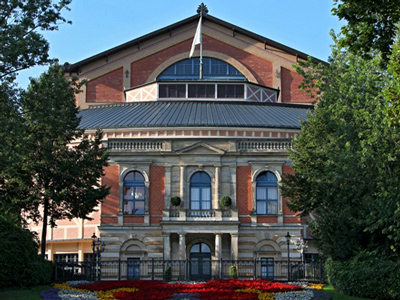 By ANDREW POWELL
Published: July 17, 2016
MUNICH — Bayerischer Rundfunk confirmed on Thursday it will video-stream the premiere of Uwe Eric Laufenberg's new staging of Parsifal at the Bayreuth Festival.
— when: 9:57 a.m. EDT on July 25, 2016
— where: www.br-klassik.de/concert
Laufenberg is reportedly intent on exploring the religious aspect of Wagner's 1881 Bühnen-Weih-Festspiel, not without reference to Islam.
Watching at home may have advantages. Attendees on Bayreuth's Grüner Hügel face new security procedures for this festival opener, and indeed all 2016 dates, obliging earlier arrival than in past years. The German chancellor won't be among them.
Saxon conductor Hartmut Haenchen, taking over from a less practiced colleague, makes his Bayreuth debut with this opera, which he led in a filmed Brussels run five years ago directed by Romeo Castellucci.
Elena Pankratova sings Kundry, Klaus Florian Vogt the naive hero; Ryan McKinny, Georg Zeppenfeld and Gerd Grochowski impersonate Amfortas, Gurnemanz and Klingsor.
Coming from a dedicated broadcaster, the Internet data for listening and viewing should be both stable and detailed.
Photo © Deutsche Presse-Agentur
Related posts:
Portraits For a Theater
A Complete Frau, at Last
Festive Sides
Berlin's Dark Horse
Kušej Saps Verdi's Forza
Tags: Bayerischer Rundfunk, Bayreuth, Bayreuther Festspiele, BR Klassik, Bühnenweihfestspiel, Elena Pankratova, Georg Zeppenfeld, Gerd Grochowski, Hartmut Haenchen, Klaus Florian Vogt, News, Ryan McKinny, Uwe Eric Laufenberg