Leading lady
By James Jorden
One thing you can't call David McVicar is inept. His productions always work with precision, every movement landing everyone in the right place at the right time, every "still" moment photo-ready. Reportedly he brings shows in on budget and on time, and there's never a last-minute scramble to improvise some kind of action for the fourth act.
In the broader, more conceptual sphere, he often achieves a similar easy clarity: Il trovatore, for example, visually quotes Goya's "Los Desastres de la Guerra" because the violent and bizarre actions of the opera make a mad kind of sense in the context of the horrors of war.
Sometimes the concept is extremely obvious, as in an Adriana Lecouvreur in which all the actress's life is—surprise!—a stage! Other times, more thought is apparent, as in Giulio Cesare, where McVicar unpatronizingly contrasts the dissonant values of eastern and western cultures by viewing the "Egyptian" characters as comic exotics seen through the narrow lens of the British Raj.
The director is at his best, I think, when there is a Big Idea fairly close to the surface he can use as a superstructure for his concept. When the opera is not so accomodating (or perhaps when the piece just doesn't speak to McVicar) he produces something like the Aïda he did for Covent Garden a couple of years ago, which is sort of about barbarism or something, but mostly looks like Vampire Lesbians of Sodom if Theatre in Limbo had been backed by a Russian billionaire.
The Met's new Maria Stuarda is nothing like that, thank goodness: rather, it's very solid work, historical without being as ploddingly literal as last year's Anna Bolena. The stage pictures are elegantly arranged on lightweight, or let's say lighter-weight, sets by John Macfarlane.
A few little frills on the story are either unobjectionable (Elisabetta pranks around a bit with the court acrobats) or else don't draw a lot of attention, as in the apparent misunderstanding or deliberate misinterpretation of Maria's auburn wig in the moments leading up to the execution.
Well, then again, let's think about that last bit for a moment, because possibly it will supply an entrée to my broader problems with this staging.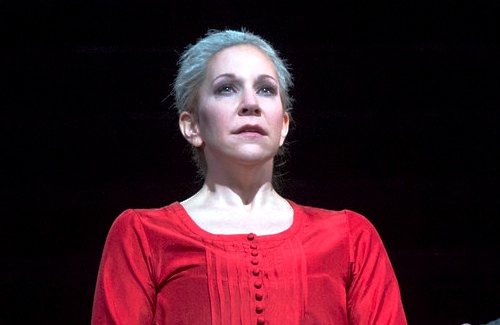 In an interview on Sirius/XM radio just before the Stuarda opened, the opera's leading lady Joyce DiDonato mentioned the "wig business." Briefly, by the time Mary Stuart was executed at age 44, she had lost a lot of her hair and what remained was almost entirely white. On the day of her execution, she chose to wear a wig of auburn hair matching her natural shade, a fashion choice that backfired post-mortem when the executioner held up her head for the witnesses to see… and, yes, the wig slipped off.
DiDonato I think was on to something interesting in her comments, saying that Mary stage-managed her own execution, in a way directing and designing it as a theatrical event. The queen also chose to dress for the beheading in what was described by witnesses as a "petticoat" and "corset" of rich silk fabric in the deep red color traditionally associated with Catholic martyrdom. And, what's more, she did a "reveal"—that is, she approached the scaffold in a sober black gown she stripped off to reveal the martyr's "costume" underneath.
Now, of course, all this is reported historical detail, and a director is not required to follow history in so ahistorical work as Maria Stuarda. But McVicar did choose to incorporate this detail despite not knowing quite what do do with it.
To begin with, he plays the wig business more less in reverse. Mary enters in the third act already wearing an auburn wig, which for all we know is meant to represent her own hair. As she is called to the execution, the ladies in waiting fumble with a complicated fitted dress, eventually removing it to reveal not the structured corset and petticoat ensemble but rather a loose shift of red silk, somewhat creased and bunched from spending so much time under the outer fitted bodice.
And then Anna (Maria Zifchak) removes the queen's wig, revealing the short-cropped white hair underneath. The blindfolded, shorn queen struggles with the train of her red gown as she climbs the steep staircase to the scaffold, utterly helpless.
The implication here is that Mary has chosen to forego worldly vanity in her last moments, which is certainly admirable and even theatrical (the diva's removal of a wig is always a coup.) But there's a jarring disconnect here: the staging alludes to an actual documented historical event and then then blithely changes the essential nature (and therefore meaning) of that event. Mary Stuart chose to put on a wig before she died; this Maria Stuarda chooses to take one off.
Naturally, a director is allowed great latitude in interpreting an opera, and on some occasions the message a director crafts using the opera as a medium can at variance with, or even contradictory to, the text. McVicar's dramatic choice here is to take the majestic Maria of the text and music ("Ancor superba e fiera!" Cecil exclaims as he exits after delivering the death sentence) and transform her into a pitiful victim.
That may be valid enough, but it's just so uninteresting. For Elizabeth and Mary to be near-equals makes for an interesting bout, but if Mary is outclassed and outweighed, the show becomes a mismatch and a meaningless bloodbath. If anything, McVicar stacked the deck against Mary to the point of bathos, setting her up as hair-challenged Rapunzel opposite Elza van den Heever's bull-dyke Mother Gothel as Elizabeth.
What's worse, McVicar's direction, expert as it is, does little more than put the story on stage. He seems to have no point of view on the dramatic action, or, to put it another way, the production doesn't really mean anything. This Stuarda displays the same essential approach as John Copley's 2002 production of Il pirata at the Met: make it pretty to look at, but no deep meanings, please—after all, it's only bel canto.
But surely even at the arch-conservative Met, so golden an opportunity need not be squandered. The music and text of Maria Stuarda, even if it hardly adds up to a Gesamtkunstwerk, does offer some richly allusive material that could be mined for a thoughtful production. Of course, McVicar couldn't offer to New York anything nearly as extreme as the "Grande Dame Guignol" production Karsten Wiegand devised for the Staatsoper Unter den Linden in 2006…
… and yet, this staging at least is offering an opinion on what is going on dramatically. Mary and Elizabeth are (or might as well be) two bitter ex-divas in a retirement home turf war. For all Maria Stuarda's fine words and flashing roulades, what actually is happening here is no more signifcant (though no less entertaining) than a feud between Bette Davis and Joan Crawford.
Again, this is way too much for Met audiences to swallow and it didn't go down that well in Berlin either. But there's a kernel of an idea here: Mary Stuart as diva, or, to put it in a less frivolous-sounding way, Mary Stuart as the creator and director of the pageant that is her public life, the prima donna of her self-created opera.
This concept, I think, could help unite the intimate, heartfelt moments of the opera (the wonderful Confession scene, for example) with the campy bits like the slanging match between the two queens—which in McVicar's staging looked almost apologetic: "There, I've said it and not I can't unsay it."
Think of is: a Maria Stuarda who inhabits her own 19th century theater, with drops and velvet curtain and special lighting, who can be seen in between her scenes choosing her costumes and wigs for her next appearance, and whose every entrance is, as Mary Stuart's entrances were in real life, a star turn.
Not as obvious, perhaps, as McVicar's making Adriana "about" the theater, but I think an association that would pose real and interesting questions about the types of power available to women—not to mention generating striking and meaningful stage pictures, not just another assortment of slightly stylized palace rooms and eldritch landscapes.
Or else we can settle for "definitely not inept," which may be the low bar Peter Gelb has set for the Met.
Photo: Ken Howard
Tags: act of god, audience members, bel canto, Black and Blue, david mcvicar, donizetti, Joyce DiDonato, the met, wigs