Munich-Berlin: 4 Hours by Rail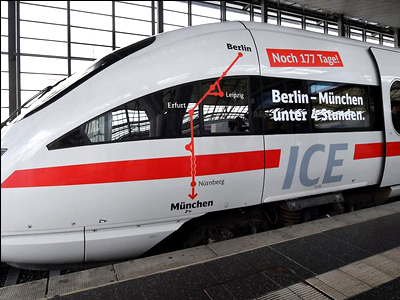 By ANDREW POWELL
Published: June 16, 2017
MUNICH — Today Berlin got as close to Munich as Vienna already is: four hours by rail. Deutsche Bahn test-trains for the first time ran the recently completed high-speed track between the two German cities, 400 miles apart, and the company promised passenger service starting Dec. 10, the traditional date for Europe's yearly rail-timetable updates.
The new infrastructure linking the Bavarian and former Prussian capitals was dubbed German Unity Transport Project No. 8 when first funded fully 25 years ago, soon after the DDR collapsed. Stretches of the track — between Munich and Nuremberg and between Leipzig and Berlin — have been operational for years, but missing segments have kept total travel time over six hours. From Dec. 10, three daily roundtrips at speeds of up to 188 miles per hour will originate in each of the two end-cities, in addition to slower services.
The Munich-Vienna line, a distance of 300 miles, is served by Austrian ÖBB's Railjet trains. This journey suffers old routing and track on the relatively short haul between Rosenheim (just south of Munich) and Salzburg, but no improvements are planned to reduce the four hours it requires.
Photo © Deutsche Presse-Agentur
Related posts:
Berlin's Dark Horse
Petrenko to Extend in Munich
MPhil Bosses Want Continuity
Netrebko, Barcellona in Aida
Safety First at Bayreuth
Tags: Berlin, Deutsche Bahn, High-Speed Rail, ICE, Leipzig, München, Munich, News, Nuremberg, Nürnberg, ÖBB, Railjet, Vienna