Chénier Due in Video-Stream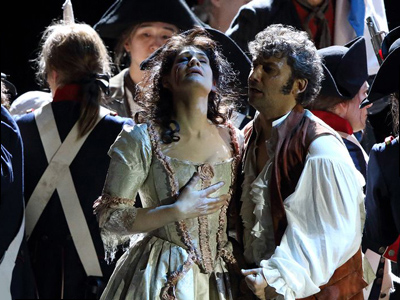 By ANDREW POWELL
Published: March 13, 2017
MUNICH — Philipp Stölzl's new and relatively sane production of Andrea Chénier will be video-streamed Saturday by Bavarian State Opera as part of a regular free service.
— when: 2 p.m. EDT (11 a.m. PDT), March 18, 2017
— where: https://www.staatsoper.de/tv.html
Omer Meir Wellber brings his inimitable visceral leadership to Giordano's verismo score. Anja Harteros and Luca Salsi make role debuts as Maddalena di Coigny and Carlo Gérard, while Jonas Kaufmann sings the conflicted poet.
At yesterday's premiere, Harteros' Mediterranean temperament and absorbing, opulent tones recalled the work of Renata Tebaldi.
Photo © Wilfried Hösl
Related posts:
Portraits For a Theater
Kušej Saps Verdi's Forza
Kaufmann Sings Manrico
Antonini Works Alcina's Magic
Harteros Warms to Tosca
Tags: Andrea Chénier, Anja Harteros, Bavarian State Opera, Bayerische Staatsoper, Giordano, Kaufmann, Luca Salsi, München, Munich, News, Omer Meir Wellber, Philipp Stölzl