Antonini Works Alcina's Magic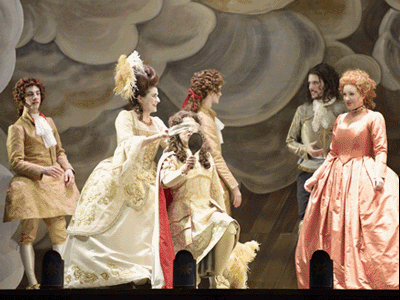 By ANDREW POWELL
Published: January 11, 2017
ZURICH — Christof Loy's staging of Alcina here, new in 2014 and just revived, imagines a blurred line between a theater troupe's onstage roles and its members' backstage passions and asks what it means to break free of illusion — this last substituting for Ariosto's island magic, happily without demeaning the source. States of mind hinge on costume changes. Multiple stage spaces allow contexts to shift. Neither stylized nor abstract, the scheme advances judiciously on its own logic with nobody the center of attention, until Loy draws together his loose ends to reveal one trouper entrapped: Alcina herself.
At Friday's performance (Jan. 6), Julie Fuchs sang a girlish and game Morgana with gleaming top notes but no real trill. As her sister the sorceress "queen," Cecilia Bartoli commanded slenderer tones; extended arias Ah! mio cor! schernito sei! and Mi restano le lagrime, lacking resonance, aurally diluted rather than crowned an earnest, witty portrayal. Varduhi Abrahamyan offered the counterforce of a vocally plush, heroic Bradamante able to trace coloratura flights while sliding half-dressed between genders.
In his Opernhaus Zürich debut, Philippe Jaroussky ornamented Ruggiero's music more sparingly than he had at Aix-en-Provence eighteen months earlier, for the good. He placed his notes in the service of complete phrases and longer ideas, largely through impeccable dynamic control. His sound: consistently sweet. His Verdi prati seemed frozen in time, floated as it was while he descended steps from the stage in an escape from Loy's illusion. The contreténor from Maisons-Laffitte later kick-turn danced with the ensemble, sealing a triumph.
But the highest tributes to Händel's score came from the pit, and not with showiness. Right from the overture, conductor Giovanni Antonini set his priorities: breathing musical lines, gentle accents, unexaggerated dynamics, sharp attacks. Orchestra La Scintilla, devoted to period-performance practice at this ornate 1,100-seat lakeside theater, responded flexibly, with fine internal balances. The strings sounded lush and mellow. There were wonderful wind solos, including from Antonini, who had no trouble leading with his recorder; this partnership began years ago.
Photos © Monika Rittershaus (performance), Philippe Jaroussky (backstage), Opernhaus Zürich (curtain call)
Related posts:
Christie Revisits Médée
Bartoli's Scot-Themed Whitsun
Winter Discs
Nitrates In the Canapés
Written On Skin, at Length
Tags: Alcina, Bartoli, Christof Loy, Georg Friedrich Händel, Giovanni Antonini, Julie Fuchs, Opernhaus Zürich, Orchestra La Scintilla, Philippe Jaroussky, Review, Varduhi Abrahamyan, Zurich, Zurich Opera House