Bramall to Gärtnerplatz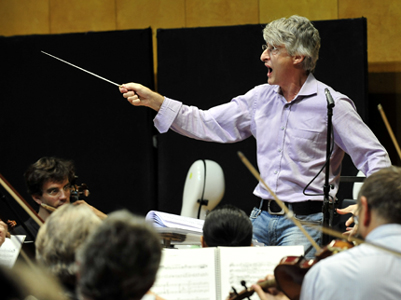 By ANDREW POWELL
Published: December 6, 2016
MUNICH — London-born conductor Anthony Bramall, 59, has been appointed Chefdirigent of the Staatstheater am Gärtnerplatz here, effective next season. He succeeds Marco Comin.
Bramall studied singing at the Guildhall School of Music and Drama, and conducting with Vilém Tauský. He has already led several productions with the Munich company, lauding the way its orchestra combines "brilliant sound body with impressive flexibility."
The choice was announced today by Josef Köpplinger, the company's Intendant, following advocacy by the musicians themselves. Bramall presently serves as deputy general music director at Oper Leipzig, where he is pictured.
Staatstheater am Gärtnerplatz, devoted to opera, operetta, musicals, and occasional orchestral concerts, remains itinerant while its modest and elegant home undergoes a multi-season and seemingly interminable backstage retrofit.
Photo © Andreas Birkigt
Related posts:
Six Husbands in Tow
Poulenc Heirs v. Staatsoper
Portraits For a Theater
Pollini Seals His Beethoven
Petrenko to Extend in Munich
Tags: Anthony Bramall, Josef Köpplinger, München, Munich, News, Staatstheater am Gärtnerplatz