Horn Trios in Church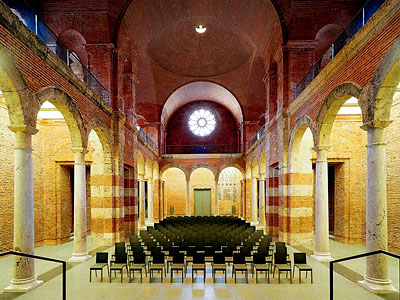 By ANDREW POWELL
Published: June 2, 2013
MUNICH — A short walk separates two of this city's four opera houses: the Cuvilliés Theater, where Mozart conducted Idomeneo, and the National Theater, where Hans von Bülow led the first Tristan und Isolde. Ensconced half way stands the Court Church of All Saints, an 1837 neo-Romanesque, quasi-Byzantine former glory — bombed and burned in 1944, later re-domed, secularized, sandblasted, and finally re-opened in 2003 as a performance space. Here, in happily clear, generally non-reverberant acoustics, members of the Bavarian State Orchestra regularly make chamber music. This morning (June 2) — three weeks before the summer solstice, yet a cold day of heavy rain and wind, with half the city center roped off to greet UEFA Champions League champions Bayern München — intrepid listeners savored horn trio music of distinction.
Markus Wolf (violin), Johannes Dengler (valve horn) and Julian Riem (piano) found good balance in Lennox Berkeley's reticent but neatly crafted Horn Trio (1952), an ample work capped by variations, ultimately jaunty, on a dry theme. This segued with guileless aplomb into the disparate sound world of Charles Koechlin: the Quatre petites pièces (1906), plangent in their miniature tunefulness, Impressionist or saccharine by turns, and agreeably concise. Again the players worked together with obvious affinity.
After the Pause, Brahms's familiar E-flat Trio (1865, natural horn) threw the attention at Dengler, whose nimbleness and clean intonation served the composer faithfully (turning a blind eye to the valves on his magnificent instrument). As in the Berkeley and Koechlin, Wolf's flexibility and aptitude for finding the weight of a phrase compensated for occasional wiry tone. Riem never dominated: a virtue, except when the score wanted a smidgen more personality, for instance in the Adagio mesto.
It turns out that these same musicians recorded the Koechlin and Brahms back in 2008, the latter on a reconstructed 1803 Halari natural horn, a 1722 Stradivarius, and a restored 1862 Bechstein. (Only the Strad showed up today.) For reasons unclear, this effort did not surface until 2012, when the resulting CD drew praise. Robert Markow, writing in Fanfare: "This may well be the best recording ever made of the Brahms Horn Trio." And in Germany the team took an Echo Klassik Award.
Photo © Bayerische Schlösserverwaltung
Related posts:
Festive Sides
Schultheiß Savors the Dvořák
Benjamin and Aimard
A Complete Frau, at Last
Portraits For a Theater
Tags: Allerheiligen Hofkirche, Bavarian State Orchestra, Bayerisches Staatsorchester, Bayern München, Brahms, Court Church of All Saints, Cuvilliés Theater, Echo Klassik Award, Farao Classics, Johannes Dengler, Julian Riem, Koechlin, Lennox Berkeley, Markus Wolf, München, Munich, National Theater, Nationaltheater, Review