A Stirring Evening (and Music)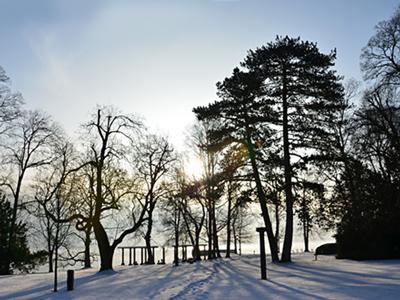 By ANDREW POWELL
Published: April 24, 2013
MUNICH — Members of the Bavarian Radio Symphony Orchestra venture six times a year to Lake Starnberg, some 20 miles southwest of here, to play chamber music at the Evangelische Akademie Tutzing, or EAT, as its website favicon reads. A mid-season program (Feb. 24) paired quintets by Mozart and Schumann in the venue's airy music room, drawing skilled performances. But extra-musical ghosts disturbed this particular offering: concert tickets include a guided tour of EAT — once a lone lakeshore chapel, later a castle, palace and U.S. Army HQ — and our evening began with docent tales of, among other matter, a 1945 American troop obliteration of the palace library, Dwight Eisenhower's name being dropped for good measure.
What? The troops fight their way into Bavaria, set up at Tutzing Palace to administer a new basis for democracy, and are remembered for trashing books? So much for perspective. Then again, Tutzing can seem stuck in the 1920s and 30s: Adolf Hitler's beer-hall putsch buddy Erich Ludendorff is grandly buried there and the former fishing village memorializes "Hitler's pianist" Elly Ney — Carnegie Hall attraction in 1921, ardent Nazi by 1933 — on its much-visited Brahms Promenade. Physically the town has changed little over the decades.
Our thoughts stirred by the guide's earful, we crossed the yard for musical respite. Mozart's G-Minor String Quintet, K516, resounded in handsome proportion and balance. Antonio Spiller, first violin, stressed the cheery second theme of the opening Allegro emphatically enough to prepare for Mozart's abrupt turn in the closing movement. Leopold Lercher, Andreas Marschik and Christa Jardine partnered him attentively throughout, even if they couldn't quite match his poise and confidence. Cellist Helmut Veihelmann intoned with care, but the ear craved more of a grounding, more cello volume. In the Schumann Piano Quintet, after a coffee break and snowy stroll by the lake (pictured), unrestrained collegial exchanges and pianist Silvia Natiello-Spiller's buoyant passagework found color aplenty, even kitschy color. Marschik took the viola part.
EAT's buildings date to medieval times. The small chapel got wrapped in a castle in the 16th century, its watery and Alpine views appropriated. Sundry owners and architects later morphed the premises into a modest post-Baroque palace. In 1947 the Lutheran Church assumed control, followed by ownership two years later in a 350,000-Mark deal. Tranquil seminars and coffee-table conferences now prevail along with occasional music events, such as those of the BRSO ensembles.
Given the pre-concert assertions and the irksome notion of book destruction, this U.S. listener decided on a little post-concert research. Quick findings: Eisenhower did spend time in Tutzing in the 1940s, returning there repeatedly for off-duty art lessons in 1951, but where he stayed isn't clear; and the palace library did vanish during the 1939–45 war, but whether the honors fell to the U.S. Army isn't clear at all. And regardless of what happened to the books, the American presence achieved positive results in Tutzing starting immediately.
Indeed, one life-saving story would well serve EAT's docent and his Bayerischer Rundfunk (BR) pre-concert narrative. On the night of April 29, 1945, a train of prisoners — Russians, Romanians, Hungarians and Poles — pulled into Tutzing station. 800 in number and mostly men, they had been dispatched from Bavaria's newly wound-down Mühldorf concentration camp, east of Munich, to the Tyrol, and to slaughter at the hands of waiting SS personnel. But a providential delay occurred — Tutzing is 90 minutes from the Tyrol — attributed variously to a faulty locomotive, a righteous local flagman, and even a prescient German commanding officer.
The next morning, on the same day that Hitler turned the lights out and Munich fell to the Allies, the XX Corps, part of George Patton's U.S. Third Army, reached the town. Little fighting ensued because Tutzing was a Red Cross safe zone. The troops soon located the Benedictine Hospital crammed with wounded German soldiers, and the makeshift care beds arrayed in the high school and other buildings. Then they found the train, confronting directly the horror of camp survivors and at first wrongly concluding that Tutzing itself had been a camp location. The prisoners were told of their freedom, and the weakest removed from the train for treatment.
Decisive action followed. The American command seized a number of Tutzing homes for emergency use, instructing the locals to double up with their neighbors. The less seriously wounded of the German soldiers now lost their hospital beds to Mühldorf survivors in critical condition, the majority of them Jewish Hungarians. Although educated by the Reich to resist the enemy to the bitter end, many Tutzingers waved white flags for the U.S. troops, engendering whistles of censure from their more determined neighbors.
On May 1 the troops located a Nazi school campus on high ground in the next village, Feldafing, and rapidly commandeered it to serve as a new home and care facility for the former prisoners, now officially "displaced persons." (Novelist and social critic Thomas Mann had owned a condo retreat in one of the campus buildings. He lived in Munich for 40 years before fleeing the country upon Hitler's ascendancy in 1933.) On the morning of May 2, a working locomotive having been procured, the Todeszug crept back three miles the way it had come and transferred the survivors, giving them real beds and room to roam. Months later, after it became clear across Germany that ethnic groups among former prisoners did not always get along with each other, each displaced-person facility would become designated for a specific group, Feldafing for Jewish Hungarian survivors. With a population that eventually climbed above 4,000, the site would gain a reputation as "a place … to find missing people."
The war raged for another five days before tacit German surrender May 7 at Reims. American troops requisitioned Tutzing Palace on June 7, setting up Army of Occupation HQ there three days later. This remained operative until the end of 1945, a pivotal command center at the very start of the 10-year Allied Occupation of Germany. In context, the books seem inconsequential.
Photo © Evangelische Akademie Tutzing
Related posts:
Brahms Days in Tutzing
Tutzing Returns to Brahms
BRSO Adopts Speedier Website
Tonhalle Lights Up the Beyond
Petrenko Hosts Petrenko
Tags: Andreas Marschik, Antonio Spiller, Bavarian Radio Symphony Orchestra, Bayerischer Rundfunk, BR, Christa Jardine, Commentary, Dwight Eisenhower, Elly Ney, Erich Ludendorff, Evangelische Akademie, Feldafing, Helmut Veihelmann, Lake Starnberg, Leopold Lercher, Lutheran Church, Nazi Germany, Review, Schumann, Silvia Natiello-Spiller, Symphonie-Orchester des Bayerischen Rundfunks, Thomas Mann, Tutzing, Wolfgang Amadeus Mozart