Three for Regie
By James Jorden
Instead of beating my brains out trying to make sense of the comings and goings in the final act of Simon Boccanegra at the Met (or am I just deluded to find it unlikely that convicted rebels should be marched to their execution through the Doge's unguarded council chamber?), I thought this week I'd take the lazy blogger's way out and link to a few other blogs that are carrying on the Regie discussion.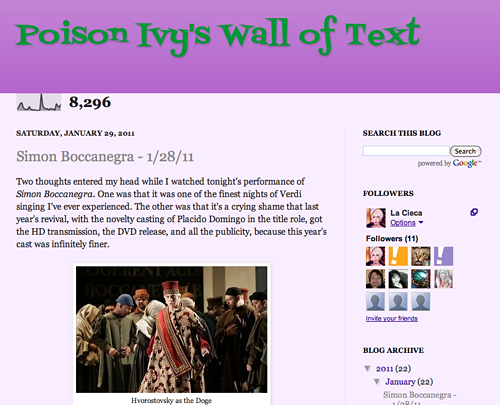 Closest to home and most recently launched is Poison Ivy's Wall of Text. Ivy's a young woman from New York who teaches biology by day and attends a lot of opera and ballet by night, and sometime in between finds time to watch massive numbers of opera videos. Recently she's been surveying various versions of La traviata on DVD (spurred by the recent Willy Decker production at the Met) and a current fascinating discussion poses the provocative question "Which operas should have beautiful productions?"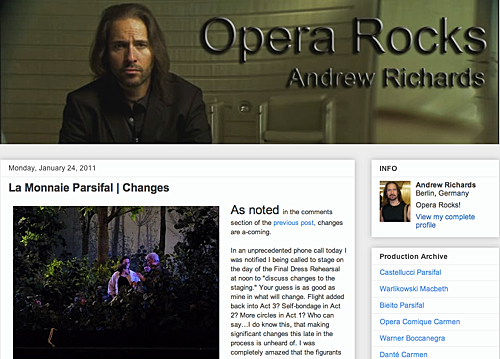 Regie from the perspective of a singer who is being asked to go out there and do that stuff is one focus of Opera Rocks, a blog by tenor Andrew Richards. He's been a working singer for about a decade when, last year, he was cast in two controversial, highly publicized productions, Krzysztof Warlikowski's Macbeth in Brussels and Calixto Bieito's Parsifal in Stuttgart. No shrinking violet, Richards has confided to his blogs the struggles, aches and pains, tantrums and (sometimes) triumphs of the 21st century singing actor. Lately he's detailed the progress of what looks to be one of the most interesting productions of 2011, Romeo Castellucci's Parsifal, which opened last night at La Monnaie.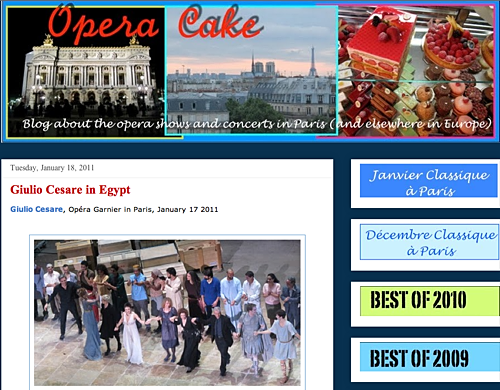 Consistently the most vital and passionate consideration of opera as drama on the web today can be found on a blog called Opera Cake.  From his home base in France, "the Cake" travels the breadth of the continent in search of the best in opera production, and his experience is vast and deep enough that he can confidently assemble top 10 lists of Best Opera Production and Best Director each year, as well as a monthly preview of the must-see "opera shows" in Europe. His superb exegisis of Bieito's Parsifal is what inspired the modest blog you are reading now.
Next week: Peter Sellars arrives at the Met with Nixon in China!
Tags: blogs, classical music, eurotrash, la traviata, marina poplavskaya, musical america, willy decker