Helen Grime Portrait CD on NMC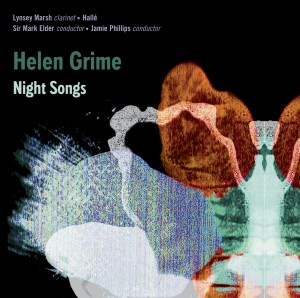 Helen Grime
Night Songs
Lynsey Marsh, clarinet; Hallé Orchestra and Hallé Soloists; Sir Mark Elder and Jamie Phillips, conductors
NMC Recordings NMCD 199
Helen Grime is Associate Composer of the Hallé Orchestra. The ensemble has given her a generous portrait CD on NMC with excellent performances of both chamber and orchestral works, all composed in the past seven years. It commences with her Virga (2007), which has enjoyed enormous success; it has been championed by luminary conductors Oliver Knussen, Stéphane Denève, and Pierre Boulez. Hearing the glistening coloristic orchestral palette and unerring sense of pacing – with strong gestures succeeded by passages of fragile delicacy and a coda that beguilingly vanishes into thin air – one can readily understand why it might have attracted such attention. Composed in the same year, her string sextet Into the Faded Air provides a similarly shimmering effect.
The first work I heard of Grime's live was her Clarinet Concerto in a sterling performance by Fellows at Tanglewood's 2010 Festival of Contemporary Music. The Hallé's recording of the piece stands up to that fond memory, with soloist Lynsey Marsh providing fleet cadenzas and unerringly cutting through the forceful accompaniment (again a testament to Grime's savvy and skilful orchestration).
Composed for the BBC Scottish Symphony, Everyone Sang (2010) is a set of variations on a melody that typifies the linear writing found in Grime's work: angular yet vivacious. There is counterpoint aplenty here too, with competing passages from the upper and lower registers of the ensemble. Night Songs, a gift for Oliver Knussen's sixtieth birthday, distills this distinctive language into a taut six minutes of abundant variety. One can certainly hear affectionate nods to some of Knussen's works, but Grime never stoops to mimicry.
The beginning of Near Midnight (2012), a work composed for the Hallé, finds lower register instruments and the percussion section holding sway. Eventually clarion trumpet calls, flutes, and divided strings are inserted into the proceedings, creating a colloquy between registers and a bevy of traded gestures. The piece's middle section calms things down, allowing the strings a long, arcing line against which occasional flurries from the other sections interject. Out of this builds a crescendo in which fragmented passages and terse melodic utterances are once again traded between sections of the ensemble. Fluid upward gestures are countered by more earthbound sustained passages. The gradual denouement that concludes the work contains glinting shimmers that vivify the overall fadeout.
Tags: CD Review, Helen Grime, NMC Recordings, The New Classical