"GOSH MAN I'VE GOT A TUNE IN MY HEAD". ELGAR PART TWO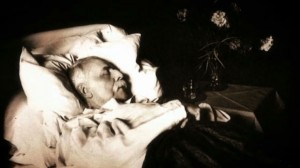 By Albert Innaurato
That is Sir Edward Elgar playing possum. He arranged this photograph of himself "dead". The flowers are a nice touch, don't you think?
The quote is from a note Elgar got up from composing the "trio" section of his first Pomp and Circumstance March to send to a friend. He was right, it remains one of the most famous tunes in all Western music. The entire march says much about Elgar's curious duality. As usually played, the work sounds like an over scored piece of French ballet music with an organ. But in score It begins in a wild, threatening way; the trio is meant to contrast but the tune is colored by a typical Elgar gambit, a major sixth collapsing into a minor third. This ambiguity makes that melody wrenching, suggesting an element of doubt. Is the Pomp the reality or camouflage for carnage? Elgar's answer sounds superficially affirmative but the substance doesn't. None the less, the world premiere engendered a very unEnglish riot of acclaim.
The Enigma Variations (they include an organ too), premiered in 1899 when Elgar was 41. It was an international sensation; even Gustav Mahler conducted it in New York. What strikes me is that poor Mrs. Elgar, C.A. E., gets rather shrugged off, but, A. J. Jaegar, Elgar's publisher and very close friend gets the grandiose Nimrod movement, another tune everybody knows. It is much extended in the score and milked by many conductors. What does that mean? Jaegar was a crucial ally; did Elgar love him more than Alice? Surely not sexually, but was there a passion he didn't have for her?
Sir Edward, as he was by 1908, wrote his First Symphony, the clinching triumph of his career, played over 100 times in its first year. It opens with a memorable tune in A flat major, which functions as a kind of motto. There is a contrasting theme which appears surprisingly in D major (not the dominant of A flat) but while Elgar moves through a number of distant keys, some unpredictable, the movement, indeed, the symphony never loses a very diatonic feel, especially for 1908. The whole seems patterned on Brahms' Third, one of only two symphonies Elgar lectured on, the other being Mozart's g minor, no 40. The second theme in the last movement is a near quote of Brahms' second theme at the same place, and the entire symphony, despite some surprising detours, ends predictably.The crushing logic and inevitability of Brahms let alone Mozart is not there. And although Mahler is criticized for the variability of individual movements in his long symphonies, there isn't one measure not inevitably related to every other in each of the completed symphonies. And if you really want to upset an Elgarian, point out that the same is true of Giacomo Puccini's Madame Butterfly, stripped of its story and some vocal grandstanding, it is an amazing achievement. Can one feel the same about Elgar's First?
Elgar met another Alice, Mrs. Stuart-Wortley and fell in love with her. He had done some philandering but he and Windflower, as he nicknamed her, had an intense, probably erotic relationship, confirmed by a large cache of letters Elgar wrote her (the windflowers he pressed into many of them are still intact). Her daughter destroyed the responses and also cut Elgar's more explicit pages. The couples stayed friends; it's not clear if Mr. Stuart-Wortley understood or cared, but Mrs. Elgar did. She wrote a heart broken poem and left it for Elgar to find after she died. It plunged him into a deep depression. But in the short time they were closest, Windflower inspired the passionate Violin Concerto of 1910, Elgar's last great public success. The gorgeous soaring melody that is a development of the second theme in the first movement is often referred to as the Windflower theme.
Sir Edward told Windflower she inspired the beautiful start of The Music Makers of 1912. But it's also likely that she inspired one of his most gorgeous works, the short Sospiri, also of 1912, a work of naked longing and sorrow (the title means sighs). Perhaps it marks the end of their intimacy? If Lady Mary, of Downtown Abbey liked music, she might have owned this piece and after her husband's sudden death, played it, weeping.
https://www.youtube.com/watch?v=tzJ__a1e184
By then, Elgar's star had dimmed; his second symphony, also inspired by Windflower, had failed and WW 1 made him seem suddenly old fashioned.
The Second  Symphony was vehemently dismissed. It's less straight forward than the First, though claims of a "modernistic" manner are greatly exaggerated. Brahms once again looms large.  Elgar has some wonderful tunes and they are often spread through the orchestral in unusual ways, probably making them harder to hear at first. The epigraph is from Shelly, "rarely, rarely comest thou, Spirit of Delight" and indeed, the symphony is full of longing for delight and lament for decay. At the end of the score there are the names "Venice -Tintagel" — he had been with Windflower in both places. Venice suggests rotting beauty, and Tintagel, associated with The Arthurian Legends, inevitable ruin.  "I have revealed myself", Elgar wrote of this work. Perhaps, though not always interestingly, but the second movement, a funeral march of accumulating power, is very moving.
Well, we've had a few days without spankings and such, but soon the end of Elgar and then Tallis and Vaughan Williams.
Tags: Edward Elgar and adulterous love, Elgar's tunes, Elgar: triumph and decline, Lady Mary's mourning music, Sir Edward's death pose