East meets West: The National Symphony Orchestra at the Philharmonie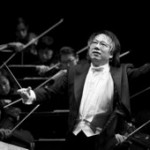 By Rebecca Schmid
The Taiwan Philharmonic, which also calls itself the National Symphony Orchestra, came to Berlin on Nov.18 as part of the second European tour in its history. With two recent commissions on the program—one by a German composer, the other by an American-trained Taiwanese native—it became clear how global classical music trends have become.
Ming-Hsiu Yen's Breaking Through, which opened the program, stays true to its title with a clear dramaturgical structure. In the first section of the approximately 14-minute piece, after an exciting drum fanfare, various sections of the orchestra—high strings against brass, low strings against winds—are set into friction with each other, creating an immediate sense that something has to give. The second section builds out of an insistent, mourning motive in the low strings until only glassy textures and xylophone are left, only to rise again into a heroic close.
A post-Romantic feel also extends to Christian Jost's Taipei Horizon, although a more apt title might be Taipei Apocalypse. The music opens with spurts of atmospheric, extended dissonances. There is some relief when an oboe solo emerges above pizzicati and swirling motives, but the approximately 16-minute work proceeds to march on in a procession of directionless despair, with brushes of pentatonic motives that should lend eastern flair, warring percussion, and morose low strings that have their final word in rumbling double-basses.
The orchestra, under its Music Director Shao-Chia Lü, gave a careful reading of both scores, although the Jost had perfunctory moments. In Breaking Through, the trombones got off to a wobbly start but warmed up to a more even tone.
The Sibelius Violin Concerto, featuring Viviane Hagner as soloist, was less convincing. Despite the Philharmonic's clean, well-calibrated playing, there was no sense of the spacious mystery or profound melancholy that brings this music to life in the opening Allegro.
The middle movement, which relies on the expressive power of the soloist in passages of naked, soulful lyricism, was even more disappointing. Hagner's soft dynamics were not trenchant enough, nor did she capture the complex emotions behind the notes. The zesty delivery of the final movement was more satisfying, although the soloist's tone could have benefitted from more strength.
All sections of the orchestra were in fine form for Dvořák's Eighth Symphony, which unfolded with fresh energy and elegant phrasing, particularly in the lilting dance-like melody of the closing Allegro ma non troppo. Lü, clearly in high spirits, showed off his flair for the composer with an encore of the Fifth Slavonic Dance. He then brought the soprano Meng-Chun Lin onstage to perform a traditional Taiwanese song.
As the orchestration flowered around her earnest melody, one caught a glimpse of what may be the future of classical music.
Tags: Antonin Dvorak, Christian Jost, Jean Sibelius, Meng-Chun Lin, Ming-Hsiu Yen, MusicalAmerica.com, Rebecca Schmid, Shao-Chia Lü, Taiwan Philharmonic, Viviane Hagner