Thielemann's Rosenkavalier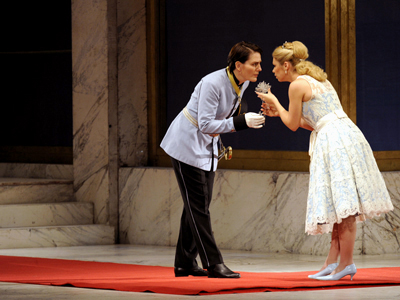 By ANDREW POWELL
Published: November 19, 2012
DRESDEN — Christian Thielemann made his opera debut here yesterday (Nov. 18), thirty-seven long months after agreeing to replace Fabio Luisi as Chefdirigent of the Sächsische Staatskapelle Dresden, effectively music director of the Semperoper company. The vehicle, Uwe Eric Laufenberg's 12-year-old, quasi-faithful staging of Der Rosenkavalier — notable for its Act II, set in a Trump high-rise complete with high-wire paparazzo window cleaner — looked a little clunky for the grand occasion, but the Munich Philharmonic's ex-boss unfurled his Strauss credentials effectively.
Early on, an out-of-balance woodwind musician sparred with Thielemann until a nifty ascending phrase triggered smiles. Eventually a refined steadiness was achieved across all sections of the orchestra and did not let up. In contrast to recent performances in Munich and Vienna — where handsome werktreuen Otto Schenk stagings dating to 1972 and 1968 hold sway, and where casts are gathered on longer purse strings — this traversal of Der Rosenkavalier cohered musically: rhythms chugged or raced where needed, elsewhere pulsing their way with nonchalance; vocal lines prevailed through instrumental storms; climaxes rose without advance detection; waltzing came naturally.
Daniela Sindram sang with warm impetuosity as the Knight, mooring the cast. Soile Isokoski shaped and shaded the Feldmarschallin's music with poignant know-how. Veteran baritone Hans-Joachim Ketelsen, jumping in for a sick Martin Gantner, found the high-lying duties of Faninal a bit strenuous. Also straining at the top, at least in Act I, was Wolfgang Bankl as the pivotal Ochs. Sadly, his was the role most impaired by Laufenberg's comedy-defeating tendency to enrich the action, already finely calibrated by librettist Hofmannsthal. Daniela Fally introduced a too-cute, small-voiced Sophie who blew easy chances to relate to her fellow protagonists.
The saintly-quiet Dresden audience, bewildered and agog at curtain at the effect of Strauss's Act III dénouement properly executed, just stayed put and applauded one call after another until the conductor effectively ordered an end with a low sweep of his arm. The production returns next June with a different cast. Thielemann's other 2012–13 Dresden stage engagements are Lohengrin in January and, against type, Manon Lescaut in March, for a grand total of twelve dates.
Photo © Matthias Creutziger
Related posts:
See-Through Lulu
Petrenko's Rosenkavalier
Verdi's Lady Macbeth
Safety First at Bayreuth
Time for Schwetzingen
Tags: Christian Thielemann, Daniela Fally, Daniela Sindram, Der Rosenkavalier, Dresden, Dresden Staatskapelle, Hans-Joachim Ketelsen, Luisi, Review, Richard Strauss, Sächsische Staatskapelle Dresden, Semperoper, Soile Isokoski, Uwe Eric Laufenberg, Wolfgang Bankl