DECODING TRUMP'S IMMIGRATION BAN
---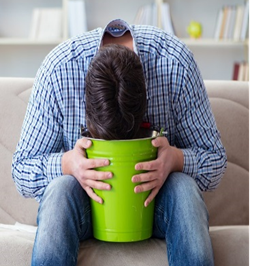 By Brian Taylor Goldstein
To those of you wondering what is happening with The Screaming Carrot Demon's immigration ban, his Executive Order slithered out of the White House today. Here's the deal:
Today's spewage only addresses immigrant visas (green cards). Though there is a fairly long list of exceptions, for the next 60 days people outside the U.S. will not be able to receive green cards even if they have already been approved.
The Executive Order states that another order will be issued dealing with non-immigrant visas (O and P) in 30 days. However, so long as the consulates remain closed, no one is getting visas O and P visas anyway. All U.S. embassies and consulates have currently suspended non-immigrant interviews and are not issuing visas. No announcement has been made about when the government plans to reopen them. It is likely that consulates will reopen on a rolling, country-by-country basis depending on when Trump's ego next sees its shadow. Not surprisingly, if Trump wanted to thwart O and P visas, he would not need to issue an Executive Order. The State Department could just keep the consulates closed or on a reduced staff. However, an Executive Order is better for red hat ratings.
In the meantime, USCIS service centers continue to receive and process visa petitions, issue receipt notices and approval notices—as well as RFEs and Denials. (Not all human viruses are microscopic!) So long as USCIS continues to process petitions, I "suspect" that artists who are already in the U.S. will continue to be able to extend and/or change their status, but those outside who get approved petitions will have to wait until the consulates re-open.
For those of you so inclined, here is a link to the actual Executive Order, which can also be printed out and used as a Covid mask.
---

For additional information and resources on this and other legal, project management, and business issues for the performing arts, as well as to sign up for our newsletters and follow us on social media visit ggartslaw.com
---
THE OFFICIAL LEGALESE:
THIS IS NOT LEGAL ADVICE!
The purpose of this blog is to provide general advice and guidance, not legal advice. Please consult with an attorney familiar with your specific circumstances, facts, challenges, medications, psychiatric disorders, past-lives, karmic debt, and anything else that may impact your situation before drawing any conclusions, deciding upon a course of action, sending a nasty email, filing a lawsuit, or doing anything rash!
Tags: Coronavirus, covid, Trump immigration ban, visa, visas