Water works
By James Jorden
Most arts-related technology is at least slightly Jekyll-and-Hyde in its implementation, no matter how optimistic the intentions of its creator. For an example of the phenomenon, you need look no farther thafn Robert Lepage's Ring, clanking its way back to the stage of the Met this week. Amazing tech, that: all those motion-controlled computer animations and theoretically an almost infinite variety of stage configurations. Of course, the down side is, it often doesn't work, and it's not exactly singer-friendly.
But one technological advance I don't see a down side to is the huge uptick in video recording of staged performances, the fastest growing and most promising application of which is the streaming of live or taped performances from a company's website.
The Bayerische Staatsoper in Munich is a leader in live webcasts, this season transmitting Don Carlo, L'elisir d'amore and Eugene Onegin (in a controversial staging by Krzysztof Warlikowski) on weekend evenings, doubtless to facilitate watching in international markets like the U.S. A pilot version of the program, a new Calixto Bieito production of Fidelio starring Jonas Kaufmann, was offered last summer, and according to a press release from the company, the experiment garnered over 100,000 viewers. Not a lot by Hollywood standards, perhaps, but still that one webcast increased the "reach" of that production by an estimated 500%—that is, it played to about five times the total live audience for the 15 or so performances this production can be expected to run over two seasons.
Maybe even more exciting is the streaming program offered by La Monnaie in Brussels. The company films two or more performances of a run of a production, then, shortly after the show closes, offers the opera free, on demand, on its website for a period of about three weeks. The program currently streaming is of particular interest: Dvorak's Rusalka, in the breathtaking production by Stefan Herheim.
Since no opera company in the U.S. has quite got up the courage to present a Herheim production, this webcast offers us a chance to sample this director's unique style of Regie: it's simultaneously brainy and exuberant, somehow balancing strict intellectual rigor and the brashest theatricality. It's a bit like hearing a treatise from TDR performed by Lypsinka.
In a way, Herheim's more-is-more denseness of texture can best be appreciated in a relatively simple work like Rusalka. It's certainly a basic plot: water-nymph longs for human love but is betrayed by her prince; she must then kill him and become an undead will o' the wisp. And Dvorak's music, though luscious, doesn't delve much below the level of the expertly picturesque.
Yet there is something extremely profound in this story. The rusalka, like her sisters the undine and the loreley, and their cousins the mermaid and the siren, is archetype of sexuality; specifically, of male sexuality considered as a force separate from the male subject and the female object. What the rusalka is, then, is overwhelming force of sexual attraction; a personification and a projection of male desire.
This is the jumping-off point for Herheim's take on the work. Even though she is the title character, Rusalka is demoted to a secondary figure, with the focus falling on Vodník. Of course, in the usual scenario for the opera, the water gnome has not very much to do beyond showing up every now and then to admonish or warn his daughter Rusalka.
But as Herheim reimagines the tale, Vodnik is an elderly man living in a run-down quarter of a modern European city, unhappily married and with an eye for pretty young streetwalkers. The production sets up this situation brilliantly in a prologue set to ambient street noise as Vodnik exits the subway and shuffles homeward. He fumbles with his keys and drops them. Then, when he bends down, the street noise ceases and the stage picture freezes momentarily. As Vodnik looks up, he seems to remember something, and only then does the quiet, eerie prelude to the opera begin.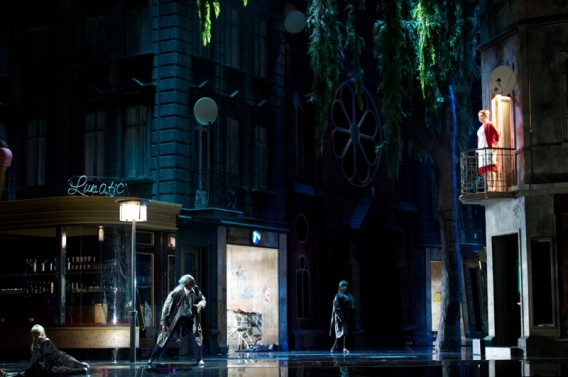 In fact, all but the last few minutes of the opera are devoted to what's going on in Vodnik's mind: memories, fantasies of the past and dreams relating to his present situation. First, though, he catches a glimpse of Rusalka, who approaches him flirtatiously, then steals a bouquet of flowers he's bought as a peace offering to his wife. Vodnik's wife misinterprets their struggle as a sexual clinch, and angrily bars her husband from returning home; Rusalka and street peddler Jezibaba mock him.
Their laughter triggers the deep and painful memories Vodnik associates with the opposite sex, or rather with his attraction to them. He sees himself as a young boy in the 1950s, tormented by teenage girls (the wood sprites), with the raging hormones of youth depicted as a wild dance of blow-up dolls in the picture window of a sex shop.
Everything dovetails into the psychodrama. Rusalka first appears in a shimmering pantsuit of metallic silver, the color of the moon she so famously serenades, the moon that generates no light of its own but, like her, is perceptible only as a refection of energy projected toward it. The Prince is no more than Vodnik's memory of himself as a young man, his first love a mere abstraction of "woman," a mannequin in the window of a bridal shop.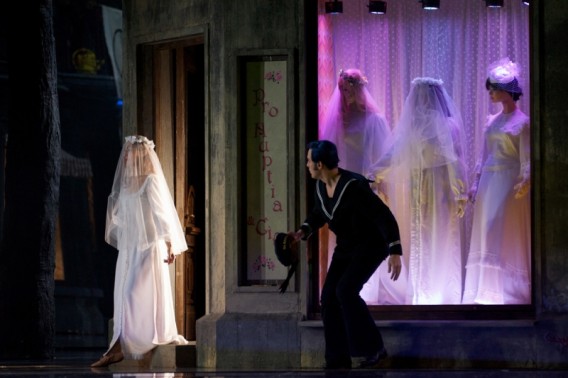 What happens after that I'm not going to spoil; best to experience it for yourself. What is vital to note, though, is that every gesture and effect of this alternate scenario is synched so meticulously to the music that at times it seems Dvorak must have composed a soundtrack to Herheim's production and not the other way around.
Even more striking is the staging's relationship to the libretto: the poetic generalities often take on a horrifying specificity in the context of the novel stage action.
For example, in the second act encounter between the Prince and the Foreign Princess, she reproaches him for neglecting her as guest since he has become fascinated by Rusalka. Confused by Rusalka's continuing silence, he begins to court the Princess. Here, the Princess is, either in memory or fantasy, Vodnik's wife, already unhappy early in their marriage. Thus her reproaches are not unreasonable: she is trying to get her new husband to treat her as a human being instead of a sex object.
Yet we are experiencing the scene through the lens of Vodnik's troubled psyche, so the Princess's bitchy parting shot to Rusalka ("I have his gallantry, yet you possess his heart!") resonates with almost exactly the opposite meaning from the expected irony. In fact, what she says is literally true.  Her husband can at best only go through the motions of loving her, because the most he can feel toward her is sexual attraction, never intimacy.
If my description of the production sounds clinical, the show is anything but; rather, it's a riot of color and action, the performers always right on the edge of going over the top. It is possible to enjoy this Rusalka, in fact, purely as entertaining eye candy, what the movie reviewers call a "thrill ride."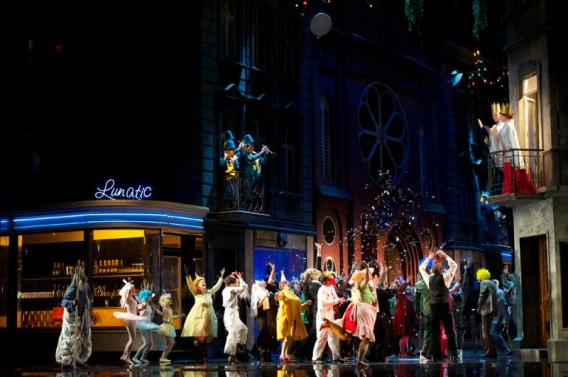 And yet, with all this sensuous detail, Herheim doesn't limit his production to a single level of meaning. Also up for consideration is Rusalka as metatheater. As Zachary Woolfe, reviewing the stage production, wrote in the New York Times, "This Rusalka does not let us simply go to the opera. It keeps asking why we are there, what we want to experience and what we hope to gain."
Thus Rusalka's soaring second act aria in which she begs for death in the second act is played straight out front, before a giant mirror that reflects back the interior of the auditorium. The Prince and Princess observe from a stage box, from time to time casually leafing through a playbill. Our devotion to the beautiful music of Dvorak, Herheim seems to ask, is it really so deeply artistic and meaningful? Or is it as sterile a dead end as Vodnik's stunted sexuality?
Photos: © Sébastien Forthomme
Tags: calixto bieito, la monnaie, meta, robert lepage, rusalka, stefan herheim, the met, webcast