Peter's Principles
by James Jorden
"I've almost come to the conclusion that this Mr. Hitler isn't a Christian," muses merry murderess Abby Brewster early in the first act of Arsenic and Old Lace, and to tell the truth I'm beginning to think I'm almost as far behind the curve as she was. Recent new productions at the Met suggest strongly that Peter Gelb either doesn't quite know what he's doing or else, if he does know, has some wildly inappropriate ideas about what music drama is supposed to be. 
Don't get me wrong. I'm still in the pro-Gelb camp in the general sense, in part because he is a guy with a huge number of ideas of which a sizable proportion are good ones, things that actually work. The HD movie theater program, for example, whose success I think surprises even Gelb himself, and which, curiously, no other company has been able to duplicate. Or the video relays of opening night, which in itself is now something more red-carpety and designer-gowny than it was a decade ago.
There's also the more general effort, decades overdue and still fairly embryonic, to involve the Met in the cultural dialogue of the city. It's a huge gap to bridge (caused in large part by the Met's insularity that really kicked in around 1980 or so) and even if some of the initiatives seem a little silly and desultory—the gallery space over at the south end of the lobby where nobody ever seems to go—it's an experiment anyway, and the nature of experiments is that some of them are going to fail.
More recently, and this seems to be the most wheels-within-wheels sort of procedure, is the process of gently phasing out James Levine as music director of the company and bringing in someone physically capable of doing the job. This fall's spate of media pieces about Fabio Luisi suggest either he's in directly in line for the job (perhaps problematic since he's contracted to Zurich Opera beginning next year) or else serve as a general thesis that someone needs to be on top of the musical values of the house, and that someone needs to be both talented and charismatic.
That's all good. What doesn't seem to be happening, though, is any sort of consistent message from the production side of the company: what, exactly, is the Met's mission in staging opera?
You'd be hard-pressed to find any meaning in the first three new productions of the season. The blandly international/traditional Anna Bolena was touted as a diva vehicle but played out like a house-singer revival, drab and safe. Just last week, the new installment in the Robert Lepage Ring managed to use the pricey Machine even more timidly than in last season's Walküre and Rheingold and completed a full one and two-thirds performances before breaking down.
But the really troubling production thus far is the Michael Grandage Don Giovanni. What kind of message can you find in a standard production of a standard opera besides "business as usual?" The worst part of it is that the production is hardly even a success by the low bar set by Grandage. In the media leadup to the opening night, the director (or, to use the Met press office's inevitable epithet "Tony Award winner Michael Grandage") told the New York Times,
"…I would argue that most people every night watching [Don Giovanni] here will not have seen it before. Everyone assumes that all 4,000 people know these operas backward and forward. I don't think so. For many people in the house it will be their first opera. I think once you start playing for them, something starts to happen to the whole piece. You all — director, designer, conductor, cast — take on a huge responsibility to make sure you're presenting the story. And the story is amazing. It's one of the greatest stories ever."
I fail to see the difference between Grandage's do-gooder notion of "playing for them"— i.e., the great hordes of noble savages who perhaps wandered into the Met thinking it was Radio City Music Hall—and what in less polite conversational circles is termed "dumbing down." Novelists don't write books for an audience who've never read before; filmmakers don't edit to appeal to a public who have never seen a movie; for that matter, theater directors don't (generally) take the attitude that nobody in the house is likely to have seen Hamlet before.
Or just for the same of the argument, let's say there is such a thing a an all-naïve or mostly-naïve audience for Hamlet. Is that a reason to reduce the responsibility of the production to nothing more than "presenting the story?" Is it so impossible for an audience both to experience the text (or, anyway, the "story") of Hamlet and, at the same time, to connect to a director's more specific take on the work? Isn't it, in fact, rather easier to latch on to a vast work (like Hamlet, and, to bring this back into our own realm, like the similarly sprawling Don Giovanni) when the attention is focused through the lens of a director's vision?
People whinge all the time about directors "distorting" opera, as if there were some ideal set of meanings just sitting there on the surface of any given work, all of them ready to be grasped by the casual passer-by. But if this were true, a routine musical performance could reveal all the profundities of a Mahler symphony: so sorry, Otto Klemperer and Leonard Bernstein, your services are no longer needed.
What's worse, even by traditionalist standards, Grandage didn't tell the story particularly well. The all-purpose wall o'windows obscured the sense of rapidly changing locales: the whole action seemed to take place on the same ratty block of the French Quarter (or was it Catfish Row?)  Interior and exterior, day and night looked all the same.  Would anyone who didn't already know the opera "backward and forward" (or at least skimmed the program) been able to understand where we were supposed to be?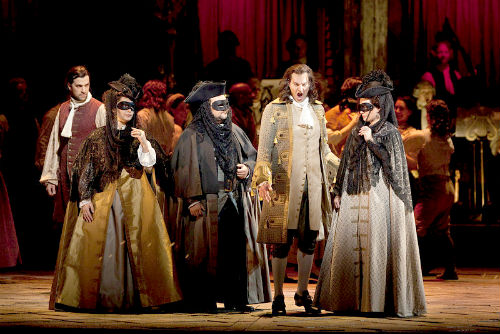 "Sala nella casa di Don Giovanni, illuminata e preparata per una gran festa da ballo"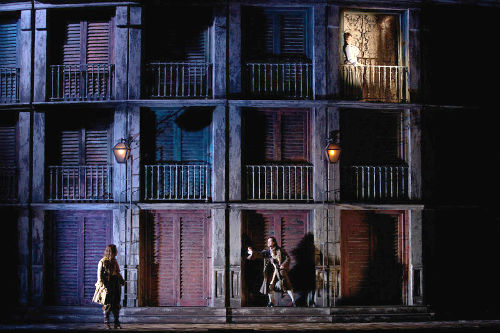 "Strada"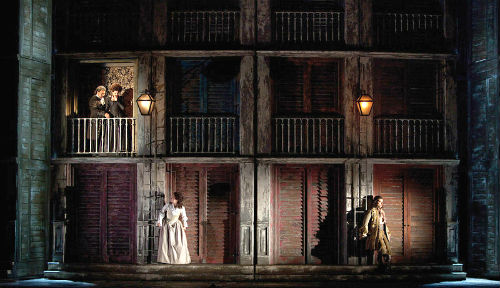 "Atrio oscuro con tre porte in casa di Donna Anna"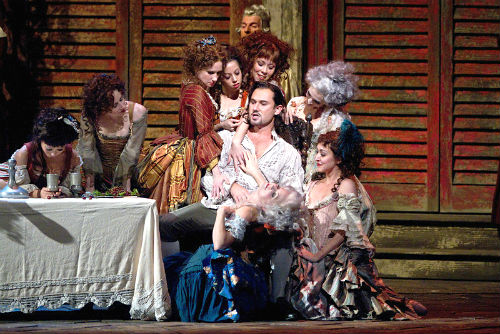 "Sala in casa di Don Giovanni, con una mensa preparata"
I wasn't always this pessimistic. Gelb seemed to be headed in a more enlightened direction when he brought Willy Decker's Traviata to the Met: an overly familiar work done in an unfamiliar (if hardly radical) way. For Traviata veterans, experiencing the production offered a chance to re-examine long-held ideas about the meaning of the piece. For example, Decker emphasized Alfredo's distrust of Violetta, which finally burst into an act of transgressive violence in the gambling scene. Thus the lovers' "idyll" was understood not as a stable outcome of their relationship but merely a momentary detour on the inexorable road to tragedy. A different way of looking at the piece, but was it confusing? What did the Traviata newbies have to say?
First of all, were there thousands of Traviata virgins swarming into the Met last season? And, if there were, did they scream out in horror, "I can't follow the story?" If they did, I didn't hear them. The complaints about this production most came from people who knew the opera already (some of them for decades) and who preferred a more sentimental or romantic take on the material.
Well, to be sure, that's putting it tactfully: some of the complaints used words like "desecration," there were nitpicks about the historical and sociological basis of the courtesan, and others grumbled that if the next Montserrat Caballé should appear, she could hardly be expected to stand on a couch. But nowhere did I hear anyone say, "I can't follow the story."
So why is Traviata eligible for directorial intervention but not Don Giovanni? Admittedly, the Verdi opera is the more popular of the two at the Met, especially in the past 30 years or so when the Franco Zeffirelli spectacle versions played a dozen performances or more season after season. But Don Giovanni's been done over 500 times by the company, over 150 of those in the past three decades. Is the Lady of the Camellias myth more familiar than that of Don Juan? Is "Libiamo ne'lieti calici" more an earworm than "Deh vieni alla finestra?"
No, the answer here, I'm afraid, is that the Decker production wasn't mounted for the Decker vision, and Grandage's questionable aptitude to direct Don Giovanni was essentially irrelevant to the hiring process. Both these directors came to the Met because Peter Gelb wanted a hit, something to be talked about and written about, and, ideally, to sell a lot of tickets. The Decker was booked because it was part of a package including superstars Rolando Villazón and Anna Netrebko (neither of whom showed up, incidentally), and the Grandage, well, maybe because that Tony Award makes such good copy, and maybe because of some unconscious notion that Jude Law might turn up to sing the Don—and just imagine what the Arts and Leisure section could do with that!
But real dramatic purpose? No, it's not happening in any kind of consistent fashion at the Met. The production are a hodgepodge that, on the relatively rare occasions when they turn out well, succeed almost by accident. Peter Gelb, for all his genius as a promoter, seems to be approaching his level of incompetence as an impresario. He doesn't pretend to be able to make the most important musical decisions at the Met unassisted; so why should he try to do the same with the dramatic?
(Photos: Marty Sohl)
Tags: anna netrebko, james jorden, leonard bernstein, Mahler, music director, musicalamerica, new york times, period costume, peter gelb, pr, richard wagner, robert lepage, Street Car Named Desire, the met, verdi, willy decker, Zurich