MKO Powers Up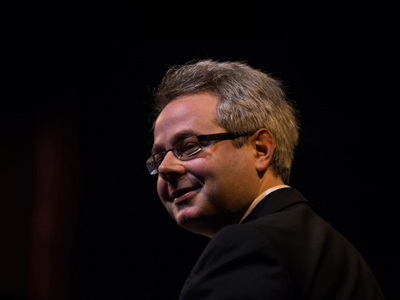 By ANDREW POWELL
Published: March 24, 2014
MUNICH — Few conductors can jump into a Berg-Zemlinsky-Honegger program on three days' notice and lead it fluently without change. Enter Clement Power (33), a gray-haired Londoner, for the Münchener Kammerorchester's March 13 subscription concert here at the Prinz-Regenten-Theater. The newcomer showed an easy rapport with the players (6-5-4-4-2 strings) and technical mastery, resulting in persuasive readings of four challenging scores.
He fostered a warm sound, with precise articulation in Berg's Drei Stücke aus der Lyrischen Suite (1928) and clear, glowing layers in Honegger's D-Major String Symphony (1941). The MKO responded passionately in the outer two Berg "pieces" and sustained rhythmic exactness in the forwards-then-backwards Allegro misterioso. The Honegger resounded with such refinement and allure that it was hard to channel the composer's morose wartime outlook. Ideas swirled vigorously, swooned more than mourned. Rupprecht Drees's trumpet made a happily unobtrusive entry in the last movement, and the chorale tune soared to rapturous applause.
In between, Sandrine Piau applied her elegant, bright lyric soprano to Zemlinsky's lush Maiblumen blühten überall (1898) and Berg's Sieben frühe Lieder (1908), both heard in arrangements, the Berg being Reinbert de Leeuw's pungent reduction. Although sensitive to the German texts, however, she proved overparted.
String for string, the MKO may be Munich's most accomplished orchestra. An ensemble of two dozen musicians founded in 1950, it has scant competition yet plays at consistently high levels in enterprising programs (often resulting in enterprising CDs on ECM Records). Its seasons in the Hellenistic-Romantic opulence of the Prinz-Regenten-Theater (1901), an architectural cousin of Bayreuth's Festspielhaus (1875), are rounded out by chamber performances in the Jugendstil Schauspielhaus (also 1901) on ritzy-retail Maximilianstraße and by much touring. The ensemble favors Classical, Modern and new scores, augmenting itself as need be. In marketing, the Münchener Kammerorchester's acronym usually stands alone, in a neat insignia that reduces its K to a less-than sign: less than a symphony orchestra, perhaps.
Chief conductor Alexander Liebreich, originally listed for March 13, enjoys a reputation for versatility but has compromised his career by numerous visits since 2002 to North Korea. Indeed the MKO itself ventured to Pyongyang in 2012 under a do-good Goethe Institute program, explained by Liebreich to the BBC. Anyway the players must like venturing beyond safe Germany: a trip to drug cartel paradise Medellín comes on a tour next month. Call them adventurous.
Clement Power, meanwhile, remains barely known. While pretty-boy maestros in his age group win coveted awards and take up rural British opera company and New York chamber orchestra jobs, this prodigiously gifted artist works apparently without representation.
Photo © Münchener Kammerorchester
Related posts:
Nazi Document Center Opens
Volodos the German Romantic
Thielemann's Rosenkavalier
Mahler 10 from Nézet-Séguin
Pogorelich Soldiers On
Tags: Alexander Liebreich, Berg, Clement Power, Drei Stücke aus der Lyrischen Suite, ECM Records, Goethe Institute, Honegger, Maiblumen blühten überall, MKO, München, Münchener Kammerorchester, Munich, Prinz-Regenten-Theater, Reinbert de Leeuw, Review, Rupprecht Drees, Sandrine Piau, Sieben frühe Lieder, Zemlinsky