If We Paid For It, Don't We Own It?
By Brian Taylor Goldstein
Dear FTM Arts Law:
I am writing on behalf of our non-profit theater group. Several years ago, one of our volunteers designed a new logo for our theater. We paid her $500. At the time, she was friends with our Artistic Director, but they had a falling out. She recently sent us a letter saying we can no longer use our logo. She claims she owns the design and we can't use it without her permission. Although we have nothing in writing, we did pay her, so don't we own it? Is she right?
Hell hath no fury like a volunteer scorned! Sadly, she may be right. Designs, just like scripts, music, novels, and choreography, are subject to copyright protection. Paying someone a fee to design, compose, or create something doesn't necessarily mean you own what they create—much less acquire any rights to use it.  Except in the case of employers who, in most cases, own whatever their employees create for them, when you pay someone a fee to create or design something you are merely paying for their time. If you also want to have right to use the design or creation, you must negotiate those rights separately and have a written agreement specifying what rights are being granted. This does not necessarily mean you must pay additional fees for rights or ownership. That's all part of the negotiation. You can certainly negotiate a single fee to pay someone to design or create something as well as transfer all rights to you or give you a license (permission) to use it, but such details must be negotiated and written down. Otherwise, all you are purchasing is an implied license for you to use it, which the creator or designer can revoke at any time. In your specific case, you paid $500 for a logo and the right to use it until the designer told you to stop—and it sounds like she just did.
________________________________________________________________
For additional information and resources on this and other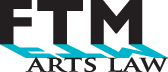 legal and business issues for the performing arts, visit ftmartslaw-pc.com.
To ask your own question, write to lawanddisorder@musicalamerica.org.
All questions on any topic related to legal and business issues will be welcome. However, please post only general questions or hypotheticals. FTM Arts Law reserves the right to alter, edit or, amend questions to focus on specific issues or to avoid names, circumstances, or any information that could be used to identify or embarrass a specific individual or organization. All questions will be posted anonymously.
__________________________________________________________________
THE OFFICIAL DISCLAIMER:
THIS IS NOT LEGAL ADVICE!
The purpose of this blog is to provide general advice and guidance, not legal advice. Please consult with an attorney familiar with your specific circumstances, facts, challenges, medications, psychiatric disorders, past-lives, karmic debt, and anything else that may impact your situation before drawing any conclusions, deciding upon a course of action, sending a nasty email, filing a lawsuit, or doing anything rash!
Tags: Brian Taylor, choreography, copyright protection, creator, designer, ftm, Goldstein, license, music, ownership, permission, volunteer, volunteers