Matt Haimovitz: Questions to Ask When Starting an Endeavor
Cellist extraordinaire Matt Haimovitz presents the questions that any new endeavor needs to ask itself in this short but profound video with Eugenia Zukerman and Emily Ondracek-Peterson of Noted Endeavors.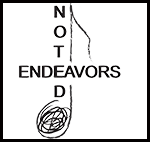 Haimovitz made his debut in 1984, at the age of 13, as soloist with Zubin Mehta and the Israel Philharmonic. At 17 he made his first recording with James Levine and the Chicago Symphony Orchestra, for Deutsche Grammophon. Haimovitz has since gone on to perform on the world's most esteemed stages, with such orchestras and conductors as the Berlin Philharmonic with Levine, the New York Philharmonic with Mehta, the English Chamber Orchestra with Daniel Barenboim, the Boston Symphony Orchestra with Leonard Slatkin and the Montreal Symphony Orchestra with Kent Nagano. Haimovitz made his Carnegie Hall debut when he substituted for his teacher, the legendary Leonard Rose, in Schubert's String Quintet in C, alongside Isaac Stern, Shlomo Mintz, Pinchas Zukerman and Mstislav Rostropovich.
In 2000, he made waves with his Bach "Listening-Room" Tour, for which, to great acclaim, Haimovitz took Bach's beloved cello suites out of the concert hall and into clubs across the U.S., Canada, and the U.K. Haimovitz's 50-state Anthem tour in 2003 celebrated living American composers, and featured his own arrangement of Jimi Hendrix's "Star-Spangled Banner." He was the first classical artist to play at New York's infamous CBGB club, in a performance filmed by ABC News for "Nightline UpClose." Soon thereafter, Haimovitz launched Oxingale Records with his wife, composer Luna Pearl Woolf. Oxingale records have since received wide acclaim for its stunning recordings.
To learn more about Matt, go to:
matthaimovitz.com
For more about Noted Endeavors, go to:
notedendeavors.com