Anna Bolena in Vienna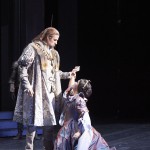 When hearing a soprano sing the title role of Donizetti's Anna Bolena, it is impossible not to draw comparisons with Maria Callas, who helped ensure the work's re-entry into the repertoire with a La Scala performance in 1957.
And indeed, the star of a revival production at the Vienna State Opera this month has been called today's answer to the legendary singer-actress. Dark-eyed and seductive, a fierce stage animal, Anna Netrebko may loom even larger within her time thanks to globalization (although her allegiance to Vladimir Putin has sullied her reputation).
Where Callas—whom I of course only know via recording—made the 16th century Queen fragile and heartbreaking, Netrebko brings a dose of dark tragedy. The voice flows like uncrushable velvet, resigned to her fate even through floating high notes. Seen April 10, the soprano was at her peak in the final scene after being condemned to death by Henry VIII for her alleged adultery.
Unravelling in a mad scene which foreshadows that of the more mature Donizetti opera Lucia di Lammermoor, she was affecting in the slow aria "Oh! chi si duole?" in which she pines for her beloved Percy, furious in the ensuring cabaletta in which she offers her mercy to the King and the to-be-crowned Jane Seymour.
Netrebko was not convincing in the first act cavatina "Come innocente giovane," however, failing to convey a sense of vulnerability as she lamented the loss of the King's love. While her Italian diction has only improved over the years, her vowels often suffer from a throaty timbre that—at least to the listener—compromises the authenticity of her performances.
But this was generally an evening of fine singing, at least for today's standards, set against the stark but tasteful production of Eric Génovèse. A grey scaffolding conveys the sinister confines of the King's court, while Anna's bedroom is all warm blue tones (sets: Jacques Gabel and Claire Sternberg). Luscious period costumes by Luisa Spinatelli bring a dose of regal authenticity.
As the king, the bass Luca Pisaroni an authoritative presence, both musically and dramatically, his sculpted tone setting him apart from the rest of the cast. The Jane of Ekaterina Semenchuk, in her house debut, started out strong with fiery, booming tone but her high notes turned shrill in the second act and her diction was often muddied.
Celso Albelo brought a ringing tenor to the role of Percy, and the mezzo Margarita Gritskova was a stand-out as Anna Bolena's smitten household musician. The Vienna Philharmonic under Andriy Yurkevych provided buoyant accompaniment, crisp strings and glowing brass making the orchestra a star in its own right during the overture, but the musicians also lived up to their reputation for playing too loudly in the opera pit.
Fore more by Rebecca Schmid, visit www.rebeccaschmid.info.