At the Majestic, in Casual Concert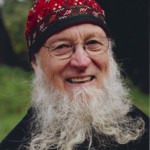 By Rebecca Schmid
"This is not a minimalist piece," announced Cameron Carpenter in onstage discussion of Terry Riley's At the Royal Majestic, an organ concerto which made its German premiere with the Deutsches-Symphonie Orchester Berlin (DSO) at the Philharmonie on Oct.9. His feet laced up in knee-high converse sneakers, Carpenter proceeded to play an excerpt revealing what he perceives as the influence of late Romantic composers Vierne and Widor.
Riley's approximately 35-minute work, as conductor Giancarlo Guerrero next demonstrated with the orchestra, wearing daily dress for the DSO's Casual Concert series, nevertheless has passages revealing the roots of the minimalist master, with repeated, almost primitive rhythms in the strings. The composer, present to dissect the music before it was performed in entirety, said with a laughing, Buddhist air of reflection that he was interested in anything that led the way to "ecstasy."
Riley weaves together a huge spectrum of material, from ragtime, to rock, to neo-Romanticism, into a nearly cinematic spectacle that is tailor-made to Carpenter's virtuosity and showmanship. The opening movement is inspired and named after the drawing "Negro Hall" by Swiss artist Adolf Woelfli, whom the composer imagined encountering black American culture for the first time.
A gospel-like passage on the organ gradually ushers in the orchestra, from chimes, to percolating woodblocks, to a drum set creating an Ives-like parallel realm. The ensemble comes together briefly in atmospheric swirls of color until the music takes on sharper edges, with shifting rhythms, protesting chords from the soloist and a stand-off in the woodwinds.
The inner "Lizard Tower Gang"—named, quite literally, after a tower the composer built for the reptile creatures in his backyard—emerges with eerie glissandi, chirping winds and polytonal layers that, as the composer articulates in program notes, "juggle chaos and symmetry." It is the shortest and most mysterious movement, ending in a cadenza-like teaser that yields to atmospheric strings and inquisitive bassoons, as if marveling at the infinity of nature.
The final movement evokes a pilgrimage to the sacred mountain of Kailash in Tibet with a winding collage of textures, culminating in a monumental chorale of organ and brass. As Carpenter noted in his introduction, however, the soloist has the last word, with a swipe across the entire top keyboard and booming pedal clusters that yield to a slinky, jazzy melody—minimalist in its utter brevity—before the instrument fades out into nothing.
The performance was all the more powerful given the intimate introduction by the performers and composer in the DSO's relaxed setting. Downstairs in the foyer, where pink lighting lent a club-like atmosphere, the young German band Xul Kolar and the DJ Johann Fanger played for the after party. I mostly saw 40-somethings dancing rather than the younger folk presenters are scheming to attract, but still, shouldn't every concert feel this fresh?
Tags: Adolf Woelfli, Berlin, Cameron Carpenter, Deutsches Symphonie-Orchester Berlin, Giancarlo Guerrero, Johann Fanger, Terry Riley, Xul Kolar