Music for Heart and Breath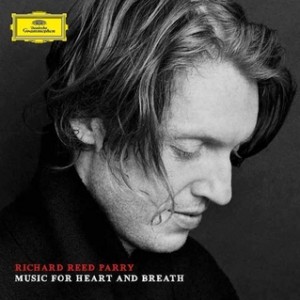 Richard Reed Parry
Music for Heart and Breath
DG CD
Richard Reed Parry is best known for his work in the Grammy award-winning band Arcade Fire. He is also active as a composer of concert music. On his debut portrait disc in this latter role, he enlists an all star roster of talent to interpret his music, including Nico Muhly, Nadia Sirota, yMusic, members of ACME, and none other than the Kronos Quartet. Parry also contributes as a pianist and bassist.
Music for Heart and Breath takes as its starting point the respiration and heartbeats of its performers. Wearing stethoscopes and paying careful attention to their breathing, performers work their way through Parry's scores with these serving as guidelines and signposts: there is no exterior metricity imposed on the musicians. Although breath and heartbeats have long been featured in lyrics and in concepts of teaching and "feeling" music, Parry's approach takes this idea to a whole different level. It also virtually guarantees that no two performances of his work will sound alike. Indeed, the liner notes point out that the tempi of many rehearsals of his work are much slower than live performances, where nerves and adrenaline kick things up several notches.
In order to accommodate the fluctuations inherent in this approach, Parry sticks to a relatively simple, often modal, harmonic palette. Pizzicato strings weave in and out of ambling melodies and softly executed glissandos. The constant feeling that things are ever so slightly out of sync is instead what gives the music its tang. One senses kindred spirits such as Feldman and Nancarrow, both composers who revelled in unorthodox processes and delicious asymmetry, in Parry's work. That said, while Music for Heart and Breath contains some fascinating moments of music-making, one feels sated with this approach by the end of the recording. Once the stethoscopes come off, I hope (and I trust) that Parry will have more ideas that will allow musicians leeway for innovation in performance.
Tags: Arcade Fire, DG, Richard Reed Parry