What went wrong?
By James Jorden
After putting off for a week trying to make some sense of the horrific mess that is the Met's new Faust, I'm finally just going to give up. There are some disasters that bear writing about as what you might call teaching opportunities: this season's Don Giovanni, for example, as a cautionary tale about the perils of timid conservatism. But there's nothing to be learned from this Faust besides, perhaps, "never hire Des McAnuff to direct another opera under any circumstances." 
So let's move on to a subject that both more pleasant and more productive: the current Met revival of Madama Butterfly, created by Anthony Minghella and supervised by his widow, Carolyn Choa. This is the production that kicked off Peter Gelb's first season as General Manager and set up some very high expectations for the Met as a venue for innovative but not scarily radical reinterpretations of the classics.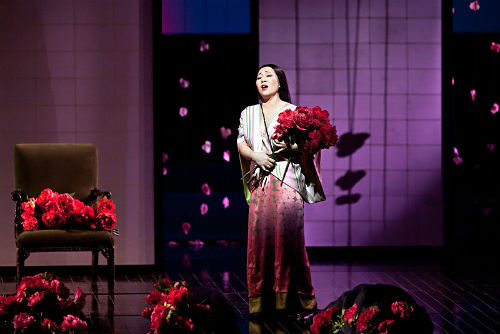 And it is a production that succeeds on just about every possible count. The story is told in a clear and straightforward manner, but without an overabundance of naturalistic detail. Instead, the style leans gently toward Symbolism, the images tending toward a certain frieze-like formality that evokes Japanese art.  At the same time, the very spare varnished wood floor and apparently low-hanging mirror ceiling, in combination with the horizontal portal upstage, suggest (again, without literal reference) an interior designed by Frank Lloyd Wright.
Thus the production simultaneously indicates the nominal Japanese setting and reminds us that Butterfly is actually not about Japan, but about Japonism and Orientalism in general. By shifting the focus subtly from Eastern object to Western gaze, Minghella's production gently reinterprets the opera: instead of a work that can be perceived as racist, it becomes a work about racism.
Even what at first glance seem "decorative" elements of this production reinforce the effect. When I first saw this staging five years ago, I thought the opening silent dance sequence and the "dream ballet" during the Act 2 interlude a little too pretty for their own good. This time around though, with maybe a bit more experience in reading productions under my  belt, I found the aestheticizing in these scenes felt not only organic but vital to the meaning of the work.
Minghella, it seems to me, is confronting the audience's desire for opera to be a "beautiful" experience when the subject matter is tragic or even sordid. Instead of deliberately making the visuals ugly and violent (as, say, Calxito Bieito did in  his Butterfly production for the Komische Oper), Minghella deliberately aestheticizes every aspect of the production, even down to transforming the child into a puppet and the gush of blood from the heroine's wound into a flutter of red silk.  As one wakens from this dream of beauty, there's a stabbing moment of realization: I just enjoyed watching a woman commit suicide; I thought it was pretty.
The expectations raised by this flagship production were, alas, in large part not met: instead, for four seasons we have slogged through a dreary round of Bartlett Sher and Mary Zimmerman stagings that were either unimaginative or inept, or, as in the case of Le Comte Ory and La sonnambula, both simultaneously: dull disasters. Robert "I don't take it all as seriously as some directors do, so I don't feel the pressure" Lepage, meanwhile, has the potential to trump both these éminences grises, if (or, more likely, when) that exemplar of entropy "The Machine" seriously injures or kills a singer.
But in those same years some brilliant productions have arrived at the Met: William Kentridge's The Nose, Patrice Chéreau's From the House of the Dead, Willy Decker's Traviata, Phelim McDermott and Julian Crouch's Satyagraha (and, one hopes, The Enchanted Island: the designs certainly look yummy).
It's not easy to find a pattern here, a calculus of success and failure. With admittedly few data points to work from, it does start to look like the productions that worked were created by artists either already closely associated with opera or else with a strong basis in some other visual art form, but not theater. The flops, it seems, were generated by theater directors crossing over into opera, most recently McAnuff and Michael Grandage, both big noises around Broadway, the West End and Shakespeare festivals, and both fishes out of water in the opera house. (Grandage apparently accomplished a fine Billy Budd for Glyndebourne a year before his Met fiasco, which complicates the equation a bit, but surely an important point here is that Billy Budd is an outlier in the repertoire, whereas Don Giovanni is about as central as central can be.)
You can't blame Peter Gelb for trying: after all, it would seem intuitively obvious that the skills of a theater director should be mostly transferable to the opera house. But you can blame Gelb for making the same mistake over and over, i.e., inviting a series of well-networked Anglophone directors to take on projects for which they (as a class, apparently) seem to show so little affinity.
We can't bring back Minghella, alas, but we can learn something from the sterling example of this one and only opera production for the Met: take the risk of hiring an artist with a vision, not a craftsman with a glossy resume and a handy publicity angle. And don't be afraid to cut your losses: if it is indeed true that McAnuff is signed to helm a new Falstaff at the Met, for heaven's sake pay him off, send him packing and find someone who's actually up for the job. But please, please, don't turn him into the new Bart Sher!
Photo: Marty Sohl/Metropolitan Opera.
Tags: english national opera, gesamtkunstwerk, houston grand opera, peter gelb, regie, robert lepage, the machine, the met, willy decker