Ueno Opera to Premiere in Boston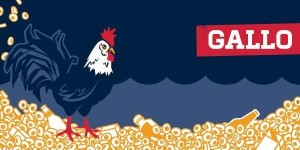 I recently spoke with my friend Ken Ueno, a composer on the faculty at UC Berkeley, about the upcoming premiere of his opera Gallo. It will be presented by Guerrilla Opera in May in Boston. Below are excerpts from our chat.
CC: How did you come to decide to compose an opera? 
KU: Theater has always interested me. I used to mimic the skits of my favorite comedians, the Drifters, on Japanese television. (I remember I got kicked out of a French-speaking kindergarten class in Switzerland doing one of those skits – I was just trying to make friends!) As I kid, whenever my family and I visited New York or London, we took in all the shows – musicals, plays. (I took tap dancing classes.) And later in life, I discovered Samuel Beckett, who remains one of my biggest heroes. As I got into composing concert works, much of my music still embodies some sort of theatrical component.  And over the past 10 years, as I have been performing as a vocalist more and more, I have been feeling that a natural development would be to do a theater work with voice. What made that desire concrete was when Guerilla Opera reached out to me and invited me to collaborate.
What is the significance of the title?
The central concern of the piece is man's relationship to the landscape, how we shape the landscape, as well as how the landscape shapes us. A question of ontology.  The central scene, which was the first thing I conceived, is an aria for a countertenor in a rooster costume dressed as an 18th century dandy. I thought it would make a nice balance between the humorous and the intellectual to have the said rooster soliloquize, wax profanely, about ontology (there's highfaluting Voltaire, Shakespeare and Heiner Müller in there), while singing in chickenese with subtitles. It's ridiculous. And that's part of the commentary on ontology. It's easy to complain about the world, or dream of something, but it takes courage to actually realize, actually make the ridiculous thing. In that creative realization, there is hope – that's when we can transform the world, rather than have the world constrain us. People will always criticize everything, so we can't be afraid of it. That's why it's a rooster – chicken or "being chicken" is a common vernacular for being afraid, of course. I also thought of Max Ernst's (a leading 20th century German painter) alter ego, Loplop, a birdlike figure that he included in many works to stand as his alter ego. In a sense, we are all Loplop, we are all the rooster of ontology, we all face life and death and crises of identity.
A large part of the concept of the piece was planned during my residency at Civitella Ranieri.  There, each night, when we had dinner, we were served wine in clay pitchers shaped like roosters. "Gallo" is Italian for rooster. It dawned on me towards the end of my time there that the piece should be called "Gallo."
How did you decide to write your own libretto?
As I conceived of the idea and the sounds (including the vocal sounds), it felt natural that I would do it. I understand that many composers get the idea to do an opera then go looking for an appropriate text to set. The evolution of this project didn't unfold that way. I was also not interested in a traditional narrative. There was also another personal need. Over the last several years, as a creative artist, I have been feeling a desire to step beyond just writing music.  Of course, composing remains the thing I most self-identify with, but I also enjoy making visual art and writing poetry. The secret is that I have been writing poetry ever since I was a kid, though I've been shy about sharing it. So, this scary thing (scary to me, as I'm as yet not as used to it as I am about writing music) about writing my own words and getting it out there felt like the right personal risk to take at this time. One has to get in the habit of taking risks, being courageous.
Did you consider singing in the piece as well?
Not for this project.  Guerilla Opera expressed an interest in a piece mainly for their core members.  I'm happy with that, since they are such talented, committed performers.  Besides, I am conceiving of other projects in which I can sing.
The two principals are a countertenor and a soprano. What are their characters like and why did you select these particular voices?
The countertenor is the rooster.  Since much of the text he contemplates is rooted in the philosophical discussions of the 18th century, a countertenor voice seemed appropriate. Also, having worked with the Hilliard Ensemble over a number of years, David James' singing has been a big influence on me. The soprano is the shopper/mother figure and was conceived for the particular talents of Aliana de la Guardia, one of the directors of Guerilla Opera, and an amazing talent.
What's with the Cheerios? What about the other pop culture references?
Inspired by Beckett's Happy Days, I wanted the set to be a landscape, a character.  The set, then, is an installation.  I wanted a beach-like feel, a repository of memories, family vacations, Cheerios, as compared to other cereals, look more beach-like. It also makes a better canvas for video projections. Cheerios are childhood comfort food.  It's the childhood cereal that's good for you.
The text is full of pop references, besides the literary (the aforementioned Voltaire, Shakespeare, Müller as well as Joyce and Carroll).  Many references are about consumer culture.  Others are references to songs – Janis Joplin, Beastie Boys, Van Morrison, Jimi Hendrix.  They occurred to me as I was writing the text.  "Mercedes Benz," when I was writing about consumer culture. Beastie Boys, when I was writing about the difference between semantic sounds and asemic sounds (the "ill communication"). Van Morrison about breathing.  And Hendrix's "majestic and superior cackling hen,Your people I do not understand."  There's a surprise ending that references a meta-ending of all meta-endings.  All these things are just how I speak – a mishmash of all the things I've read, seen, and thought about. I hope it's entertaining for the audience.  Most of it you don't have to "get" a local reference to get the whole picture. Fredric Jameson, the philosopher, says that one of the conditions of postmodernism is that time is flattened into a space. The Cheerios and the cultural references articulate that space in Gallo. Music is also flattened into a space – the baroque, the contemporary, a lullaby are all there too.
Do you have some other projects in process? What's next?
I have an installation opening at the Taipei Fine Arts Museum the first week of May. Then, a new string quartet for Mivos premiering at Darmstadt, an evening-long work for Community Music Works for the rededication of the Dainichi Buddha at the RISD Museum, a piece for the Paul Dresher Ensemble with Amy X Neuberg for Cal Performances, a violin concerto for Graeme Jennings and the San Francisco Contemporary Music Players, and a few other exciting things upcoming!
When/where are the premiere performances of Gallo?
The premiere performances will be at the Zack Box Theater at The Boston Conservatory
8 The Fenway, Boston, MA, on these dates:
May 22 – 24, 2014 (at 8pm)
May 29 & 30, 2014 (at 8pm)
May 31, 2914 (at 2pm)