Summer Music Programs for Grown-ups: A Few Musical Meccas
By John Fleming
April 5, 2016




In the last decade, an increasing number of summer music programs for adults have been cropping up, Stateside and abroad. Some take place in a rehearsal room, others on a sprawling lawn, some are in the inner city, others by the sea or in the foothills. Either way, what better way to feed the soul and take a vacation simultaneously?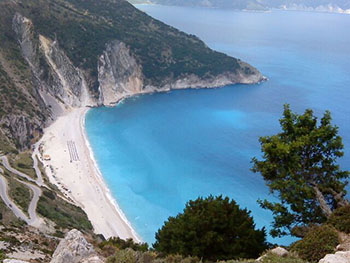 Tuscany Project
Location, location, location—the Tuscany Project always choses exotic ones for its week-long summer sessions, taking its name from the first workshop, held 24 years ago in a villa in the famed region of Italy. This year, there are two projects, one at the Liboun Chateau, about an hour outside of Prague in the Czech Republic, and the other at a pension on the Greek island of Kefalonia. In 2017, the Tuscany Project celebrates its silver anniversary and returns to Italy and its most frequent venue, the restored 12th-century villa Locanda del Gallo, in the Umbria hills. [PHOTO: The island of Kefalonia, Greece, one of the Tuscany Project's 2016 sites.]
The annual event is geared to cabaret, musical theater, jazz, and pop singers, but because enrollment is kept small—16 participants in the Czech Republic, 28 in Greece—and the faculty numbers at least four, there is plenty of flexibility. "We have beginners who have only sung in the shower, and we have people on their way to Broadway, and we're comfortable with that range of skills," says Belle Linda Halpern, a cabaret singer in Boston and one of the project's founders. "Not only is it about skill, but it's also about sharing and opening up one's heart."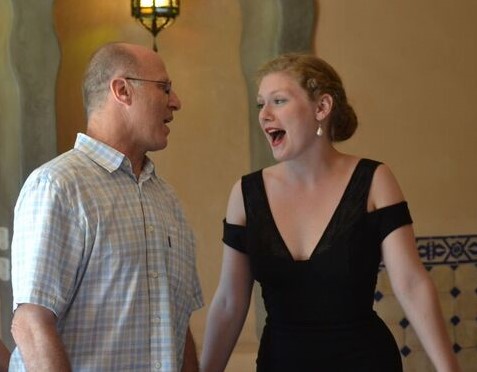 The Czech workshop is focused on individual singing, with classes ranging from vocal technique to improvisation to stage presence. "We ask people to bring two or three songs and then choose to work on one during the week," Halpern says. "It has to have some kind of story. A lot of Sondheim works well—Anyone Can Whistle, Send in the Clowns. So do jazz standards, like My Funny Valentine, or Kurt Weill songs, like Pirate Jenny." On Kefalonia, the focus is on group singing in a gospel workshop, led by Phillip Woods, a choral director in Washington, DC, who has been with the project since 1996. "While gospel music may have been largely created by African-Americans, we don't own it," says Woods. "It's one of our gifts to the world, and I feel like it's my opportunity to get to share this with people interested in learning it. And in the Tuscany Project setting, gospel music has been an incredible vehicle to create community." [PHOTO: Tuscany Project students perform their "final recital."]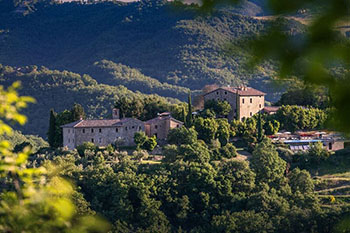 Woods brings an eclectic sensibility to the workshop. "Along with gospel, I like to bring in some world music, some reggae, or an arrangement of a spiritual that I heard my grandparents sing," he says. "We might combine Everyday People by Sly and the Family Stone with something by Andrae Crouch. In 2014, we did an amazing job on a South African choral tribute to Nelson Mandela called Asimbonanga." [PHOTO: Locanda Gallo, site of the Tuscany Project's 25th anniversary in 2017.]
Dates: May 21-29 (Czech Republic) and July 15-22 (Greece)
Price: 1,150 euros ($1,250) in the Czech Republic and from 850 euros ($925) in Greece; accommodations and meals provided. tuscanyproject.com; (917) 547-8796
---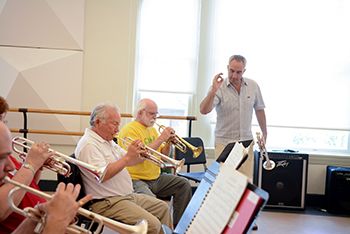 BSO Academy Week
Through high school and college Karlotta Davis was a serious flutist until she got to medical school at the University of Michigan. "There was no way I could practice," Davis says. "I essentially put away my flute for 30 years." [PHOTO: Baltimore Symphony Principal Trumpet Andrew Balio leads a sectional rehearsal at the BSO Academy Week.]
Davis, now an urogynecologist in Denver, is among the hundreds of amateur musicians who have decided to dust off their instruments—not to mention their technique—and head to the Baltimore Symphony for a week of midsummer magic. Offering the opportunity to rehearse and play a concert with a top-flight orchestra, the BSO Academy, now in its seventh year, brings people from all over the U.S. and even overseas. Accepting about 110 participants of varying levels, the week-long event includes full orchestra and sectional rehearsals, chamber ensembles, workshops, master classes, and optional private lessons. In addition to members of the BSO, the faculty includes guest speakers,such as this year's Noa Kageyama, a psychologist who writes the Bulletproof Musician blog on how to cope with performance anxiety.
"We accept a wide range of players," says Jane Marvine, an oboist and English horn player in the BSO who is closely involved with the Academy. "I think a key is that all of the parts in the orchestra are covered by BSO players, which takes the pressure off. Participants can find whatever level they're comfortable at. Some just kind of sit there and watch the music go by and don't play very much, and some are very skilled and play solos in the concert." [PHOTO: BSO Academy Week chamber concert.]
Davis remembers working all week her first year (2012) on a solo in Prokofiev's Romeo and Juliet Suite, then stepping onstage in Meyerhoff Hall for the big (free) Saturday night concert, with BSO music director Marin Alsop conducting.
"It was life changing," says Davis, who has been back every year since. "Here was this wonderful conductor with laser focus looking at me, expecting me to do really great stuff but mostly wanting me to have fun. And when the time came, I nailed the solo. Absolutely nailed it."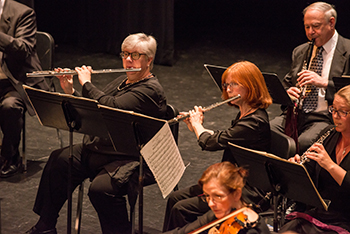 Davis credits her lessons with BSO principal flute Emily Skala. "She has been wonderfully supportive," Davis says. "She has seen the progress I've made from my first academy, and encouraged me to get a better instrument. I got a used professional flute that has changed my playing tenfold." [PHOTO: BSO Academy Week wind section.]
For Academy week, the BSO tends to program big, complex works that community orchestra musicians are not likely to get a chance to play. This year, repertoire includes Rachmaninoff's Symphony No. 2, divided between two groups that each play either Siegfried's "Rhine Journey" from Wagner's Götterdämmerung or Ravel's La Valse. For the first time, the concert will not be led by Alsop, who that week will be conducting the São Paulo Symphony Orchestra, of which she is also music director. BSO Assistant Conductor Nicholas Hersh will preside.
Dates: June 18-25
Price: $1,900 for the orchestral track; some meals provided; accommodations not included. Information: bsomusic.org/education-community/programsfor-adults; (410) 783-8051
---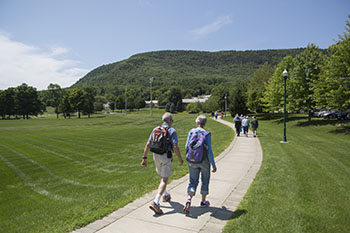 Berkshire Choral International
Since 1982, singers have been heading to Western Massachusetts to spend a week immersed in the study and rehearsal of great choral works, capped off with a final performance with professional orchestra and soloists under a prominent conductor. Berkshire Choral International (BCI) is "directed at the serious amateur singer," CEO Debi Kennedy says. "Our singers are typically people who are singing in church choirs or community choruses, and as many as 80 percent are repeat customers." [PHOTO: Berkshire Choral Institute campus in Sheffield, MA.]
This summer, three sessions will be held on the campus of the Berkshire School in Sheffield, MA, drawing from 150 to 200 participants each. Most stay in dorm rooms and take their meals in the school dining hall. Sheffield is not far from the Boston Symphony Orchestra's Tanglewood Music Center and other attractions in the Berkshires, known to be a cultural mecca in the summer. "Choristers get Friday nights off," says Kennedy, "and probably about 50 percent of them go to Tanglewood for a concert and picnic on the lawn."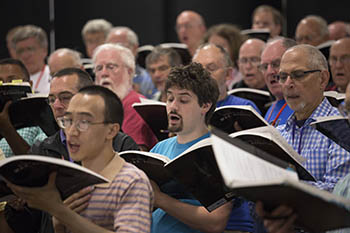 There are also week-long BCI programs scheduled in Northern CA ; Newport, RI; and Vienna.
The first time Holly Wolff, a soprano from Saranac Lake, NY, went to BCI, one of her favorite composers, John Rutter, was conducting. She has since sung under many other conductors. "I have learned something new from every one," Wolff says. "To this day I warm up to what Anton Armstrong taught us. I sang orchestrated spirituals for the first time under Philip Brunelle, and with Julian Wachner I learned to love Haydn's Creation." [PHOTO: The bass section rehearsing Britten's War Requiem at BCI.]
Along with two rehearsals a day, choristers can take an array of classes. "Every year I have a private lesson with a staff teacher. I call it my annual tuneup," says Wolff, who sang Britten's War Requiem in 2015 with Jane Glover, a returning conductor this summer. "To put together these major works in a week is phenomenal. There's a big celebration afterward, because everybody feels, 'Oh, wow! We did it!'''
Dates: June 12-19 in Sonoma County, CA. (Handel's Israel in Egypt, Robert Istad conducting); June 26-July 3 in Newport, RI (Bach's Lobet den Herrn and Jesu Meine Freude; Mendelssohn's Hor mein Bitten and Ave Maria; David Hayes conducting); July 10-17 in Vienna, Austria (Haydn's Theresienmesse and Schubert Mass in E-flat, Jane Glover conducting).
Dates in Sheffield, MA: July 17-24 (Beethoven's Mass in C and the fourth movement of Symphony No. 9, John Sinclair conducting); July 24-31 (Dvorák Requiem, Gary Thor Wedow conducting); July 31-Aug. 7 (Stephen Paulus's To Be Certain of the Dawn and Bernstein's Chichester Psalms, Kathy Saltzman Romey conducting).
Price: From $1,350 in Sheffield to $3,300 in Vienna; accommodations and meals provided. berkshirechoral.org; (413) 229-8526
---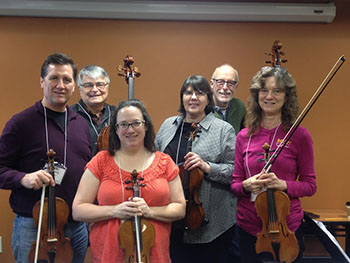 Scor! String Camps
Beginning in March and continuing through August, Kyle and Beth Bultman hit the road with their moveable music camp for adult string players called Scor! They drive up to 12,000 miles in their "Scor!-Mobile"—a 55-foot motor home plus cargo trailer for all the musical supplies and equipment—to conduct a dozen camps in locations across the U.S. Nancy Mack, an Atlanta resident who started playing cello at 50 and has attended Scor! camps since 2007, likens the Bultmans to Johnny Appleseed. "They plant the seeds," she says. "They go around the country and plant musical seeds." [PHOTO: A Scor! sextet.]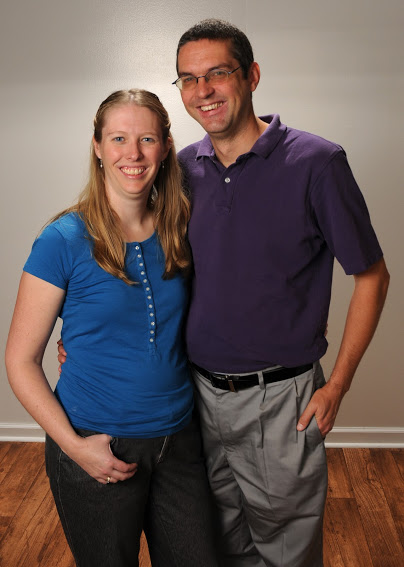 Beth, a violinist, and Kyle, a viola player, live in Rochester, NY, where both earned graduate degrees from the Eastman School of Music. The first Scor! was in Rochester in 2001, and it is still the largest, with up to 80 participants and running five days. Other camps, held at churches, schools, and conference centers in New England, Florida, Texas, California, Iowa, North Carolina, and elsewhere, are mostly three days long and draw from 20 to 35 people. The Bultmans teach at every camp, and they bring in cello and bass teachers. Eastman faculty are added at the Rochester camp.
Participants at Scor! "range from beginner to semi-advanced community orchestra-level players,"
says Beth. Coaching and private lessons are available, but unlike many of these programs, Scor! does not emphasize preparing for a grand finale. "It's a laid-back environment for adult string players to grow and learn without the pressure of a performance," says Beth. "We want people to be able to accept their own progress and have joy in making music." [PHOTO: Scor! founding directors Beth and Kyle Bultman.]
And the most popular instrument? "You wouldn't believe how many adults play the cello," she says. "It's because, I think, that for some older people, if you're going to start a string instrument, it's easier to sit vertically with your arm rather than twist your arm around for the violin. Sometimes our
camps end up having half cellos and half violins."
Dates: March through August, with 12 Scor! camps around the U.S
Price: From $439; not including accommodations, meals. stringcamp.com; (877) 726-7267
---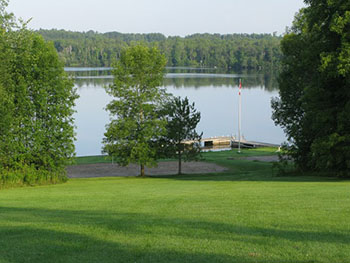 Lake Field Music
Lake Field Music, now in its 39th year, is held on the campus of the Lakefield College School near the Kawartha Lakes region of Ontario. With about 120 participants and a faculty of 21, the camp, open to both instrumentalists and vocalists, is organized into six periods a day. The first period is Choir for All, a camp tradition, but after that the offerings entail more than 60 classes, workshops and ensemble-coaching sessions in classical, jazz, musical theater, chorus, and world music. [PHOTO: Lake Field Music is located near the Kawartha Lakes region of Ontario, Canada.]
Kim Hanmer attended Lake Field Music for the first time two years ago. "I went not knowing anybody," says Hanmer, a Toronto resident and pianoplaying dental hygienist. "I arrived on Sunday and by Monday afternoon I realized this was going to be a fantastic week. The atmosphere is very positive. Even though I didn't know anybody, within one day I made new friends that I've kept in touch with constantly ever since."
"Most people load up their day because they don't want to miss anything," says Andrew Wolf, president of the board of directors. "If you want to do a focused, sort of serious violin or flute or piano or vocal thing, you can do classes that are pretty core to your instrument throughout the day, but we
encourage people to take one or two periods where they're doing something different, like West African drumming or Balfolk [European folk music and dance] or handbells."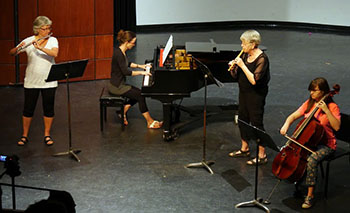 The camp monitors skill levels by posing pointed questions on the registration forms. "We'll look at the classes they're choosing to see if there is any potential problem," says Wolf, who adds that small ensembles can be more demanding. "We cap the technique classes at eight to 10 participants, so everyone has a chance to get some personal attention during the week." [PHOTO: Lake Field Music participants in rehearsal.]
Hanmer calls the schedule "busy, but busy fun—a can't-wait-to-get-to-your-next-class busy." Her experiences at Lake Field have included early music in a chamber group, an accompanist-soloist collaboration, and piano four hands. She's taken introduction to organ and instruction in harpsichord, which she calls "a huge learning curve for me. But I can't imagine not having this experience in my life now."
Dates: Aug. 7-14
Price: From $1,199 (Canadian); accommodations and meals provided. lakefieldmusic.ca; (647) 692-3463
---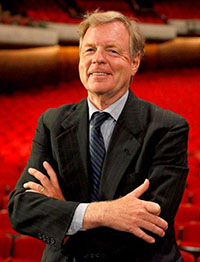 John Fleming writes for Classical Voice North America, Opera News, and other publications. For 22 years he covered the Florida music scene as performing arts critic of the Tampa Bay Times.



Copyright © 2018, Musical America