2012's Ten Truly Inspired Ideas, part 1
By Wynne Delacoma
November 29, 2012




At Busch Stadium in St. Louis during the 2012 World Series playoff games, the Cardinals posted a huge video of the St. Louis Symphony Orchestra and Music Director David Robertson playing Meet Me in St. Louis. In Washington, D.C., a presenter has repurposed a 1938 Art Moderne movie palace in a hip, up-and-coming neighborhood and a performing arts center with its own cutting-edge new music series amid other, more traditional fare.
In Los Angeles, a venerable series at the University of California has been renamed and rebranded, adding residences with artists like Laurie Anderson and Robert Wilson to complement their concerts.
Life is challenging these days for musical organizations, large and small. But many of them are responding creatively, with projects that venture far beyond the standard operating procedures. We asked the major-market music critics to describe some of the more promising innovations from the organizations they cover.
---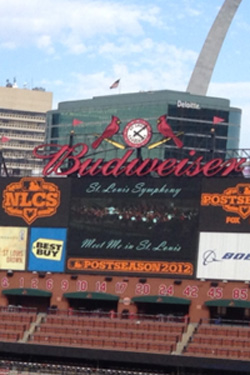 The St. Louis Symphony Teams up with the St. Louis Cardinals
St. Louis is mad for baseball, and the St. Louis Symphony has long been a hotbed of Cardinal fans, especially since Leonard Slatkin cheered the team on during his nearly 30 years with the orchestra, first as assistant conductor, and then from 1979 to 1996 as music director. The bond between orchestra and ball team has been especially tight since the Cardinals won their 11th World Series last year.
"Members of the orchestra had frequently been asked to play the national anthem last year [during the playoff rounds]," says Sarah Bryan Miller, music critic for the St. Louis Post-Dispatch. "And every time they played, they won." The orchestra also posted a clip on YouTube of Robertson and the musicians, all sporting Cardinal red, playing Take Me Out to the Ball Game.
This year the Cardinals were looking for a signature tune for a fan sing-along, and the video of Meet Me in St. Louis was born. "This kind of thing is typical of this orchestra," says Miller, noting that at least seven of the players performed as youngsters with the St. Louis Youth Orchestra. "The musicians really do care about the city."
Alas, clever video notwithstanding, the Cardinals lost the 2012 National League playoffs to the San Francisco Giants. But, as Miller likes to say, there's always next year: Meet Me in St. Louis will be played at every Cardinals home game next year, according to Adam Crane, the orchestra's vice president of external affairs [and one of Musical America's Rising Stars].
"We're a local team as well,'' says Crane, a St. Louis native. "We've been trying to find ways to be more connected to pop-culture things in the community. We want to be part of the conversation."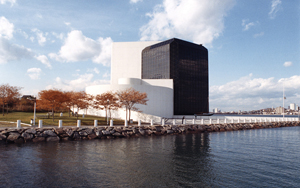 Boston Lyric Opera Launches Opera Annex
"This particular series has allowed the company to have its cake and eat it too," says Jeremy Eichler, Boston Globe music critic. "They have been able to make a significant step toward modernizing as a company without creating the perception of a drastic change that might frighten traditional subscribers away."
Founded in 1976, Boston Lyric typically presents four operas per season. Since 2010, however, three of them—the relatively mainstream operas—have been on the company's main stage, the 1,500-seat Citi Performing Arts Center Shubert Theater—and one, a chamber opera, in an unusual space in the area. Boston Lyric launched Opera Annex with Benjamin Britten's The Turn of the Screw in the Park Plaza Castle, an enormous stone armory built in the 1890s. The most recent Opera Annex production was Peter Maxwell Davies's To the Lighthouse staged in the John F. Kennedy Presidential Library and Museum, which faces Boston harbor.
Audiences have taken well to the new program, turning out in large numbers for each production.
"The performances and repertoire choices have been very strong," says Eichler. "It seems to me that they get a nice combination of folks that you might see at their traditional operas but also these people coming out of the woodwork—musical insiders and a younger, hipper crowd."
Opera Annex draws critics from beyond Boston as well.
"This means a lot to a regional company,'' says Eichler, who says the last two Annex shows attracted the only significant out-of-town press to show up at a Boston Lyric production that he's ever seen. "So all of a sudden the company is part of the national dialogue."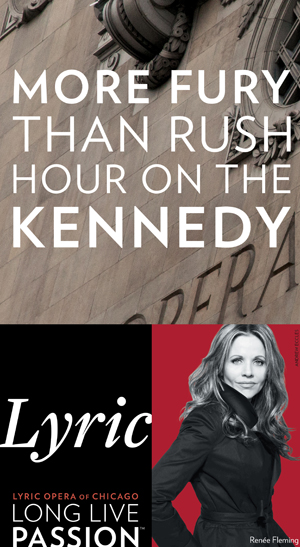 Chicago Symphony Orchestra Brings on
Yo-Yo Ma as Creative Consultant

Lyric Opera of Chicago Adds
Renée Fleming as Creative Consultant
Chicago likes to think of itself as a no-nonsense kind of town. But star power has always been part of the city's musical DNA. Lyric Opera launched itself in 1954 in sensational fashion with the American debut of Maria Callas. In the 1970s and 1980s, Sir Georg Solti and the Chicago Symphony Orchestra strode the planet like classical music rock stars.

In 2007, the City of Chicago issued a detailed study of the local music industry titled Chicago— Music City. Virtually absent were the CSO and Lyric, whose combined budgets at the time surpassed $100 million. The focus, instead, was on pop music and various offshoots including blues and jazz.

That was then. Today, it's inconceivable that a similar study could ignore either institution. Yo-Yo Ma has popped up with his cello as part of a singing flash-mob at a downtown commuter station.

Larger-than-life images of Fleming, looking hip and glamorous in a black jacket, adorn bus shelters and billboards. At one point, the two of them teamed up with the CSO for a short, unannounced concert in the food court of a downtown Chicago office building.

Ma and Fleming aren't the only music stars circulating among the masses. CSO Music Director Riccardo Muti has made it very clear publicly that connecting with the community is a major priority, and many of the orchestra's musicians are active in more low-profile, long-term projects with schools and other local organizations.

"It's all about a new role in the community," says Susan Mathieson Mayer, Lyric's director of communications. "It's all about reaching out, talking to new groups of people in ways that we never did before. The days are gone when the opera company can be here in its beautiful house and expect everybody to come in."

Continue to Part 2, 2012's Ten Truly Inspired Ideas



Copyright © 2023, Musical America