2012 News Milestone No. 1
By Nancy Malitz
November 29, 2012




The Year 2012 saw some game-changing developments in the performing arts industry. We reported all of them in real time on MusicalAmerica.com, but here's a quick review and status update on each.
---
Streaming Music, with a 40 Percent Revenue Spike,
Becomes the Fastest-Growing Digital Format
A sea-change has occurred in the way a younger generation acquires its music—a steady progression away from the CD mirrored in the death last year of Norio Ohga, the former president and chairman of Sony who spearheaded the company's development of the silver digital disc. BBC News reported that while CDs and vinyl LPs still account for 61 percent of global recording sales, on-demand streaming became the fastest growing music delivery method in 2012 with a 40 percent jump in revenue.

At Issue: In this whirling new world, the familiar old format wars have returned. The battle lines are being drawn among providers of media players with download "stores" for building private libraries (such as iTunes), services offering temporary access to millions of music audio files on demand, either fee-free with ads, or ad-free with a fee (such as Spotify), and a webcast counterpart for live concerts and videos (such as Medici.tv). The digital platforms include mobile phones, game consoles, laptops and Internet TV. As Denise McGovern, digital sales manager for Universal Music told Musical America, labels today not only consider digital sales a top priority but often issue digital-only recordings. Music streaming service Spotify added 5 million users in the first nine months of 2012, according to Bloomberg.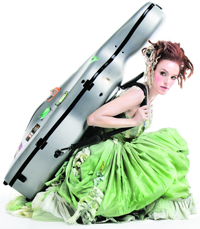 Current status: Many classical music institutions are cutting innovative distribution deals (Berlin Philharmonic concert streams will be available on Sony's Internetenabled TVs). Still, it remains to be seen how musicians will profit from the transition to streaming. Cellist Zoë Keating, who sells downloads and CDs on her web site and through other distributors, says she thinks Spotify is "awesome as a discovery platform" but that its low royalties mean it's no replacement for digital and physical sales: she earned $281.87 for songs that were played 72,800 times, and does far better with iTunes and Amazon.

At the same time, piracy is rampant, further threatening potential revenue. In London alone, in the first half of 2012, more than 7 million files were downloaded illegally, according to the Digital Music Index produced by the monitoring service Musicmetric. "It is having a significant effect on investment in new music," Geoff Taylor, chief executive of U.K. music industry body the BPI, told BBC News. "That remains our serious concern."



Copyright © 2021, Musical America