Winners Tell Their Stories: Nigel Armstrong


By Susan Elliott
May 1, 2012




Nigel Armstrong, Violinist
Winner Best Performance of a Commissioned Work
Winner Fourth Place, 2011 Tchaikovsky International Competition, St. Petersburg and Moscow, Russia.

What was the atmosphere like at the competition? Did just being there help your career?
It was a great atmosphere, with lots of camaraderie. When I first got there [Armstrong was in Russia for three weeks], it felt like the beginning of summer music camp. Everyone was a little nervous.

I think it helped in terms of my playing. I had never done so much playing in such a short amount of time.
How did winning impact your career?
I've gotten a lot of attention, especially from the Stomp video. [Stomp was the new piece, by John Corigliano, for which he won the top prize.]. The publicity has been really helpful; it feels like I'm performing a lot more. [Armstrong is enrolled at the Curtis Institute, where he has one more year before graduating.]
Why did you enter the Competition?
For the prestige, I guess. But also there was a lot of talk about revitalizing the Tchaikovsky, bringing in international judges and soloists. I was ecstatic when I made the semi-finals. And certainly I was happy for the chance to go to Russia.
How did you prepare?
I scheduled a series of recitals—one every weekend for the month of April—covering the repertoire for the final rounds. I was able to play some of the concertos in my studio class. I played the Tchaikovsky the day before I left, on the West Coast.
What are your thoughts today about competitions?
They serve a very good purpose. They're especially good for people who haven't been able to gain much exposure, because anyone can enter and the result is based purely on how well you play. It's also an opportunity to meet other musicians from around the world and to travel—a lot of competitions today will pay for your transportation.

That said, there's always the danger of getting into the competition mindset and doing competitions instead of performing; they should be looked upon only as a means to help one's playing and performing.
---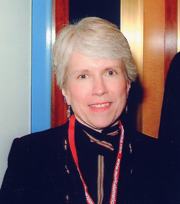 Susan Elliott has been news editor of MusicalAmerica.com since shortly after its inception in 1998 and has received an ASCAP Deems-Taylor award for her efforts. She is also a
freelance journalist and critic whose articles have appeared in The New York Times, The Atlanta-Journal Constitution, and BBC Music, among others. Previously she was chief classical music critic for The New York Post.

Additional Winner Stories
Joshua Weilerstein, violinist/conductor

Nadja Salerno-Sonnenberg, violinist



Copyright © 2023, Musical America