---
All material found in the Press Releases section is provided by parties entirely independent of Musical America, which is not responsible for content.
Everbest Music Reissues a Two-CD Set of Virgil Thomson's Work Performed by Anthony Tommasini and Friends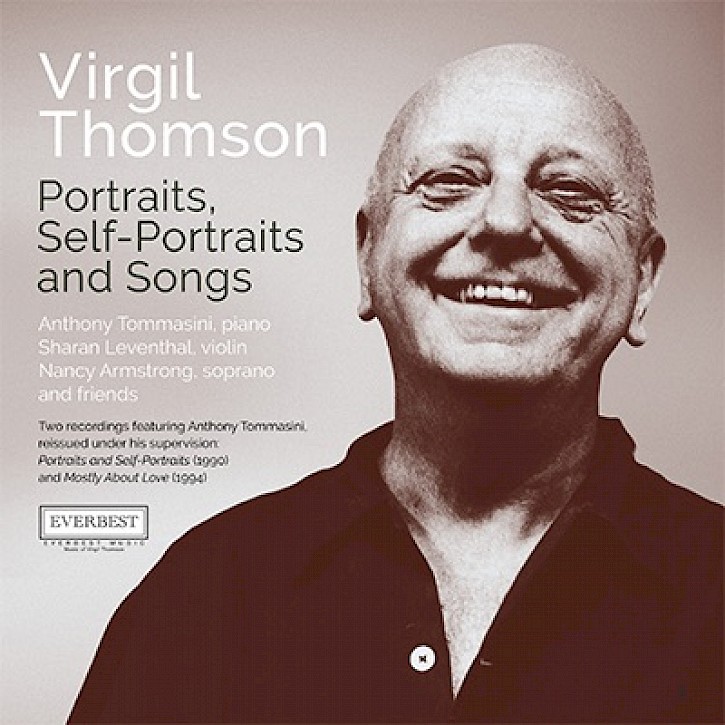 New York, NY (For Release 10.23.20) — The Virgil Thomson Foundation today announced the October 23rd reissue of two critically-acclaimed albums: Portraits and Self-Portraits and Mostly About Love. Featuring rarely performed gems by Pulitzer Prize-winning composer/author Virgil Thomson (1896-1989), both recordings were originally released in the early 1990s by the now defunct Northeastern Records. Recorded under the supervision of Anthony Tommasini, pianist and, since 2000, the chief classical music critic for The New York Times, these definitive recordings include Thomson's chamber and vocal works showcasing his signature wit and shrewd musical style.
A champion of American music and arguably America's greatest composer-critic, Thomson was, as Aaron Copland hailed him, "about as original a personality as America can boast…the Father of American Music." Comprised of 68 tracks, these two albums provide a better understanding of one of the most important composers of the 20th century. Many of the albums' works were never before recorded, and six were never published. Both albums were produced and performed by Anthony Tommasini who knew Thomson for the last 10 years of the composer's life. He is the author of the much-admired Thomson autobiography Composer on the Aisle (Norton) and of Virgil Thomson's Musical Portraits (Pendragon Press). According to Tommasini, "Thomson was an original musical thinker. His music is still freshly contemporary today."
From 1928 until his death in 1989, Thomson engaged in the practice of composing some 150 abstract musical portraits of people. Following the standard practice of his many painter friends, Thomson composed his portraits in the presence of the subject, his sitters, as he called them, usually in a session lasting no more than 90 minutes, to assure spontaneity. Tommasini says in his book that "Thomson's portraits are distinguished by the unique compositional method with which they are produced, by their vitality and variety, and by their volume." This unique musical portraiture is on display in Portraits and Self-Portraits (1990). According to critics, this fascinating body of work embodies "marvelous freshness, spontaneity, and sharply defined character…A fascinating disc, superbly played and annotated (The Washington Post)," and is "an elegant combination of the cosmopolitan and the homespun…a wonderful memorial, and a loving tribute (The Boston Phoenix)."
Mostly About Love (1994) is an anthology of songs and vocal works written between Thomson's first setting of Gertude Stein in 1926 and his setting of Frank O'Hara in 1972. Many of the album's works were never before recorded. Two were never published. The album's opener is Thomson's very first Stein setting Susie Asado. Fanfare raved: "The performances on the whole disc are absolutely and uniformly first rate. With singers this good, it's hard to play favorites...Tommasini is a wide-ranging musician…a pianist and accompanist of real talent. It is a landmark in the Thomson discography. This disc goes a long way to explaining the true nature of Thomson's genius, and in the process imparts to the listener a sense of the freshness, fun, humor, and joy that make his music such an important cornerstone of the American canon."
About Virgil Thomson
Virgil Thomson (1896–1989) was a many-faceted composer of great originality and a music critic of singular brilliance. After studying at Harvard, he moved to Paris to study with Nadia Boulanger, and remained in France for most of the next 15 years, meeting Cocteau, Stravinsky, Satie and the artists of Les Six. When he finally returned to the US in 1940, he became chief music critic for the New York Herald Tribune. Thomson composed in almost every genre, utilizing a style marked by sharp wit and overt playfulness, and produced a highly original body of work rooted in American speech rhythms and hymnbook harmony. Among his most famous works are the operas Four Saints in Three Acts and The Mother of Us All (both with texts by Gertrude Stein), scores to The Plow That Broke the Plains and The River (films by Pare Lorentz), and Louisiana Story (film by Robert Flaherty). In addition to his compositions, he was the author of eight books, including an autobiography. Included in his many honors and awards are the Pulitzer Prize, a Brandeis Award, the Gold Medal for Music from the American Academy of Arts and Letters, the National Book Circle Award, and the Kennedy Center Honors. The 25th anniversary of his death was commemorated during 2014. www.virgilthomson.org
# # #

WHO'S BLOGGING


RENT A PHOTO
Search Musical America's archive of photos from 1900-1992.