---
A Muti Protégé, Moving up the Ladder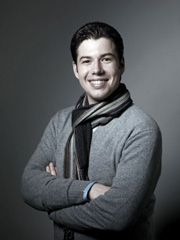 VIENNA -- It seems every year at the Salzburg Festival there's buzz about a breakthrough performance. This past summer, from the moment I arrived, the name on everyone's lips, from the press office to established singers, was Antonio Poli.
A graduate of the 2010 Salzburg Festival Young Singer's Project, Poli was cast by Riccardo Muti in the role of Conte Almaviva in the following Pfingstenfestspiele (Whitsun Festival) production of the Mercadante rarity "I due Figaro" and, in the main summer festival, in the second tenor role of Malcolm in Verdi's "Macbeth." But his big breakthrough came in last summer's hottest ticket: two opera-in-concert, double-bill performances of Stravinsky's "Le rossignol" and Tchaikovsky's "Iolanta," the latter featuring the only 2011 opera appearances by Anna Netrebko.
Singing the lead tenor role of the Fisherman in the Stravinsky and the supporting role of Alméric in the Tchaikovsky, Poli held his own against his starry colleagues. I was impressed with the sheer beauty of his voice, but also his mature, sterling technique, breath control and natural eloquence, not to mention impressive Russian diction. It is a full-bodied, expressive, Italianate sound that easily soared over Stravinsky's exotic orchestrations as performed by the Mozarteumorchester under Ivor Bolton.
After Salzburg, the peripatetic native of Viterbo, Italy, proceeded to Venice for Don Ottavio in "Don Giovanni" at the historic Teatro la Fenice. On a break between performances in mid-September, he drove to Salzburg to visit his girlfriend, and then to Graz for a coaching session with his Roman voice teacher, Romualdo Savastano, and to chat with MusicalAmerica.com. I met him in the cantina of Graz's opera house (where he debuted last season as Ottavio) for two hours of intense conversation.
I was surprised by his height – somehow he doesn't look 6'1" onstage – and his black goatee makes him appear older than his 25 years. A blue satin shirt made his large, expressive brown eyes appear even more sparkling.
A bundle of energy, Poli told me how he came to opera in slightly accented but generally excellent English. The product of an ordinary middle-class family with one older sister, young Antonio found himself singing at every opportunity. Perhaps it's genetic: when she was 15, his mother wanted to be a pop singer, but was told by Antonio's grandfather, "If you want to learn opera, I will give you the money, but otherwise, not!" So there was no pressure on her son when, after being taken to the San Remo Festival at age eight, he couldn't stop singing.
"My mother asked, 'Do you want to do this?' and I said, 'Why not?' and she brought me to a singing teacher and we started this for play – not seriously," he reminisced. Despite his first teacher's specialty in classical music, Antonio wanted to perform songs by Andrea Bocelli and other Italian pop singers (he still idolizes Freddie Mercury from Queen). After two years, she advised him that his voice was "special" and well-suited to opera, but the boy resisted: "No: it's boring," he told her. She did, however, insist that he learn an instrument, and thus began seven years of piano study culminating with Antonio taking first place over 150 other entrants at the academy in Rome.
Still, he dreamt of pop stardom, sending out CDs to record companies, agents and the San Remo Festival. Then came an epiphany.
"My father bought me a CD of Plácido Domingo for my birthday when I was 17 and I asked, 'What is this, papa?'" he relates. "He said, 'I don't know him but I heard he is a good singer.' It was so strange: I was in my room and I started to listen and all day I played this CD over and over because I was in love with this voice, with this color, with the musicality, and then I started to imitate the voice. I learned some music – 'L'elisir,' 'Carmen' – but only for amusement. The next time I was at my singing teacher's I said, 'Maybe we can do some arias, but just for play,' and she said, 'OK: we'll learn some arias.'"
What followed was a dizzying period of entering – and winning – top prizes in international vocal competitions attended by personnel from Europe's biggest houses and festivals. After winning €15,000 at a competition in Ferma, Poli decided, finally, to pursue a career in opera, and began studies with legendary soprano Renata Scotto, who invited him to participate in her master classes.
Ironically, at the same time Poli received a call from Bocelli's manager offering him a pop music deal; he declined, telling her that it was his intention to become an opera singer. He recalls "She told me 'You have a lot of courage because a lot of opera singers would jump at an opportunity to be a pop star, and I respect your choice, but if you want to come back to me in ten years…' It was an important step for me because it was the first time I understood what I feel for this work, how important my passion was."
Scotto advised she could only take him so far and that he needed to cultivate his technique, which led him to studies with Savastano. An offer from the Young Singers Ensemble in Dresden led to his first stage performances and the opportunity to learn German. His official debut followed, singing Artur in "Lucie de Lammermoor" in Amsterdam and Valencia and then Don Ottavio in Graz.
In between, he participated in the Salzburg Young Singers Project, which led Muti to invite him to Rome to sing in "Nabucco," "I due Figaro" in Salzburg, Ravenna and Madrid and "Macbeth" at Salzburg. So impressed was Muti that he offered him Macduff, the lead tenor in "Macbeth" in Rome this coming November and December.
But Poli doesn't plan a steady diet of Verdi... at least not yet: "I promised myself that I will do this only once with Maestro Muti but no one else. I don't know how my voice will develop because every month I feel that's its getting better and better, but for now I want to do bel canto – 'L'elisir,' Mozart, 'Falstaff,' 'Rigoletto' in two or three years, Donizetti – but I'm not sure what I want to do after that. Maybe Roméo, Faust, then 'Bohème.' It's a logical progression. You have to learn like Di Stefano, Pavarotti, Domingo, like so many and then decide what repertoire is right for you."
Coming up are debuts at Hamburg (Don Ottavio), Covent Garden (Cassio in "Otello"), La Scala and Glyndebourne (Fenton in "Falstaff") and a return to Graz for a new "L'elisir d'amore" next season.
Muti remains one of Poli's biggest influences. "We were in Ravenna and he said to me, 'You sang wonderfully yesterday,' and I thanked him for helping me. He said, 'I didn't do anything for you,' but I told him that he tested me and taught me to color my voice and discover how to sing piano and mezza voce that I would have never learned alone. I learned from him onstage what would otherwise take five or six years. And we laugh a lot!"

WHO'S BLOGGING


RENT A PHOTO
Search Musical America's archive of photos from 1900-1992.