---
MA's Free Guide to (Mostly) Free Streams, Feb. 15-22
We will be updating this list weekly. Please note that all times are given in U.S. Eastern Time (ET). To calculate in other time zones or counties, British Summer Time (BST) is currently five hours ahead of ET and Central European Time (CET) is currently six hours ahead. U.S. Central Daylight Time (CDT) is one hour behind ET. Mountain Time (MT) is two hours behind ET, while Pacific Time (PT) is three hours behind. Contact editor@musicalamerica.com.
Classical music coverage on Musical America is supported in part by a grant from the Rubin Institute for Music Criticism, the San Francisco Conservatory of Music, and the Ann and Gordon Getty Foundation. Musical America makes all editorial decisions.
---

** Highly recommended
Monday, February 15
** 12 pm ET: Deutsche Oper Berlin presents Zemlinsky's Der Zwerg. Adapted from The Birthday of the Infanta by Oscar Wilde, Zemlinsky's opera takes on autobiographical undertones, alluding to Zemlinsky's love affair with the young Alma Schindler—later Alma Mahler. As a prelude to the opera, Adelle Eslinger-Runnicles and Evgeny Nikiforov take on the roles of Alexander and Alma, set to Schoenberg's Begleitmusik zu einer Lichtspielszene (Accompanying Music to a Film Scene). Music director Donald Runnicles conducts with the Dwarf performed simultaneously by actor Mick Morris Mehnert and tenor David Butt Philip. Elena Tsallagova is the infanta with Emily Magee and Philipp Jekal in Tobias Kratzer's gripping staging. View here (requires Medici.tv subscription).
1 pm ET: Wiener Staatsoper presents Minkus's Don Quixote. Choreography: Rudolf Nureyev. With Maria Yakovleva, Denys Cherevychko, Ketevan Papava, Roman Lazik, Olga Esina, and the Corps des ballet of the Vienna State Opera. Production from May 2016. Register for free and view here.
2:15 pm ET: Bayerischen Staatsoper presents Stravinsky's The Soldier's Tale. Actor Dagmar Manzel narrates Stravinsky's tale of one man against the devil with the help of a trio of dancers. Vladimir Jurowski conducts an ensemble of seven. Tickets Euro 4.90. View here. LIVE
** 2:30 pm ET: Wigmore Hall presents The Sixteen. Recorded this month, Harry Christophers conducts The Sixteen in Renaissance music by John Browne, Richard Davy, King Henry VIII, Walter Lambe, William Cornysh, and good old Anon. Register, view here and on demand for 30 days.
5 pm ET: Baryshnikov Arts Center presents Justin Hicks: Use Your Head for More. Presented as a series of audio-visual portraits, Use Your Head for More regenerates the transcript of a conversation between composer Justin Hicks and his mother, engaging found sound and personal archive in a performance of reimagining, remembering, and reminding. Film Location: The artist's home in Bronx, NY. View here until March 1.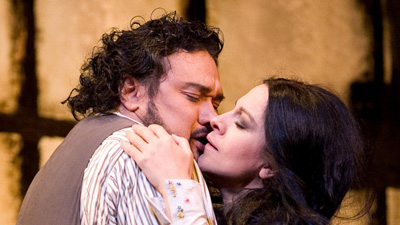 7:30 pm ET: Met Opera Streams presents Puccini's La Bohème. Starring Angela Gheorghiu, Ainhoa Arteta, Ramón Vargas, Ludovic Tézier, and Oren Gradus, conducted by Nicola Luisotti. Production by Franco Zeffirelli. From April 5, 2008. View here and for 24 hours.
7:30 pm ET: Chamber Music Society of Lincoln Center presents The Art of Interpretation: Debussy & Stravinsky. CMS musicians showcase how artists interpret specific musical passages and prepare to perform a piece of music. Here, Alessio Bax and Lucille Chung explore Debussy's Prélude à l'après-midi d'un faune for Piano, Four Hands (arr. Ravel) and Stravinsky's Petrushka for Piano, Four Hands. View here and on demand for a week.
7:30 pm ET: SalonEra presents Stylus Fantasticus. Harpist Maria Cleary joins baritone Jonathan Woody and violinists Julie Andrijeski and Tekla Cunningham to unveil a cabinet of 17th-century musical wonders. View here.
Tuesday, February 16
1 pm ET: Wiener Staatsoper presents Mozart's La Clemenza di Tito. Conductor: Adam Fischer, director: Jürgen Flimm. With Benjamin Bruns, Caroline Wenborne, Margarita Gritskova, Hila Fahima, and Miriam Albano. Production from April 2016. Register for free and view here.
1 pm ET: Berliner Philharmoniker Digital Concert Hall presents The Golden Twenties with Marie Jaquot. The 1932 film Kuhle Wampe (Empty Stomach) depicts the bitter fate of a working-class family during the Great Depression. The music is by Hanns Eisler, who compiled a concert suite. Kurt Weill worked in many different genres as his Violin Concerto and Second Symphony demonstrate. In the latter, funeral marches à la Mahler contrast with trenchant rhythms in the best Threepenny Opera tradition. Jaquot conducts Scholars of the Karajan Academy. Tickets EUR 9.90. View here. LIVE
2:30 pm ET: Wigmore Hall presents Pavel Kolesnikov. In a recital pre-recorded this month, the pianist plays Bach's Goldberg Variations. Register, view here and on demand for 30 days.
3 pm ET: Handel + Haydn Society presents Glories of the Baroque: Vivaldi. Concertmaster Aisslinn Nosky directs a program of Vivaldi, featuring the H+H string section and countertenor Reginald Mobley. Host Emily Marvosh converses with the musicians before each piece, performed in the evocative setting of St. Cecilia Parish. Program: Vivaldi's Concerto for Violin and Organ in D Minor, RV 541, Concerto for Violin in D, RV 230, and Cantata Cessate, omai cessate, RV 684. Register and view here.
7 pm ET: Miller Theatre at Columbia University presents JACK Quartet. JACK Quartet's very first concert featured Helmut Lachenmann's string quartet Grido, and it's been a constant for them ever since. They perform the work here alongside two other solo pieces by Lachenmann, which explore non-traditional techniques and sounds. View here and on demand.
7 pm ET: Buffalo Philharmonic Orchestra presents Havana Nights. Trumpeter, arranger, and conductor, Jeff Tyzik (currently Principal Pops Conductor of the Rochester Philharmonic Orchestra) recreates a sultry, passionate evening of Latin music from Cuba, Spain, and Argentina, from steamy tangos to seductive ballads. Tickets $10. View here until March 18.
7:30 pm ET: Nightly Met Opera Streams presents Verdi's Falstaff. Starring Mirella Freni, Barbara Bonney, Marilyn Horne, Bruno Pola, and Paul Plishka, conducted by James Levine. Production by Franco Zeffirelli. From October 10, 1992. View here and for 24 hours.
Wednesday, February 17
** 8 am ET: Wigmore Hall presents The Cardinall's Musick. In a recital pre-recorded this month, Andrew Carwood's award-winning vocal ensemble performs a program entitled Shriven and Forgiven: Music for Ash Wednesday featuring music by Tallis, Byrd, Taverner, Mundy, Weeles, and Tye. Register, view here and on demand for 30 days.
12 pm ET: Princeton Symphony Orchestra presents The Musical Offering Part 1. Musicians of the Princeton Symphony Orchestra perform Bach's Das Musikalische Opfer (The Musical Offering), BWV 1079 over four episodes, released weekly. PSO assistant conductor Nell Flanders curates the project, which is being individually recorded in musicians' homes then combined digitally. Each segment is hosted by Flanders who introduces the music in tandem with conversations centering on Bach and his work. View here.
12 pm ET: Kronberg Academy presents Kirill Gerstein in an online seminar with pianist Robert Levin to discuss performing Mozart's piano concertos. As a celebrated improviser, Levin is uniquely positioned to examine the ways in which Mozart as soloist introduced elements of spontaneity in his performances, including decoration of recurring themes, the improvisation of lead-ins and cadenzas, and continuo playing. Finally, is it necessary to adhere to Mozart's conventions regarding keyboard range, style, and tonal considerations? Register here for the free Zoom seminar. LIVE
1 pm ET: Wiener Staatsoper presents Mozart's Die Zauberflöte. Conductor: Adam Fischer, director: Moshe Leiser, Patrice Caurier. With Benjamin Bruns, Olga Bezsmertna, Íride Martínez, Markus Werba, and Annika Gerhards. Production from January 2015. Register for free and view here.
1:45 pm ET: Budapest Festival Orchestra presents Fischer conducts Bartók, Schubert & Dvorák. Iván Fischer conducts the BFO in Bartók's Romanian Folk Dances (with the melodies performed as they originally were, by a folk ensemble), Schubert's Symphony No. 8 in B minor, Unfinished, D. 759, and Dvorák's Symphony No. 8 in G, Op. 88. Tickets Euro 10. View here.
2 pm ET: IDAGIO presents Classical (R)evolution with Rachel. Join soprano Rachel Fenlon as she explores what breaking the rules, embracing uncertainty, and thinking "outside the box" does for classical music-making. In this episode: composer Sarah Nemtsov. View here. LIVE
2:30 pm ET: Philharmonie de Paris presents Les Arts Florissants: Monteverdi Madrigals. Paul Agnew leads a vocal ensemble in madrigals by Monteverdi. View here until August 17 LIVE
2:30 pm ET: Wigmore Hall presents Lana Trotovsek & Maria Canyigueral. In a recital pre-recorded this month, the violinist and pianist perform Beethoven's Violin Sonata No. 8 in G, Op. 30, No. 3, Spring Op. 24, and Violin Sonata No. 7 in C minor, Op. 30 No. 2 (II. Adagio molto espressivo). Register, view here and on demand for 30 days.
** 7:30 pm ET: Nightly Met Opera Streams presents Mascagni's Cavalleria Rusticana & Leoncavallo's Pagliacci. Starring Tatiana Troyanos, Jean Kraft, Plácido Domingo, and Vern Shinall; Teresa Stratas, Plácido Domingo, Sherrill Milnes, and Allan Monk, conducted by James Levine. Production by Franco Zeffirelli. From April 5, 1978. View here and for 24 hours.
7:30 pm Orchestra of St. Luke's presents Sounds Like A Symphony: Fanny and Felix. Fanny Mendelssohn Hensel and her younger brother Felix were both child prodigies, but while Felix became one of the rising stars of his generation, Fanny's star was held back by the societal expectations and prejudices at the time. Written in 1835, Hensel's String Quartet in E-flat is one of the first known string quartets composed by a woman. It's paired with Felix's String Octet. With host Terrance McKnight and Augustin Hadelich, violin and guest leader. Tickets $40 (suggested). View here.
8 pm ET: Baltimore Symphony Orchestra presents BSO Sessions: Recovered Voices. Artistic Advisor James Conlon makes his BSO Sessions debut with a program that gives voice to composers suppressed by Nazi censorship. Conlon discusses his "Recovered Voices" project with the Los Angeles Opera. Works showcased in this episode include Klein's Partita for String Orchestra, Haas's Study for String Orchestra, Schreker's Intermezzo, Op. 8, Ravel's Kaddisch from Deux Mélodies Hébraïques, and Schulhoff's Sextet. Tickets $10. View here and on demand.
Thursday, February 18
6:15 am ET: Royal Stockholm Philharmonic presents Sheku Kanneh-Mason plays Dvorák. The RSPO is conducted by Nathalie Stutzmann with cellist Sheku Kanneh-Mason in Dvorák's Cello Concerto and Tchaikovsky's Symphony No. 5. View here and on demand.
12 pm ET: Boston Symphony Orchestra presents BSO Online. Andris Nelsons leads the BSO in Beethoven's Symphony No. 6, Pastoral, and Iman Habibi's Jeder Baum spricht. A chamber music performance of Debussy's Sonata for flute, viola, and harp—featuring BSO musicians Cynthia Meyers flute, Danny Kim viola, and Jessica Zhou harp—completes the program. Donate $100 for full access and view here for 30 days.
12 pm ET: London Mozart Players presents Piano Explored: Saint-Saëns & Mendelssohn. The seventh season of Piano Explored, postponed from October 2020 to February 2021, opens with Saint-Saëns Second Piano Concerto—a tour de force for any pianist—paired with Mendelssohn's a charming one-movement Capriccio Brillant, which reveals the best in sophisticated pianistic art. Howard Shelley's entertaining and informative introduction will be followed by a performance of both works by the LMP with Shelley directing from the piano. Tickets £8. View here.
1 pm ET: Wiener Staatsoper presents Donizetti's L'Elisir d'Amore. Conductor: Marco Armiliato, director: Otto Schenk. With Valentina Nafornita, Stephen Costello, Marco Caria, and Erwin Schrott. Production from June 2016. Register for free and view here.
2:30 pm ET: Wigmore Hall presents Riot Ensemble. In a recital pre-recorded this month, the ensemble weaves together the natural elements of earth, water and air to explore the idea of voices in the natural world, from the spiraling clouds of Aaron Holloway-Nahum, to the ghosts of the forests in Michaela Catranis' quartet, to the delicacy of Lee Westwood's work for solo piano. Featuring the world première of Naomi Pinnock's Vestige alongside the Farsi poetry of Ashkan Behzadi and the string trio of Anna Korsun's Sottillissime. Register, view here and on demand for 30 days.
3 pm ET: San Francisco Symphony presents Currents: Indian Classical Musical Culture: Zakir Hussain. A concert exploring the intersection between classical music and Indian classical musical culture. Curated by tabla virtuoso and composer Zakir Hussain, with SF Symphony musicians and Indian classical violinist Kala Ramnath. Program: Zakir Hussain's Laya –Jam and Bichhua, and the traditional piece Sands of Time. Tickets $15. View here and on demand.
5 pm ET: Concert Artists Guild presents Alpin Hong. Pianist and CAG alumni Alpin Hong curates a program with video from his creative educational outreach performances and collaborations throughout the years. View here. LIVE
5 pm ET: The Violin Channel presents Vanguard Concert: Joshua Bell & Alessio Bax. The second of a 10-episode digital series of hour-long concerts, shot with seven cameras in 4K. Joshua Bell, violin, and Alessio Bax, piano, play Bach's Sonata for Violin and Keyboard No. 4 in C minor BWV 1017, Schubert's Rondo for Violin and Piano in B minor D. 895, Wieniawski's Polonaise Brillante No. 1 in D, Op. 4, and Chopin's Nocturne in E minor, Op. 72 No. 1 (Arr. Bell/Wallace). View here.
6 pm ET: National Sawdust presents The Vanishing Point. A collaboration between experimental musicians Booker Stardrum and Lisel (aka Eliza Bagg), and dancer/choreographer Gwendolyn Gussman conceived as video art and intended for the digital stage. One lonely body in uncanny spaces is accompanied only by digital manipulations and iterations of her own form. The piece meditates on the chaos of cyberspace and the destruction of the oceans, atmosphere, and trees, and our own culpability in precipitating these events. View here. LIVE
6 pmET: Tribeca New Music presents More Than We Are. The Sirus Quartet, a group made up of performing composers Jeremy Harman (cello), Gregor Huebner and Fung Chern Hwei (violins), and led by founding member Ron Lawrence (viola), play new and recent works by quartet members alongside the Division 2 winning score for the TNM 2020 Young Composer Competition by Louis Josephson, and a new arrangement of Paul McCartney's Eleanor Rigby. Tickets pay what you can. View here.
6 pm ET: Philadelphia Chamber Music Society presents Sphinx Virtuosi. Venezuelan violinist Rubén Rengel, Cuban-American cellist Thomas Mesa, and pianist Michelle Cann perform Casarrubios's SEVEN for Solo Cello, Montgomery's Rhapsody No. 2 for Solo Violin, Debussy's Cello Sonata, Bartók's Violin Rhapsody No. 1, and Shostakovich's Piano Trio in E Minor, Op. 67. View here.
7 pm ET: Kaufman Music Center presents Ecstatic Music. Bell Orchestre comes together in the Canadian countryside to make this unique concert film. Six musical mavericks, including Arcade Fire members Sarah Neufeld and Richard Reed Parry, cite such diverse influences as Talk Talk, Lee 'Scratch' Parry, and Arvo Pärt, which come together to form a contemporary sound, "as if Debussy had composed his fragile impressionism with the knowledge of the ecstatic possibility of a pop concert." Tickets $15. View here.
7 pm ET: New England Conservatory presents Black History Month: Trio Gaia & Friends. In celebration of Black History Month, the Black Student Union presents a livestream concert by Trio Gaia featuring Andrew Barnwell, Grant Houston, and Yi-Mei Templeman performing Five Negro Melodies for Piano Trio. Geneva Lewis, Maria Ioudenitch, Zhanbo Zheng, and Gabriel Martins will also perform Eleanor Alberga's String Quartet No. 2. View here.
7 pm ET: Yevgeny Kutik presents Finding Home. A five-episode docu-recital series based on Kutik's 2014 album Music from the Suitcase. Each 30-40-minute episode weaves personal storytelling about his family's emigration from the deteriorating Soviet Union to the U.S. with performances of music that filled their suitcases on the trip. Episode 2, In Between looks at the strange and stateless journey through Europe, which millions of Soviet emigres undertook to start a new life before applying for asylum. Featuring music from Tchaikovsky's Swan Lake, Khachaturian's Nocturne, and Bloch's Baal Shem. Register and view here until 12 pm ET on February 21.
7:30 pm ET: Nightly Met Opera Streams presents Puccini's Tosca. Starring Hildegard Behrens, Plácido Domingo, and Cornell MacNeil, conducted by Giuseppe Sinopoli. Production by Franco Zeffirelli. From March 27, 1985. View here and for 24 hours.
7:30 pm ET: 92nd St Y presents Pablo Sáinz-Villegas. The global ambassador of Spanish guitar returns to the stage that first introduced him to the American guitar world to perform Spanish repertoire by Granados, Rodrigo, Tárrega, and Albéniz, including the evocative Leyenda/Asturias. Tickets $20. View here.
7:30 pm ET: Chamber Music Society of Lincoln Center presents Front Row Mainstage: In Earnest. Archival recordings of Schubert Quartettsatz in C minor for Strings, D. 703 and Tchaikovsky's Piano Trio in A minor, Op. 50. With Gilles Vonsattel piano, Chad Hoopes violin, Clive Greensmith cello, and the Escher String Quartet. Intermission features a Q&A with the artists. View here and on demand for one week.
** 7:30 pm ET: Detroit Symphony Orchestra presents The Lark Ascending. Violinist James Ehnes leads the DSO while performing Vaughan Williams's The Lark Ascending and the first of Bach's three Violin Concertos. Sibelius's Suite for Violin and String Orchestra completes the program. Tickets $12. View here.
7:30 pm ET: Celebrity Series of Boston presents Castle of our Skins. Castle of our Skins—a collective of artists dedicated to advancing Black artistry through music—remembers Dr. King's legacy and his complicated life. Daniel Bernard Roumain's String Quartet No. 2, King is a meditation on recordings of phone calls between King and his mistresses and the women's roles in shaping the Civil Rights Movement. George Walker's Lyric for Strings is a poignant navigation of the space between pain and hope dedicated to Walker's memories of his grandmother, who had been enslaved. Her grandson grew up to be the first Black composer to win the Pulitzer Prize for music. View here.
7:30 pm ET: Les Délices presents Games & Grounds. Musical versions of Aesop's timeless fables interspersed with virtuosic ground bass variations by Jean-Féry Rebel, Marin Marais, Jean-Philippe Rameau, and others. Featuring tenor Jason McStoots and soprano Elena Mullins, who presents new choreography for Rebel's showpiece Caractères de la danse. Tickets $20. View here and on demand.
7:30 pm ET: Rochester Philharmonic Orchestra presents String Fever. Principal Pops Conductor Jeff Tyzik conducts music to warm you up during the cold Rochester months. Featuring Tyzik's Dance Suite for Oboe, Strings, and Piano, Spring from Vivaldi's The Four Seasons, Spring from Piazzolla's The Four Seasons of Buenos Aires, and Tyzik's Blues Suite for String Orchestra. Tickets $25. View here until April 4.
8 pm ET: The Philadelphia Orchestra presents Michelle Cann plays Florence Price. On the heels of their first performance of Florence Price's Symphony No. 1, the Philadelphia Orchestra and pianist Michelle Cann play Price's Piano Concerto in One Movement. This marks the first North American performance of the original orchestration of the work since the composer's death in 1953. Rossini's Overture to La scala di seta (The Silken Ladder) and Schubert's Symphony No. 4 complete the program. Tickets $17. View here and on demand until February 25. LIVE
8 pm ET: Atlanta Symphony Orchestra presents Behind the Curtain: Mozart & the Violin. Concertmaster David Coucheron plays Mozart's Violin Concerto No. 3 while Nathalie Stutzmann conducts Missy Mazzoli's Sinfonia (for Orbiting Spheres). Tickets $20. View here.
10:30 pm ET: Seattle Symphony presents Mozart & Schumann. The Symphony's first chamber performance of the season features musicians performing Juri Seo's Lost Songs, Schumann's String Quartet No. 2, and Mozart's Serenade No. 12, Nachtmusik. View here. LIVE
Friday, February 19
12 pm ET: Angel Blue presents Faithful Friday. The American soprano welcomes soprano Laquita Mitchell for this week's episode in season two of her topical talk show broadcast live every Friday. This is the latest installment of a series that aims to help people "keep the faith," believe in themselves, get motivated, and support each other during unsettling times. View here and on demand. LIVE
12 pm ET: IDAGIO presents Bach Cello Suites: Suite 5, Gigue: The Soothing. Jean-Guihen Queyras reveals the secrets of one of the most famous works for cello solo. This episode explores the final movement of Bach's Suite No. 5, a work that started in drama and concludes philosophically. View here. LIVE
1 pm ET: Wiener Staatsoper presents Rossini's La Cenerentola. Conductor: Jean-Christophe Spinosi, director: Sven-Eric Bechtolf. With Isabel Leonard, Maxim Mironov, Alessio Arduini, and Luca Pisaroni. Production from February 2018. Register for free and view here.
** 1 pm ET: OperaVision presents Debussy's Pelléas et Mélisande. Recorded in January 2021 at Grand Théâtre de Genève, choreographers Sidi Larbi Cherkaoui and Damien Jalet, together with performance artist Marina Abramovic, stage Pelléas et Mélisande as a cosmic dream. Conducted by Jonathan Nott, with Jacques Imbrailo, Mari Eriksmoen, Leigh Melrose, Matthew Best, and Yvonne Naef, dancers of Grand Théâtre Ballet, the Grand Théâtre de Genève Choir, and Orchestre de la Suisse Romande. View here for six months.
1 pm ET: Krannert Center presents Reflection and Renewal: Jupiter Quartet. A series exploring diverse composers and themes with each concert moving from a quartet masterpiece in a minor key to a more hopeful, major-key contemporary work. This week: Mendelssohn's String Quartet No. 6 in F Minor, Op. 80 (Allegro vivace assai), Haydn's String Quartet in D, Op. 76, No. 5 (Largo. Cantabile e mesto), and Visconti's Excerpts from Ramshackle Songs. View here.
1 pm ET: Trinity Wall Street presents Comfort at One. Soprano Molly Quinn from The Choir of Trinity Wall Street joins renowned organist Benjamin Sheen from Christ Church Cathedral, Oxford UK for an "at home" concert. The program of Purcell songs includes Evening Hymn and was recorded at Christ Church Cathedral. View here.
2 pm ET: Royal Opera House presents Tony and the Young Artists. Antonio Pappano, Music Director of The Royal Opera, and singers from the House's Jette Parker Young Artists Programme present an intimate evening set against the backdrop of Covent Garden's Crush Room. The specially recorded film sees mezzo-soprano Stephanie Wake-Edwards, soprano Alexandra Lowe, and tenor Filipe Manu perform arias and duets from operas such as Mozart's Così fan tutte, Gluck's Orfeo Ed Euridice and Verdi's Falstaff as well as songs by Weill and Bernstein. Tickets £10. View here until March 21.
2 pm ET: DG Stage presents Pumeza Matshikiza. The South African lyric soprano gives a recital in Berlin accompanied by pianist James Baillieu. Her program includes Hahn's musical portraits of Venice, four French art songs by Fauré, Obradors's settings of seven traditional Spanish songs, arias from Madama Butterfly, Tosca and Rusalka, and a special South African send-off. Tickets Euro 9.90. View here.
2 pm ET: Concertgebouworkest presents Beethoven's Eroica. The Concertgebouworkest performs Beethoven's Eroica Symphony conducted by François-Xavier Roth in the Main Hall of the Concertgebouw. Performance from August 2020. View here.
2 pm ET: La Monnaie presents Mozart's Der Schauspieldirektor. Competing singers, big egos and hectic preparations, Mozart drew from his own experience writing Der Schauspieldirektor in 1786, which pokes fun at the world of opera. In this new production, lain Altinoglu leads a cast of Mozart specialists including Mieke de Groote, Dietrich Henschel, Marie-Aurore D'awans, Yves Saelens, Evelien van Hamme, and Simona Saturová. Tickets Euro 10. View here.
2:30 pm ET: Wigmore Hall presents Alice Coote, Christian Blackshaw & Ralph Fiennes. The British mezzo-soprano presents an evening of songs by Tchaikovsky and his poets, interspersed with readings from actor Ralph Fiennes, including poetry by Alexander Pushkin and letters penned by the composer. Register, view here and on demand for 30 days.
** 3 pm ET: University of Washington's Meany Center presents Martha Graham Dance Company Then & Now. The Martha Graham Dance Company performs Graham's Appalachian Spring with original music by Copland. In this presentation, filmed at Jacob's Pillow in 2019, performance excerpts are interspersed with readings of letters between Graham and Copland. Current Martha Graham Artistic Director Janet Eilber speaks about the historical and current relevance of this work along with archival video from 1947. View here until February 26.
7 pm ET: The Gilmore presents Edward Callahan. Pianist and Kalamazoo native Edward Callahan kicks off The Gilmore's annual KeysFest—a day of master classes for students grades 1–12, featuring clinicians from regional universities, workshops, and more—with a solo recital of works by composers including Bach, Schubert, Chopin, Ravel, and Scriabin. Callahan, an alumnus of the Kalamazoo Public School system, was one of the first recipients of a Kalamazoo Promise scholarship. His 2019 debut album reached No 1 on the Classical iTunes Charts. View here.
** 7:30 pm ET: Nightly Met Opera Streams presents Mozart's Don Giovanni. Starring Carol Vaness, Karita Mattila, Dawn Upshaw, Jerry Hadley, Samuel Ramey, Ferrucio Furlanetto, and Kurt Moll, conducted by James Levine. Production by Franco Zeffirelli. From April 5, 1990. View here and for 24 hours.
** 7:30 ET: Celebrity Series of Boston presents Sir András Schiff. The pianist performs a concert recorded in Zurich. Program: Bach's Chromatic Fantasy and Fugue in D minor, BWV 903, Beethoven's Piano Sonata No. 17 in D minor, The Tempest, Bach's Capriccio on the Departure of his Beloved Brother, BWV 992, Beethoven's Piano Sonata No. 26 in E-flat, Les Adieux, and Schumann's Arabeske in C, Opus 18. Tickets from $15. View here.
8 pm ET: Washington Performing Arts & Choral Arts present Living the Dream, Singing the Dream. The long-running choral tribute to the life and legacy of Dr. Martin Luther King, Jr. moves online. In keeping with COVID-19 precautions, each singer will be recorded individually (with no other singers present), and all parts will be layered into a seamless whole. The program will also include inspiring archival performances from past years' concerts. View here and on demand.
8 pm ET: UChicago presents ~Nois. Chicago-based saxophone quartet ~Nois performs music by contemporary composers Gemma Peacocke, Sam Pluta, Marcos Balter, Viet Cuong, Georg Friedrich Haas, and Pauline Oliveros. View here until February 21. LIVE
8 pm ET: DACAMERA presents Sullivan Fortner. Filmed at the Steinway piano factory in New York, the rising star jazz pianist plays original compositions and standards from the American Songbook followed by a live talk back. Register and view here and for one week.
8 pm ET: Detroit Symphony Orchestra presents Ehnes: Brahms for Six. Violinist James Ehnes joins members of the DSO string sections in a chamber music setting to perform Brahms's Second Sextet. Tickets $12. View here. LIVE
8:30 pm ET: Houston Grand Opera presents Songs for Murdered Sisters. Five years ago, Joshua Hopkins's life changed when his sister Nathalie, along with two other women, was murdered by her ex-boyfriend in a spree that is now considered one of the worst cases of domestic violence in Canadian history. Co-commissioned by HGO, with music by Jake Heggie set to poems by Margaret Atwood, this powerful new work, directed by James Niebuhr, is Hopkins's way of honoring his sister's memory. Register and view here.
Saturday, February 20
10 am ET: Royal Stockholm Philharmonic presents Rising Stars: Aris Quartet. The German string quartet play Schulhoff's Five Pieces for String Quartet, Misato Mochizuki's in-side for string quartet, and Schubert's String Quartet in G, Op. 161. View here and on demand.
12 pm ET: VOCES8 Live from London, Spring presents The Winter House. A musical adventure to a secret house surrounded by snow, standing on the edge of a forest beside a frozen lake. Explore the house before embarking on a magical journey around the world to rescue the sun which has been stolen by a dastardly villain. Including music by Mozart, Vivaldi, Paul Smith, and Neil Valentine, and with music-making and activities to encourage your children, or your inner child, to come out and play. With the Academy of Ancient Music, Clare Stewart, VOCES8, and narrated by Stephen Fry and Tim Vaughan. Tickets $7 and view here.
1 pm ET: Wiener Staatsoper presents Bellini's La Sonnambula. Conductor: Guillermo García Calvo, director, stage and lighting: Marco Arturo Marelli. With Juan Diego Flórez, Daniela Fally, Luca Pisaroni, and Maria Nazarova. Production from January 2017. Register for free and view here.
** 1 pm ET: Bayerische Staatsoper presents Academy Concert: Kirill Petrenko. Petrenko conducts Beethoven's Symphony No. 1 in C, Op. 21 and Shostakovich's Symphony No. 1 in F Minor, Op. 10. View here.
1 pm ET: San Francisco Opera presents Puccini's La Rondine. Set 1920s Paris, this Art Deco-inspired production stars Angela Gheorghiu as the courtesan Magda de Civry. Concealing her identity, Magda visits a café where she falls in love with Ruggero, performed by Ukrainian tenor Misha Didyk. This co-production with Théâtre du Capitole de Toulouse and Royal Opera House, Covent Garden from 2007 is directed by Stephen Barlow. Ion Marin conducts. View here until midnight the following day.
** 1 pm ET: Berliner Philharmoniker Digital Concert Hall presents The Golden Twenties with Thomas Søndergård. Søndergård conducts three works from operas written in the 1920s whose music reflects the disparate attitudes to life of the time: Schreker's Schatzgräber, Berg's Wozzeck and Kurt Weill's Aufstieg und Fall der Stadt Mahagonny confront us with the dark depths of society and the human soul. The concert opens with the pastoral prelude to d'Albert's opera Tiefland, a tale of jealousy set among Spanish farmers in the Pyrenees, which premiered in 1903. Tickets EUR 9.90. View here. LIVE
2:15 pm ET: Czech Philharmonic Orchestra presents Bychkov conducts the Czech Student Philharmonic. Following the first half of the concert, conducted by Marko Ivanovic, Semyon Bychkov and the students of the CSP will present the Overtures to Wagner's Die Meistersinger von Nürnberg and Verdi's La Forza del Destino together with the first movement of Beethoven's Piano Concerto No. 3 with soloist Tom Borrow. View here and for one week.
2:15 pm ET: Rotterdam Philharmonic Orchestra presents Kavakos conducts Dvorák Seven. Conductor and Artist-in-Residence Leonidas Kavakos leads the orchestra in Ligeti's Concert Românesc and Dvorák's Symphony No. 7. Tickets Euro 5. View here.
5 pm ET: Paracademia presents The Atterbury House Sessions: Ulysses Quartet. Violinist Lara St. John curates the latest in a series of 11 chamber music concerts celebrating the 150th anniversary of New York's iconic Atterbury House. This week, the Ulysses Quartet. View here.
5 pm ET: Third Coast Percussion presents Family Reunion. TCP celebrates the family tree of collaborators, composers, performers, artists, students, teachers, partners, and friends it has built over its first 16 years. Featuring exclusive performances, a peek at TCP's upcoming Archetypes album, and an interactive look at TCP's educational projects. Special guests include Sérgio and Clarice Assad, Robyn Jacob, Glenn Kotche, and Missy Mazzoli. Tickets are pay what you can. View here.
7 pm ET: Pioneer Valley Symphony presents Life Is A Dream. A celebration of Valley composer Lewis Spratlan, Professor Emeritus at Amherst College, and his Pulitzer-winning opera Life is a Dream on the 80th anniversary of Spratlan's birth and the 10th anniversary of the opera's debut with Santa Fe Opera. Spratlan's opera has its roots in 17th-century Spanish literature, and the program will include highlights from the music alongside reflections from Spratlan himself. Tickets $15. View here.
7:30 pm ET: Nightly Met Opera Streams presents Bizet's Carmen. Starring Angela Gheorghiu, Waltraud Meier, Plácido Domingo, and Sergei Leiferkus, conducted by James Levine. Production by Franco Zeffirelli. From March 25, 1997. View here and for 24 hours.
8 pm ET: Duke Performances presents VOCES8. The British vocal octet takes in the traditional landscape of English, Scottish, and Irish folk repertoire with a contemporary eye. The concert features great composers of Tudor England—Tallis, Byrd, Gibbons—painting a picture complemented by later composers like Stanford and Elgar. Their arrangements of familiar tunes and popular songs fill out a program designed to convey both longing and belonging. Tickets $10. View here until February 22.
8:30 pm ET: Austin Chamber Music Center presents Celebration. The 18th Annual Black Composers Concert focuses on four living Black composers and the legacy of Samuel Coleridge-Taylor. Led by pianist Artina McCain with oboist Titus Underwood, bassoonist Maya Stone, and Adelante Winds, the program includes Shirley Thompson's A Little Rain, Fred Onovwerosuoke's Six sketches for Oboes and Piano, Jeff Scott's Homage to Duke, Mark Lomax, II's Trouble Don't Last, and Samuel Coleridge-Taylor's Three Fours Suite. Tickets are pay what you can up to $40. View here.
9 pm ET: Houston Symphony presents Death & the Maiden. David Robertson conducts mezzo-soprano Sasha Cooke in Mahler's Songs of a Wayfarer arranged for chamber orchestra, and Mahler's string-orchestra arrangement of Schubert's Death and the Maiden quartet. The concert begins with the bold colors of Jessie Montgomery's Starburst. Tickets $20. View here. LIVE
10 pm ET: La Jolla Music Society presents The Democracy! Suite. "Jazz music is the perfect metaphor for democracy," says trumpeter Wynton Marsalis. At a time when America—and indeed, the whole world—finds itself at a crossroads, the Pulitzer Prize-winning composer has been inspired to write a poignant and buoyant work, ?The Democracy! Suite,? which proves that the joy and beauty of jazz can bring us all closer together. Marsalis himself leads the Jazz at Lincoln Center Septet. View here.
Sunday, February 21
12 pm ET: Wiener Staatsoper presents Bizet's La Carmen. Conductor: Andrés Orozco-Estrada, director: Calixto Bieito. With Anita Rachvelishvili, Piotr Beczala, and Erwin Schrott. Register for free and view here. LIVE
1 pm ET: Royal Stockholm Philharmonic presents Rising Stars: Diana Tischenko. The Ukranian-born violinist plays Schubert's Fantasy in C for violin and piano D 934, Vasco Mendonça's A Box of Darkness with a Bird in its Heart for violin solo, and Sofia Gubaidulina's Dancer on a Tightrope for violin and piano. View here and on demand.
** 1 pm ET: Bang On A Can & WNYC's New Sounds present The Fifth Bang On A Can Marathon. A total of 16 pieces, all world premiere performances of newly commissioned works, streamed from musicians' homes around the country and across the world. The four-hour live Marathon will be hosted i by New Sounds's John Schaefer along with Bang on a Can's Michael Gordon, David Lang, and Julia Wolfe. Featuring Alvin Lucier, Amir ElSaffar, Bora Yoon, Eve Beglarian, Gabriel Kahane, Gregory Spears, Ingrid Laubrock, Jakhongir Shukur, Jennifer Walshe, Joel Thompson, John Hollenbeck, Kristina Wolfe, María Huld Markan Sigfúsdóttir, Matthew Shipp, Molly Herron, Rohan Chander, Anthony Roth Costanzo, Arlen Hlusko, Chi-chi Nwanoku, David Byrd-Marrow, David Cossin, Ken Thomson, Lara Downes, Mark Stewart, Maya Stone, Molly Barth, Robert Black, Vicky Chow. The concert is free but please consider purchasing a ticket to pay more players, commission more composers, and make more music. View here.
2 pm ET: The Orchestra NOW presents New & Classic Works for Strings. A concert featuring the world premiere of Falling Together by composer Sarah Hennies and Popcorn Superhet Receiver by Radiohead guitarist Jonny Greenwood, which was used in the film There Will Be Blood. The program also includes Grieg's Holberg Suite and Vaughan Williams's Fantasia on a Theme of Thomas Tallis. View here.
2 pm ET: Schneider Concerts presents Merz Piano Trio. The 2019 Gold Medalists of the Fischoff and Chesapeake International Chamber Music Competitions perform Pauline Viardot's Twelve Poems of Pushkin, Fet, & Turgenev, Hildegard von Bingen's Hymn O ignee spiritus, Cheryl Frances-Hoad's My Fleeting Angel, Haydn's Piano Trio No. 45 in E-flat, Hob. XV/29, and Schumann's Piano Trio No. 1 in D Minor, Op. 63. Tickets $8. View here.
3 pm ET: The Cliburn presents Cliburn Masterpiece: Scriabin's Sonata No. 5. Cliburn laureates and other specialists join host?Buddy Bray?to discuss the composer, the background, the narrative, the characters, and the technical difficulties of a particular work. Each episode ends with a full performance from a past Van Cliburn International Piano Competition. This week: Scriabin's Piano Sonata No. 5, op. 53 featuring Sean Chen (2013 third prize) and pianist Jerome Lowenthal. View here and on demand.
3 pm ET: Spivey Hall presents Leif Ove Andsnes. The pianist performs Beethoven's Piano Sonata No. 8 in C minor, Op. 13, Pathétique, four of Grieg's Lyric Pieces, Op. 54, and Dvorák's From Poetic Tone Pictures. Tickets $15. View here.
4 pm ET: Our Concerts Live presents Concertos from the Inside: Week 7: Brahms. In a 24-part series, Rachel Barton Pine performs the entire solo violin part of the greatest violin concertos unaccompanied and shares her perspective on each, explaining how she prepares and how her performance connects to the work's historical and musical context. The series is geared towards career violinists, advanced students, violin teachers, and violin aficionados. Tickets $20. Register and view here.
4 pm ET: The Gilmore presents Rachel Naomi Kudo. 2008 Gilmore Young Artist Rachel Naomi Kudo performs the world premiere of pianist-composer Marc-André Hamelin's Suite à l'ancienne (Suite in the old style), a work she commissioned using funds from her Gilmore Young Artist Award. The pre-recorded premiere will be preceded by an episode of Zsolt Bognár's interview series Living the Classical Life, featuring Hamelin as guest. The event will conclude with a live Q&A with Kudo, Hamelin, and Bognár, hosted by Gilmore Director Pierre van der Westhuizen. Suggested donation. View here.
5:30 pm ET: Shriver Hall presents Daniil Trifonov. The pianist returns to Shriver Hall with the world premiere of a recital pre-recorded at New York's 92nd Street Y featuring Szymanowski's Piano Sonata No. 3, Op. 36, Debussy's Pour le Piano, and Brahms's Piano Sonata No. 3 in F minor, Op. 5. The performance will be followed by an Artist Q&A. Tickets $15. View here.
7 pm ET: Lyric Opera of Chicago presents Sole e Amore. A virtual recital awash with lesser-known musical gems by Italian opera composers, curated and hosted by Lyric's Music Director Designate Enrique Mazzola. Members of the Ryan Opera Center 2020/21 Ensemble will perform songs by Rossini, Donizetti, Bellini, Verdi, Puccini, and Mascagni, selected with love by Mazzola. View here.
7:30 pm ET: Met Opera Streams presents Puccini's Turandot. Starring Maria Guleghina, Marina Poplavskaya, Marcello Giordani, and Samuel Ramey, conducted by Andris Nelsons. Production by Franco Zeffirelli. From November 7, 2009. View here and for 24 hours.
Monday, February 22
1 pm ET: Wiener Staatsoper presents Donizetti's L'Elisir d'Amore. Conductor: Marco Armiliato, director: Otto Schenk. With Valentina Nafornita, Stephen Costello, Marco Caria, and Erwin Schrott. Production from June 2016. Register for free and view here.
1 pm ET: Trinity Wall Street presents Comfort at One. Julian Wachner conducts The Choir of Trinity Wall Street and Trinity Baroque Orchestra with Avi Stein on continuo, concertmaster Robert Mealy, and vocal soloists Sherezade Panthaki, Jonathan Woody, Steven Caldicott Wilson, and Timothy Parsons in three Bach cantatas: Wer mich liebet, der wird mein Wort halten, BWV 59, O Ewigkeit, du Donnerwort, BWV 60, and Also hat Gott die Welt geliebt, BWV 68 (Performance from 2015). View here.
1 pm ET: Copland House presents Underscored: Musto's Cello Sonata. In his new Cello Sonata, John Musto brings together the erudition of a contrapuntal master, the groove of a jazz instrumentalist, and the rhythmic ebullience of a Brazilian dancer. Cellist Alexis Pia Gerlach and pianist Michael Boriskin—performing from the studio in Aaron Copland's National Historic Landmark home in Westchester County—give the virtual premiere with the composer introducing the piece and a live Q&A afterwards. Register and view here.
1:30 pm ET: Ensemble Modern presents Unsuk Chin: Gougalon. A composer portrait, streamed from the Deutsche Ensemble Modern Akademie in Frankfurt. The concert features a conversation with the composer alongside a performance of Gougalon (Scenes from a Street Theater), which Chin describes as "imaginary folk music" linked to her memories of street theater performances in Seoul. View here. LIVE
2 pm ET: Teatro alla Scala presents Vittorio Grigolo in Recital. Pianist Vincenzo Scalera. The orchestra accompanies the tenor in a program of arias by Donizetti, Verdi, Gounod, Massenet, Cilea, Bizet, and Puccini, as well as songs by Leoncavallo , De Curtis, Tosti, and D'Annibale. View here.
** 2:15 pm ET: Bayerischen Staatsoper presents Starry Heavens. Baritone Edwin Crossley-Mercer interprets a selection of Beethoven's Scottish songs with a piano trio from the ranks of the Bayerisches Staatsorchester. The Praetorius Quartet, a fusion of Bayerisches Staatsorchester members, plays selections from the String Quartet Op. 132. General Manager Nikolaus Bachler reads from the Heiligenstadt Testament, and soprano Lise Davidsen sings the Gellert songs with Sophie Raynaud on piano. Tickets Euro 4.90. View here. LIVE
2:30 pm ET: Wigmore Hall presents Doric String Quartet. The British quartet performs Mozart's String Quartet No. 23 in F K590, Prussian and Beethoven's Razumovsky Quartet, Op. 59 No. 1. Register, view here and on demand for 30 days. LIVE
7 pm ET: Kaufman Music Center presents Orli Shaham. The pianist explores the deep musical connections between her favorite Mozart piano sonatas and other works for the keyboard. In this program, she performs Schubert's Piano Sonata in A, D. 664 and Mozart's Piano Sonata No. 15 in F, K.533/494, demonstrating the later composer's response to Mozart's craft in two works written 30 years apart. Tickets $15. View here.
** 7:30 pm ET: Met Opera Streams presents Verdi's Il Trovatore. Starring Sondra Radvanovsky, Dolora Zajick, Marcelo Álvarez, and Dmitri Hvorostovsky, conducted by Marco Armiliato. Production by Sir David McVicar. From April 30, 2011. View here and for 24 hours.
7:30 pm ET: Chamber Music Society of Lincoln Center presents Musical Heritage: Guarneri Quartet. The Calidore Quartet hosts an exploration of the Guarneri Quartet, whose sea-changing artistry spanned a 45-year career of international touring and definitive recordings. The Calidore Quartet, once mentored by the Guarneri, is joined by special guests: the Guarneri's founding first violinist Arnold Steinhardt with Peter Wiley and John Dalley. View here and on demand for a week.
7:30 pm ET: Cecilia Chorus of New York presents Staycation: Mexico!, a Free Singposium. Music Director Mark Shapiro leads a spirited viaje virtual to Mexico traversing three centuries (17th, 18th and 19th) of music. Works by Juan de Lienas, Ignacio de Jerusalem, and Maria Grever—Mexico's first woman composer to achieve international renown—showcase the origins, influences and cultural richness of Mexican music. Shapiro will discuss de Lienas's Salve Regina, de Jerusalem's Que admirais and Grever's Tipitipitin, and lead singalongs of all three works. Register and view here.
Artists and Organizations Offering Free Content
The following are all accessible during the coronavirus pandemic:
Academy of Ancient Music
The most listened-to period instrument ensemble, directed by Richard Egarr, has made a number of streams available on its website. Guest artists include Louise Alder, soprano, Nicola Benedetti, violin, Mary Bevan, soprano, David Blackadder, trumpet, Iestyn Davies, countertenor, Tim Mead, countertenor, Christopher Purvis, bass, and Tenebrae, directed by Nigel Short. Explore here.
Alternative Classical
Humans of Classical Music is a video series in which musicians, actors, comedians, and podcasters from around the world recommend their favorite piece of classical music in one minute. A new video will go live every Thursday during 2021, starting on February 4, accompanied with a link on Spotify. Each video is free of musical jargon and is suitable for anyone interested in exploring the world of classical music. The list includes countertenor Anthony Roth Costanzo, three-time Edinburgh Comedy Award nominee Kieran Hodgson, Principal Conductor of Glyndebourne on Tour Ben Glassberg-Frost, Chief Executive of Manchester Collective Adam Szabo, and composers Anna Clyne, Gabriel Prokofiev, and Missy Mazzoli. Explore here.
American Opera Project
First Glimpse is a video album of 20 songs created during the first year of AOP's 2019-21 fellowship program, Composers & the Voice. Originally intended as a live concert, the videos will be released every Friday beginning October 23 and for the following six weeks. The composers are Alaina Ferris, Matt Frey, Michael Lanci, Mary Prescott, Jessica Rudman and Tony Solitro, with librettists Amanda Hollander and Jonathan Douglass Turner. Videos will be free for one week following their release, after which they will be available to rent or purchase, individually or as a full set through AOP's Website. Explore here.
American Symphony Orchestra
American Symphony Orchestra releases weekly recordings from its archives with content alternating between live video recordings of SummerScape operas and audio recordings from previous ASO concerts. Ethel Smyth's The Wreckers, Richard Strauss's Die Liebe aus Danae, and Korngold's Das Wunder der Heliane, all conducted by Leon Botstein, are all highly recommended and available now.
iAmerican Traditions Vocal Competition
With 28 contestants n its 28th year, ATC has pivoted to present the competition online. Performances will broadcast online at 7 pm ET each evening from February 9 to 19. The Quarterfinal rounds are slated for February 9 to 12 and will be followed by Semifinals on February 17 and 18. The competition will conclude with the Final Round on February 19. There will be a special concert on February 16 at 7 pm ET featuring performances by this year's judges: singer, actress, songwriter, and recording artist Kate Baldwin; jazz vocalist, Kurt Elling; and opera singer Lawrence Brownlee. Tickets $50. View here.
Apollo's Fire: Music for the Soul
The Cleveland-based baroque orchestra founded by Artistic Director Jeannette Sorrell is offering a series of video streams entitled "Music for the Soul." New episodes are posted here.
NEW: Atlanta Opera
The Atlanta Opera has released the first four episodes of Orfano Mondo, a world premiere film series by bass-baritone Ryan McKinny and filmmaker Felipe Barral. Taking its title from the prologue to Leoncavallo's Pagliacci, Orfano Mondo ("orphan world") addresses the fears surrounding live performance during the pandemic though exclusive behind-the-scenes footage, material filmed expressly for the series, and scenes from Atlanta's live fall productions of Pagliacci and of Viktor Ullmann and Peter Kien's The Kaiser of Atlantis. Performed in Italian and German with English subtitles available, each Orfano Mondo episode is 10-15 minutes long, and four more episodes are scheduled for release over the next two months. Explore here through April.
Baltimore Symphony Orchestra
BSO Sessions continues to bring the stories of BSO musicians, conductors, and collaborators to life through a documentary-style narrative. Real stories are paired with powerful music, including the elevation of unheard voices in classical music. Episodes premiere weekly on Wednesdays at 8 pm ET and are available through June 2021. Explore here.
Bard SummerScape & Fisher Center
Archival works highlight Bard's wealth and breadth of programming, including performances from its SummerScape Opera and BMF archives. Recent include Bard SummerScape's 2011 production of Strauss's rarely performed Die Liebe der Danae and last year's Daniel Fish directed staging of Michael Gordon's Acquanetta. More details here.
Bergen Philharmonic,
Bergen's outstanding orchestra enjoys national status in Norway with a history dating back to 1765. Its free streaming service was established as part of 250-year anniversary in 2015 and offers a fine selection of works from its concert series in Grieghallen, Bergen. Conductors include Edward Gardner, James Gaffigan, Thierry Fischer, David Zinman, Neeme Järvi, Jukka Pekka Saraste, Nathalie Stutzmann, and Christian Zacharias with soloists including Leif Ove Andsnes, Lise Davidsen, Truls Mørk, Mari Eriksmoen, and Freddy Kempf. Well worth exploring here.
Carnegie Hall
More than 200 teen musicians hailing from 41 states across the US came together in July 2020 as an online virtual community to form three musical ensembles: the National Youth Orchestra of the United States of America (NYO-USA), NYO2, and NYO Jazz. All three ensembles recorded exuberant virtual performance videos during the residency, directed by Emmy Award-winner Habib Azar. The first four videos—Valerie Coleman's Umoja by the musicians of NYO-USA; a unique adaptation of Grieg's Morning Mood by NYO2; and Thad Jones's Cherry Juice and Wycliffe Gordon's We're Still Here by NYO Jazz—are now available for viewing. Explore here.
Chatham Baroque
Chatham Baroque is releasing high-quality monthly videos featuring leading baroque performers including gambist Jaap ter Linden, lutenists Nigel North and Stephen Stubbs, and countertenor Reginald Mobley. Once posted, videos are available on demand through June 30, 2021. Each program includes artist interviews and are available for as little as $18 per program. Explore here.
The Cleveland Orchestra
Concert videos filmed at restaurants, shops, Cleveland Clinic, and iconic locations throughout Greater Cleveland will be released weekly on social media starting November 23. Cleveland Orchestra assistant concertmaster Jessica Lee and her colleagues created these videos to share the power of music with healthcare workers, patients, and the community affected by the COVID-19 pandemic. This series of 7-10 videos will be released weekly as part of the Music Medicine Initiative: The Power of Music for Health and Well-Being, a community collaboration between The Cleveland Orchestra and Cleveland Clinic's Art + Design Institute. Explore here.
Cliburn Kids
Cliburn Kids is a growing collection of entertaining 7- to 10-minute videos designed to introduce children to the fun of classical music. How does music paint pictures, tell stories, express feelings? Host Buddy Bray and guest artists use individual pieces to explore topics that delve into the way music is organized and structured, counting and rhythm, expressive elements, and sometimes just lighthearted enjoyment. Programs are geared towards elementary-aged children, and activities are provided for each episode that are perfect for in-classroom or at-home studies. New episodes and lesson plans are released every Tuesday. Explore here.
NEW: Daniel Hope: Europe@Home
Streaming live each Friday, Saturday and Sunday in February and March, this newest incarnation of the violinist's show celebrates Europe and its rich musical and cultural diversity. With each episode devoted to a different one of the European Union's 27 member states, Hope invites young musicians into his Berlin home to collaborate on music by composers from their respective countries. Conceived as "DIY TV" for socially distanced times, the Hope@Home series combine high-quality audio with the intimacy and immediacy of live, world-class home music-making. Together with its sequels, Hope@Home on Tour! and Hope@Home Next Generation, the original show ran to almost 120 episodes, was streamed more than ten million times, and raised tens of thousands of Euros for artists in need. View here with episodes archived here.
Days & Nights Festival
The annual multidisciplinaryDays and Nights Festival—which since 2011 has taken place in and around Big Sur, California and has brought together luminaries and pioneers in fields including music, dance, theater, literature, film and the sciences—launches its premiere streaming portal featuring exclusive films of a selection of its landmark performances and events. Films slated for release, from February to May 2021, includes contributions by such wide-ranging figures as JoAnne Akalaitis, Tibetan artist Tenzin Choegyal, Danny Elfman, Molissa Fenley, María Irene Fornés, Allen Ginsberg, Dev Hynes (Blood Orange), Jerry Quickley, and Glass himself. Featured performers and ensembles include Dennis Russell Davies, Ira Glass, Matt Haimovitz, Tara Hugo, Lavinia Meijer, Maki Namekawa, Gregory Purnhagen, Third Coast Percussion, Opera Parallèle, and Glass and his Philip Glass Ensemble. Explore here.
Detroit Symphony Orchestra
The Detroit Symphony Orchestra has made its webcast archive available for free. The collection features 200+ works going back three years, and highlights include Leonard Slatkin conducting John Luther Adams's climate change-inspired Become Ocean from 2019, several world premieres, and a host of bite-sized encores. Explore here.
Deutsche Grammophon Yellow Lounge
The German classical music giant is streaming Yellow Lounge broadcasts from its archives. Recent additions include clarinetist Andreas Ottensamer, pianists Alice Sara Ott and Chihiro Yamanaka, and cellist Mischa Maisky. Performances are broadcast in rotation, one video at a time, adding a new performance every few days. DG communicates the start of each new performance by newsletter at the start of each week. To keep updated sign up here.
English Symphony Orchestra
The English Symphony Orchestra's ESO Digital is an expanding digital archive of music, performed by English Symphony Orchestra and its partners, that you are unlikely to hear anywhere else. Access is free with a monthly donation; however Musical America readers can get a free trial of one week when setting up a new donation by using the coupon code MusicalAmerica2021. Register here.
Finnish National Opera
Finnish National Opera presents Stage24, a series of streamed archived performances on its website, which are then available for the next six months. Recent content includes a staged version of Sibelius's Kullervo, Stravinsky's The Rake's Progress, Caspar Holten's staging of Wagner's Der Fliegende Holländer with Camilla Nylund, and Christoff Loy's Tosca. An excellent company and some interesting and original work worth investigating. Explore here.
Handel and Haydn Society
Boston's Handel and Haydn Society has created the H+H Listening Room where you can hear and watch H+H performances including Mozart's Requiem, Handel's Messiah, and Purcell's Dido and Aeneas filmed at New York's Met Museum. There are also more than a dozen videos of musicians performing from their homes, a special video of principal flutist Emi Ferguson teaching people how to make their own baroque flute, and a new podcast called "Tuning In". In the first episode Principal Cellist Guy Fishman interviews Artistic Director Harry Christophers about Bach's St. Matthew Passion. Explore here.
Kennedy Center: Arts Across America: Winter Traditions
As millions across the United States will be altering traditions to keep friends, loved ones, and neighbors safe, the Kennedy Center will be sharing performances from across the country and numerous communities and cultures to celebrate traditions held dear. Highlights include performances from Renée Fleming, Amythyst Kiah, Broadway's Austin Colby, Caroline Bowman, and Nicholas Ward, Los Texmaniacs celebrating their own Texas miracle following a battle with COVID-19, and D.C. favorites DuPont Brass, Aaron Myers, and Chuck Redd. Explore Winer Traditions here and other Kennedy Center regular online releases via their digital stage here.
La Scala/RAI
Italy's RAI presents five productions from La Scala Milan including the world premiere of Kurtág's Fin de Partie, Daniel Barenboim conducting Götterdämmerung, Lisette Oropesa in Verdi's I Masnadieri, Montedervi's Orfeo conducted by Rinaldo Alessandrini, and Les Vêpres Siciliennes conducted by Daniele Gatti. A wide range of concerts are also available. Explore and register here.
Leipzig Gewandhaus
Instead of the traditional New Year's Eve Concert with the Gewandhausorchester playing Beethoven's Ninth Symphony, Piano Duo Shalamov played Liszt's version for two pianos, here expanded with Beethoven's original timpani part played by Gewandhaus timpanist Tom Greenleaves. The performance is available here.
Les Arts Florissants
Les Arts Florissants's annual Festival in Thiré, France included a series of 10- to 15-minute "Meditation" concerts recorded earlier this summer. Now available to enjoy online, the Meditations include performances by students of Juilliard's Historical Performance program in the spirit of their annual participation in the Festival. View here.
Lincoln Center Lincoln Center Passport to the Arts
A variety of virtual classes, performances, and bonus content designed for children, teens and adults with disabilities and their families. Offerings include programs with Chamber Music Society of Lincoln Center, Jazz at Lincoln Center, the Metropolitan Opera Guild, New York City Ballet, the New York Philharmonic, and The New York Public Library for the Performing Arts. Families can attend dance, music or drama classes, watch exclusive performances, check out behind-the-scenes content, and even meet performers—all from their homes. Families will receive pre-visit materials, including social narratives, photos, and links before each program. All programs take place via Zoom. Register here.
Los Angeles Chamber Orchestra
LACO AT HOME offers streaming and on demand performances, including a full showing of the orchestra's critically acclaimed West Coast premiere of Dark with Excessive Bright for double bass and strings by LACO Artist-in-Residence Missy Mazzoli. View streaming here and on demand here.
Los Angeles Master Chorale
Videos recorded as part of the "Offstage with the Los Angeles Master Chorale" series from April 24 to June 19 included interviews conducted by Artistic Director Grant Gershon and Associate Conductor Jenny Wong with notable performers—including special guests Reena Esmail, Morten Lauridsen, Anna Schubert, Peter Sellars, Derrick Spiva—as well as Master Chorale singers. Available on demand here.
Mark Morris Dance Group 40th Anniversary Digital Season
MMDG continues to celebrate its 40th Anniversary with a new archival collection featuring three excerpts from Mark Morris dances?I Don't Want to Love, Rhymes With Silver, and V?and one full-length work, Rock of Ages, selected by veteran MMDG company members Joe Bowie and Lauren Grant. Viewers are also able to watch the full performances of the excerpted works on demand. Each work is preceded by video introductions by Joe Bowie and Lauren Grant. Explore here.
Metropolitan Opera Live In Schools
The Metropolitan Opera's HD Live in Schools program has launched a new series for the 2020–21 school year, creating cross-disciplinary educational opportunities across the country. For the 2020–21 school year, students and teachers will receive free subscriptions to the Met Opera on Demand service, with a catalogue of more than 700 Live in HD presentations, classic telecasts, and radio broadcasts. Ten operas have been selected for the HD Live in Schools program, and will be presented in five educational units, with two thematically paired operas per unit. The series opens with Beethoven's Fidelio and Donizetti's La Fille du Régiment (September 28–October 16), both of which explore the intersection of music and politics. The Met will continue to offer teachers HD Live in Schools Educator Guides and access to Google Classroom materials that can be adapted for virtual learning lesson plans. In addition, the Met's National Educators Conference will be hosted on a virtual platform this year and take place on five Saturdays throughout the 2020–21 school year. Two conferences, scheduled for October 10, 2020, and October 17, 2020, will also feature live conversations with Met artists. More information here.
Minnesota Orchestra
Minnesota Orchestra at Home shares video, audio, and educational materials through the categories of Watch, Listen and Learn, including videos from the orchestra's archives and newly created "mini-concerts" directly from the homes of Orchestra musicians. Explore and view here.
National Sawdust Digital Discovery Festival, Volume One
With more than 65 events, featuring over 100 artists premiering in a four-month span, National Sawdust Digital Discovery Festival: Volume One was a bright spot in NYC's post-COVID live music world. Featuring post-COVID performances from Robert Wilson, Julian Lage, Tyondai Braxton, Emel Mathlouthi, Matthew Whitaker, Dan Tepfer, Ashley Bathgate, Emily Wells, Brooklyn Rider, Joel Ross, Conrad Tao, Andrew Yee, and Lucy Dhegrae, and recently recorded Masterclasses with Tania León, Ted Hearne, Vijay Iyer, Jamie Barton, Lawrence Brownlee, Trimpin, and Lara St. John. Archival performances include David Byrne, Lara Downes and Rhiannon Giddens, and Ryuichi Sakamoto. Explore here.
New World Symphony
The New World Symphony presents a web-based series called NWS Archive+. Michael Tilson Thomas moderates discussions with NWS Fellows, alumni, guest artists, and visiting faculty about archived recordings. Performances will be available here. NWS Fellows also play live, informal chamber music concerts from their homes in Miami Beach and broadcast via Facebook Live. In addition, the NWS online archive contains master classes, tutorials and town halls, which can be found here. Finally, for the past 10 years, the Fellows have performed one-hour concerts for local school children. These concerts and preparatory material will be available free to students and parents. NWS Educational concerts can be found here.
Opera Australia
OA | TV: Opera Australia on Demand is the Sydney-based company's new digital space. Alongside the world's largest collection of Dame Joan Sutherland on video, OA will offer exclusive content from the OA back catalogue, productions from Handa Opera on Sydney Harbour, and a new series of chat show-style interviews conducted by AD Lyddon Terracini. The first posted full show is Sutherland in The Merry Widow, and the fileted aria's in the section labelled "The Best of Dame Joan Sutherland" are even better. View here.
Opéra National de Paris
The Palais Garnier and Bastille Opera have made their digital stage, "The 3e Scène," free. The platform is a pure place of artistic adventure and exploration, giving free rein to photographers, filmmakers, writers, illustrators, visual artists, composers, and choreographers to create original works. Visit here. Some of Opéra National de Paris's productions are accessible on the company's Facebook Page. In addition, Octave, the Paris Opera's online magazine, is posting articles, videos, and interviews here.
Opera North
One of Britain's most respected smaller opera companies, Opera North has put its acclaimed semi-staged concerts of Wagner's epic Ring Cycle online. "Beg, borrow, or be like Wotan and steal a ticket for this show," said the UK's Times of Das Rheingold. "You'd be lucky to hear as good at Bayreuth," said The Telegraph of Die Walküre. Richard Farnes proves a seriously impressive Wagner conductor. Watch here.
OperaVision
OperaVision offers livestreams of operas available for free and online for up to six months. Previous offerings include Barrie Kosky's visually spectacular Moses und Aron, David McVicar's superb Die Entführung aus dem Serail from Glyndebourne, and Deborah Warner's thoughtful Death in Venice for English National Opera. View upcoming and past content here.
Rotterdam Philharmonic Orchestra: Beethoven at Home
RPO brought Beethoven to living rooms in December playing all nine symphonies. The musicians performed the first eight symphonies in small chamber ensembles varying from a string sextet to a 15-strong brass ensemble. The Grand Finale took place on New Year's Eve: Beethoven's Ninth, played by the full orchestra with chorus and soloists. View here.
Orli Shaham Bach Yard Playdates
Pianist Orli Shaham brings her acclaimed interactive concert series for kids to the internet. Bach Yard Playdates introduces musical concepts, instruments, and the experience of concert-going to a global audience of children and their families. A number of 10-minute episodes are already available for on-demand streaming. Programs and performances range from Bach's Two-Part Invention to Steve Reich's Clapping Music. Explore here.
The Sixteen Choral Odyssey
Actor Sir Simon Russell Beale, Harry Christophers and The Sixteen have recorded a special, five-part series. A Choral Odyssey explores choral music from across the ages in iconic, relevant surroundings—from Byrd in Elizabeth I's childhood home of Hatfield House, to Purcell in the reconstructed 17th-century theatre of the Sam Wanamaker Playhouse at London's Globe Theatre. With a mix of conversation, music demonstration and performance, these programs reunite Harry Christophers and Simon Russell Beale—a partnership which proved successful in the popular BBC Sacred Music series—and feature performers from The Sixteen. Tickets £10 per episode. View here until March 31.
Trinity Wall Street
New York's Trinity Church Wall Street introduces daily weekday "Comfort at One" (1 pm ET) streaming performances on Facebook with full videos posted here. Tune in for encore performances of favorite Trinity concerts, professionally filmed in HD, along with current at-home performances from Trinity's extended artistic family.
University of Colorado Boulder
University of Colorado BoulderCollege of Music faculty artists perform with students and colleagues in Faculty Tuesdays, chamber music recitals featuring world premieres alongside classics. Free most Tuesdays from September 2020 through March 2021. Upcoming performers include violinist Harumi Rhodes, violist Richard O'Neill, cellist David Requiro, pianist David Korevaar, harpist Janet Harriman, and more. Explore here.
Voices of Ascension
New York choir Voices of Ascension, which celebrates its 30th anniversary next season, is posting a daily offering of choral beauty on its website. Music is chosen by staff, members of the chorus and orchestra, and listeners. View here.
Warsaw Philharmonic
The Warsaw Philharmonic has made a selection of video recordings available on its YouTube channel. Recent offerings include Saint-Saëns's Organ Symphony and Arvo Pärt's Swansong conducted by Artistic Director Andrzej Boreyko, as well as rarities by Polish composers like Grazyna Bacewicz. It's an excellent orchestra very much in the Eastern European tradition and concerts have been master edited for posting online
Paid Digital Arts Services
Berlin Philharmonic Digital Concert Hall
The BPO Digital Concert Hall contains over 600 orchestra concerts covering more than ten years, including 15 concerts with the orchestra's new Chief Conductor Kirill Petrenko, interviews, backstage footage. Subscriptions or single tickets available.
Medici TV
Thousands of classical music videos are available by subscription, as well as hundreds of events that are broadcast live for free each year, available for 90 days. Subscriptions cost $83.85 per year but single tickets are also available. www.medici.tv
Pictured: Ramón Vargas and Angela Gheorghiu in Franco Zeffirelli's production of La Bohème at the Met Opera. From April 5, 2008. View here and for 24 hours.

WHO'S BLOGGING


RENT A PHOTO
Search Musical America's archive of photos from 1900-1992.