---
New Artist of the Month: Baritone Theo Hoffman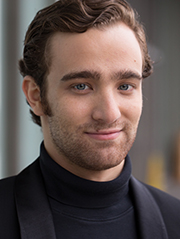 It's rare to see a work that genuinely challenges the form and opens a window onto what a genre might become, but Philip Venables's Denis & Katya at Philadelphia Opera's O19 Festival was the most brilliantly original operatic work I've seen in a decade. One of a cast of two, baritone Theo Hoffman proved a consummate, committed actor in three wildly different roles, rising to the considerable musical challenge and the demands of substantial quantities of spoken text. "Vocally, his warm baritone purrs and soars," I wrote at the time.
"I was really tentative, not just of the project and whether the piece would land—because so much modern opera falls into the trap of trying really, really hard—but also of my abilities to deliver something great under a lot of pressure," he said in a recent interview. "It was an experiment right down to the eleventh hour, requiring everyone to relinquish their ego and take a leap of faith. I didn't realize how special it was until we opened, and the audience sat there in awe."
Still not yet 30, Hoffman was raised in Manhattan. Music and culture was all around him in the city, but apart from Bowie, the Beatles, and Bob Dylan, it wasn't particularly around the home. Instead, he puts his creative side down to restaurateur parents who were heavily involved in the early days of the slow-food movement. Theater became a respite from the claustrophobia of what he describes as a "hellish" first private school. A childhood trip to the Met to see Julie Taymor's Magic Flute didn't help either. "It had very little effect on me," he laughs, "and still doesn't to be perfectly honest."
The choice to become a singer
Guitar lessons and an enthusiasm for musical theater took him to La Guardia High School of Music & Art. "I auditioned for drama, voice, and instrumental, but was only accepted for voice so the choice to become a singer was sort of made for me," he explains, "but it began a trend of seeing a door and not knowing where it leads but walking through it anyway."
From a classical perspective, symphonic music, oratorio, and Lieder came first with opera as more of an adjunct to his fascination with the voice and a talent for mimicry. "Imitating an opera singer came very naturally," he explains, "and so I was encouraged to seek further education."
A year at Rochester's Eastman School of Music was followed by Juilliard where Sandford Sylvan became a mentor and inspirational teacher. "He was the perfect antidote to the intensity of the school environment and he always considered the inner spirit of his students to be crucial to the development of their instruments. When he died last year, it was like losing a parent."
Theo Hoffman sings "Pierrot's Tanzlied" from Korngold's Die Tote Stadt
at the Richard Tucker Music Foundation 2018 Auditions.
Winner of the 2015 Juilliard Vocal Arts Honors Recital, Hoffman graduated with a BM degree and appeared on the Metropolitan Opera stage as a grand finalist in the 2016 National Council Auditions. "I also showed up at Operalia in London," he adds. "I didn't do much damage, but I turned a few heads including Plácido Domingo's, who suggested I look into his Young Artist Program at Los Angeles Opera."
"I had music coursing through my veins, but I still had no idea of how to balance with an orchestra without pushing, how to rehearse safely, how to properly nourish myself before a performance. [In Los Angeles], I was able to learn the job, and those experiences helped me commit to my craft and turn it from a passion into a vocation."
Training at LA Opera saw him sing the preening Maximillian in Francesca Zambello's Candide as well as the smuggler Le Dancaïre in Carmen. His official company debut followed as the doctor in Macbeth (opposite Domingo) with subsequent roles in Salome, Les Contes d'Hoffmann, and Wonderful Town. "Not only did I go from student to professional," he explains, "I went from an academic mindset where everything had to be rehearsed to death to one where I was ready for anything at a moment's notice."
An encounter with rising star composer Matthew Aucoin, also then at LA Opera, resulted in a well-received series of after-hours concerts entitled "From Schubert to Springsteen" in which Hoffman was able to exhibit his burgeoning and eclectic interest in song. His return this season as Papageno in Die Zauberflöte marked his eighth production with the company.
A career in the making
Other operatic opportunities have included an acclaimed 2017 performance as Josef K. in the American premiere of Philip Glass's The Trial at Opera Theater of Saint Louis, as well as a career-enhancing stint at the Marlboro Music Festival and concert engagements with the LA Philharmonic, the Salzburg Mozartwoche, and the Israel Philharmonic. Since 2013, Hoffman has also been a regular recitalist for New York Festival of Song where he serves as a creative contributor. "I don't want to simply give in to what is largely an operatic market," he admits. "I accept and embrace it, but it's important to have a diverse musical life."
On stage, Hoffman cuts a diminutive figure and admits to some frustration. "I got feedback one time from a panelist in an important competition I'd just won," he explains. "She said, 'We loved your singing, but some people are gonna pass on you because of your height. They'll want a tall baritone to sing Guglielmo or Valentin, but you just keep doing what you're doing.' So, I guess I'm kind of divisive, but people who understand what I'm trying to do, they really get it."
With his quick intelligence and dramatic gifts, Hoffman is ideally suited to contemporary opera, but for now, he's enjoying finding the roles that suit him. His next outing is meant to be as Schaunard in Seattle Opera's La Bohème, but the COVID-19 crisis looks likely to leave him, like so many singers, with a decimated diary. Hopefully he'll make his role debut as Figaro in Il Barbiere di Siviglia with Atlanta Opera in the fall. Either way, virus or no virus, Hoffman is clearly a singer worth seeking out.

WHO'S BLOGGING


RENT A PHOTO
Search Musical America's archive of photos from 1900-1992.